California Lease Agreement with ezSign
Now with ezSign. Our California lease agreement complies with all state legal regulations and offers summaries of CA leasing laws as you quickly fill in your details.
Document Last Modified: 2/18/2020
Document Features
Uses Lease Builder
State-Specific
ezSign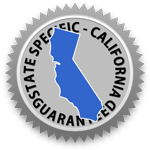 The State of California has extremely comprehensive Landlord Tenant laws. For instance, California landlords are prohibited from requiring tenants to pay non-refundable fees (for example, non-refundable pet fees) when moving into a rental.
Our California Assist helps California landlords decipher regulations, and understand which rules apply to them. The California Assist instructions are highlighted in green as the landlord completes fields in the lease. They keep the landlord informed of obligations and ensure that the lease is California legal. California-required legal language is included in default lease text, and California addenda and disclosures are automatically attached to the document. In addition, this document also meets lease requirements for the cities of Anaheim, Bakersfield, Fresno, Long Beach, Los Angeles, Riverside, San Diego, San Jose, San Francisco, Santa Ana, Sacramento and Stockton.
You may customize the California lease by adding special terms and conditions, and by attaching addenda that address specific lease issues, such as inspections, pets and early lease termination. Dozens of legal clauses, specifically written to minimize landlord exposure to litigation, can be added to the lease with simple clicks on Rules and Regulations options.
ezLandlordForms ezSign service is included in all state-specific leases at no extra cost. Landlords and tenants can add digital signatures to the lease and automatically receive signed copies along with a verified audit trail of signatures.
Los Angeles: In addition to ensuring that California state requirements are met, the Los Angeles city "Landlord Tenant Handbook for Rental Units Subject to the Rental Stabilization Ordinance" will supply critical information on terms that must be included in leases for the city.
View more California rental property resources, and be sure to run tenant background screening reports before executing a lease agreement with a new tenant.
CALIFORNIA LEASE FEATURES
All California-required language
Custom clauses
Help provided with green, California Assist boxes
Options to add your own clauses
ezSign, email or print lease
CALIFORNIA LEASE PACKAGE DOCUMENTS
Along with the option to add a lease cover page, a landlord company logo and an auto-generated table of contents, these are some of the many optional lease disclosures and addenda that may be included:
RULES AND REGULATIONS
These are among optional rules and regulations that may be checked in the lease:
Absolutely no smoking is permitted in the leased premises.
Tenant agrees to test smoke detectors and maintain batteries.
Late fees are strictly enforced and any unpaid fees will not be waived.
Charcoal and gas grills may not be used in the leased premises.
Trampolines are not permitted on the leased premises.
Why ezLandlordForms?
#1 Rated Lease Agreement
9.3 TrustPilot Rating, with 3,384 Reviews
No Recurring Billing
No automatic charges or monthly billing
State Assist
So you know you're complying with state laws
Full Support
Phone, live chat, or email... try us now!
Unlimited Access
Edit & print any of our forms with pro access
Satisfaction Guarantee
Trusted by over 2.3 million landlords & property managers