West Virginia Lease Agreement with ezSign
Now with ezSign. West Virginia has its own landlord-tenant laws, which we will quickly walk you through as you create your West Virginia lease agreement.
Document Last Modified: 6/15/2021
Document Features
Uses Lease Builder
State-Specific
ezSign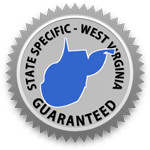 West Virginia landlords and property managers rely on this all-inclusive lease package, because it contains the basic rental agreement as well as every necessary supplemental form to ensure the clearest communication between landlord and tenant. This document is also guaranteed to comply with the state's Landlord Tenant laws. Green, West Virginia Assist text boxes make it easy to select terms that will meet the state code. For instance, landlords in West Virginia may charge a bad check fee but, as the State Assist explains, the fee may not exceed $25. This guidance is provided as fields are completed throughout the seven-step Lease Builder Wizard.
Each section of the lease may be customized to add terms that fit the individual needs of a rental property. Additionally, dozens of optional addenda may be included to lay out more detailed expectations for any aspect of the agreement.
A Great Lease makes a Great Landlord
▶ Watch the Great Lease Video
Video to Share with New Tenants
▶ Watch the Move in Video
West Virginia State Laws
Category
State Law
Ending and Renewing
West Virginia Law
Year to Year: Maybe terminated by either party giving written notice to the other, at least 90 days before the end of any year.
Periodic Tenancy: May be terminated by either party giving written notice of 1 full rental period.
Fixed Term: May terminate at the end of the term with no notice required if specified within the lease or ended by notice with the period as specified in the written Lease.
Security Deposit
West Virginia Law
There is no limit placed on the security deposit charged to the tenant so long as it is reasonable.
Returned Payment Fee
West Virginia Law
The payee or holder of a worthless check may impose a service charge not to exceed $25.
Late Fee
West Virginia Law
There is no statutory limit on late charges. However, assessed fees should be reasonably related to the expenses the landlord incurs as a result of a late payment.
Insurance Requirements
West Virginia Law
Landlords may require tenants to obtain rental insurance, and could make the failure to do so a breach of the lease.
Addenda & Disclosures
West Virginia Law
If the leased premises was constructed prior to 1978, the landlord must provide all tenants with the Lead-Based Paint EPA Disclosure and the Lead-Based Paint EPA Pamphlet.

Smoke and Carbon Monoxide Detectors An operational smoke detector must be installed in the immediate vicinity of each sleeping area in all one and two-family dwellings. It is the responsibility of the owner of the dwelling to install and replace operational smoke detectors, however, it is the duty of the tenant to perform routine maintenance on the smoke detectors. W.Va. Code §29-3-16a (b).

PLEASE NOTE: If the tenant of a unit is deaf or hearing impaired, it is the responsibility of the owner, upon written request by or on behalf of the tenant, to provide and install a smoke detector with a light signal sufficient to warn the deaf or hearing-impaired individual of the danger of fire.
For full information please review the West Virginia §29-3-16a
Notice to Enter
West Virginia Law
No statute.
Landlord Requirements
West Virginia Law
No additional requirements.
Contact your local housing or zoning office to be sure your rental property complies with city and county requirements for inspections, rent control, occupancy limits, property codes and zoning. Many cities and counties require inspections, registrations and have specific maintenance regulations.
West Virginia Forms & Documents
West Virginia Returned Check Notice
West Virginia Lease Features
Meets West Virginia state Landlord Tenant laws
Permits customization of lease clauses
Includes
West Virginia Assist
instructions
Offer's options to add rules and terms
ezSign, email or print lease
Create your West Virginia lease agreement for Residential, Condo, House, Home, Trailer, Apartment, Townhome, Housing, Real Estate, Duplex, Buildings, and many more!
West Virginia Lease Package Documents
The following forms, and many more, are options to include in the lease package:
Rules and Regulations
These are just some of the optional rules that may be added to the lease by checking boxes:
Landlord does not permit loud gatherings.
Parking is limited to areas designated in the lease.
Trash must be taken to the curb on the required days.
Late fees are strictly enforced and any unpaid fees will not be waived.
Charcoal and gas barbecue grills may not be used/stored in common areas.
Tenant may not misuse, dismantle, block, or remove fire extinguisher(s); and must report to landlord any use, malfunction or repair required. In the event of negligent use of fire extinguisher(s), tenant is responsible for any damages to leased premises as well as fire extinguisher replacement or refill.
Why ezLandlordForms?
#1 Rated Lease Agreement
9.3 TrustPilot Rating, with 3,384 Reviews
Flexible Billing
Choose one-time or subscription billing
State Assist
So you know you're complying with state laws
Full Support
Phone, live chat, or email... try us now!
Unlimited Access
Edit & print any of our forms with pro access
Satisfaction Guarantee
Trusted by over 2.3 million landlords & property managers