Maryland Lease Agreement with ezSign
Now with ezSign. Get started creating a Maryland lease agreement here, and we will guide you through MD landlord laws as you create your rental contract.
Document Last Modified: 6/11/2021
Document Features
Uses Lease Builder
State-Specific
ezSign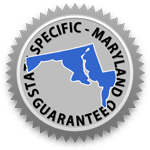 Our Maryland lease agreement meets the state's Landlord-Tenant laws. As you go through steps in our Lease Builder program, you will be prompted to check options and add information that will appear in the final document.
In lease sections that require you to apply Maryland Landlord-Tenant law in a specific manner, you will see green, Maryland Assist text boxes that contain important information to guide you. In addition, this document also meets lease requirements for the city of Baltimore. This lease form also includes many optional sections that may be customized to address situations at individual rental properties.
A Great Lease makes a Great Landlord
▶ Watch the Great Lease Video
Video to Share with New Tenants
▶ Watch the Move in Video
Maryland State Laws
Category
State Law
Ending and Renewing
Maryland Law
Automatic Renewal Provisions for Periods of More Than 1 Month:
When a lease provides for automatic renewal, unless prior notice is given by the party seeking to terminate the lease, that renewal provision must be distinctly set apart from other provisions of the lease, and space must be provided for the tenant's written acknowledgment of that provision. This written acknowledgment may include the tenant's signature, initials, or witnessed mark.

Important: Any lease or other written agreement may not require the tenant to give a longer notice of termination than the landlord. (Md. Code, Real Property, Section 8-501.)
When a written lease contains termination provisions; the required notice of intent to vacate shall be provided within the lease.
Baltimore City law requires the landlord to give at least 60 days' written notice before the end of the year, month, or week when the tenant is to vacate. The tenant normally has to give only a 30-day written notice. (Public Local Laws, Sec. 9-16).
Security Deposit
Maryland Law
Security deposits may not exceed 2 months' rent.

Security deposits are required to be held in an interest-bearing account that is maintained by financial institutions located within the state and this account must exclusively house only the security deposit.

Collecting the last rental payment is not permitted.
Returned Payment Fee
Maryland Law
A returned payment fee may not exceed $35.
Late Fee
Maryland Law
Maryland late fees cannot exceed 5% of the amount of rent due. Some counties within Maryland may have additional requirements. For example, in MONTGOMERY COUNTY, this fee may not be assessed until the rent is more than 10 days late.
Insurance Requirements
Maryland Law
No statute
Addenda & Disclosures
Maryland Law
If the leased premises was constructed prior to 1978, the landlord must provide all tenants with the Lead-Based Paint EPA Disclosure and the Lead-Based Paint EPA Pamphlet

The owner must give the MD pamphlet, "LEAD POISONING PREVENTION - Notice of Tenants' Rights" to all new tenants as well as every two years thereafter for long-term tenants. Notices and packets must be provided in a verifiable manner, such as by certified mail.

This document is included with the ezLandlordForms Maryland Lease package but may also be found Here
Additional information may be found at: Maryland Lead Paint Information.

If the landlord collects a security deposit, then the landlord must provide the tenant with a receipt along with the tenant's rights regarding a security deposit. This document is included with the ezLandlordForms Maryland Lease Package but may also be found HERE.
Notice to Enter
Maryland Law
No statute but we always recommend at least 24 hours notice to enter the leased premises.
Landlord Requirements
Maryland Law
The landlord of a residential rental property must include within the written lease OR on a posted sign conspicuously placed on the rental property, the following information: a) The name, address, and phone number of the landlord; or b) The person who is authorized to accept notice or service of process on the landlord's behalf.

SUB-LEASING
If the lease provides that the tenant must obtain the landlord's consent in order to sublease, consent may not be unreasonably withheld.

IMPORTANT: Maryland law requires that if a landlord rents FIVE or more dwelling units within the state he or she must include this statement or similar within each lease: "The premises will be available in a reasonably safe, habitable condition." (Use the text box below to insert it.)

If the above is not included within the agreement, a similar statement must be.
Contact your local housing or zoning office to be sure your rental property complies with city and county requirements for inspections, rent control, occupancy limits, property codes, and zoning. Many cities and counties require inspections, registrations and have specific maintenance regulations.
BALTIMORE: Every owner of a non-owner occupied dwelling unit, "whether occupied or vacant, whether it is producing revenue or not producing revenue, whether habitable or not habitable" shall file a registration statement with the Housing Commissioner. This must be done upon any transfer of the property and every September 1st thereafter. Baltimore City Code, Article 13, Subtitle 4-2
Maryland Forms & Documents
Montgomery County Lease (Multi-Family Building)
Montgomery County Lease (Single-Family)
Baltimore City Flood Zone Disclosure
Maryland Security Deposit Receipt
Maryland Lead Poisoning Prevention- Notice of Tenants' Rights
Maryland Quitclaim Deed
Maryland-Montgomery County Notice to Vacate for Cause
Maryland - Baltimore City Evictions - Procedures for Tenants and Landlords
Maryland Notice to Vacate
Maryland Sample Failure to Pay Rent/Landlord's Complaint for Repossession of Rented Property
Maryland Lease Features
There are so many great features included in the Lease Package:
Lease language that meets Maryland Landlord Tenant law
Clauses you may customize
Guidance with Maryland Assist
Options to individualize rules and regulations
ezSign, email or print lease
Create your Maryland Lease Agreement for Residential, Condo, House, Home, Trailer, Apartment, Townhome, Housing, Real Estate, Duplex, Buildings, and many more!
Lease Package Documents
Among dozens of addenda, disclosures, and information documents that may be attached to the Maryland lease, we offer these:
Move-In/Move-Out Condition Checklist
Smoke-Free Property Agreement
Pet Addendum
Lease Cosigner Agreement
Rules and Regulations
These are examples of the numerous rules and regulations that may be included in your lease agreement:
The Tenant agrees not to use the Leased Premises for any unlawful purpose including but not limited to the sale, use, or possession of illegal drugs on or around the Leased Premises.
The Tenant agrees to test carbon monoxide detector(s) periodically as well as maintain operational batteries at all times. The Tenant must report immediately to the Landlord any malfunction with carbon monoxide detector(s).
The Tenant must obtain written permission to install a satellite system or antenna on or around the Leased Premises.
The Tenant shall abide by all rules mandated by Condominium or Homeowners associations.
Related Articles
Baltimore City Carbon Monoxide Detector Requirements
View Article >
Maryland Landlord Tenant Law and Regulations
View Article >
Why ezLandlordForms?
#1 Rated Lease Agreement
9.3 TrustPilot Rating, with 3,384 Reviews
Flexible Billing
Choose one-time or subscription billing
State Assist
So you know you're complying with state laws
Full Support
Phone, live chat, or email... try us now!
Unlimited Access
Edit & print any of our forms with pro access
Satisfaction Guarantee
Trusted by over 2.3 million landlords & property managers