Kansas Lease Agreement with ezSign
Now with ezSign. Looking for a flexible Kansas lease agreement that adheres to Kansas landlord laws? Our KS rental contract informs you of KS laws as you go.
Document Last Modified: 6/11/2021
Document Features
Uses Lease Builder
State-Specific
ezSign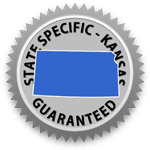 This form meets Kansas Landlord Tenant laws. State-required language is automatically included. When the landlord must make a choice between several options, the built-in Kansas Assist instruction boxes provide helpful guidance.
For instance, Kansas rules on the permitted security deposit amount are different depending on the type of rental unit. The Kansas Assist provides simple tips and explanations, making it easy to correctly apply those rules. In addition, this document also meets lease requirements for the city of Wichita.
This professional rental package may be used by the owner, agent, or property manager. Legally-required terms are automatically included. But the Lease Builder also allows you to insert unlimited terms that meet your individual expectations. For example, you may check a box indicating that pets are allowed; and, you may also attach a Pet Addendum, in which you enter the exact number of permitted pets, any pet fees, and rules for pets who live in your rental.
The Lease Builder program responds to the landlord's selections, adding or removing fields, depending on those selections. This replaces traditional, blank forms, allowing for a fully customized document that may be repeatedly edited before the lease is executed. Additionally, you may add extra fields and insert one-of-a-kind rules as needed.
Access to unlimited addenda and disclosures ensures that your tenant is fully informed of the rules of your rental property. And the professional format meets industry guidelines for a rental contract.
A Great Lease makes a Great Landlord
▶ Watch the Great Lease Video
Video to Share with New Tenants
▶ Watch the Move in Video
Kansas State Laws
Category
State Law
Ending and Renewing
Kansas Law
Fixed Term Lease: Notice is not required and the tenant shall vacate the premises unless otherwise specified within the lease.

Month to Month Lease: Written notice must be given at least 10 days prior to the expiration of the current month.
Security Deposit
Kansas Law
For an Unfurnished Leased Premises: An amount not to exceed 1 month's rent is permitted.
For a Furnished Leased Premises: An amount not to exceed 1 1/2 month's rent is permitted.
Pet Occupied Leased Premises: An additional amount not to exceed 1/2 month's rent may be collected by the landlord.

Please Note: Security deposits must be placed in a bank, credit union, or savings & loan account insured by the federal government, and may not commingle with the landlord's personal funds.
Returned Payment Fee
Kansas Law
Returned payment fees must not exceed $30. Kan. Stat. Ann. § 60-2610

Non-Refundable Fees
There are no stated regulations limiting the collection of non-refundable fees.
Late Fee
Kansas Law
Late fees should remain reasonable and related to the landlord's actual expenses incurred. If the landlord will be charging a late fee, it must be specified within the rental agreement.

Non-Refundable Fees
There are no stated regulations limiting the collection of non-refundable fees.
Insurance Requirements
Kansas Law
Landlords may require tenants to obtain rental insurance, and could make the failure to do so a breach of the lease.
Addenda & Disclosures
Kansas Law
Statute # 58-2548, Within 5 days of the initial date of occupancy or upon delivery of possession, the landlord, or designated representative and the tenant shall jointly inventory the premises.

A written record detailing the condition of the premises and any furnishings or appliances provided shall be documented. Duplicate copies of the record shall be signed by the landlord and the tenant as an indication the inventory was completed. The tenant shall be given a copy of the inventory.

If the leased premises was constructed prior to 1978, the landlord must provide all tenants with the Lead-Based Paint EPA Disclosure and the Lead-Based Paint EPA Pamphlet.
Notice to Enter
Kansas Law
A landlord shall have the right to enter leased premises with reasonable notice and must be within reasonable hours.
Landlord Requirements
Kansas Law
The landlord or any person authorized to enter into a rental agreement on the landlord's behalf shall disclose to the tenant in writing, at or before the commencement of the tenancy, the name and address of:
(1) The person authorized to manage the premises; and
(2) an owner of the premises or a person authorized to act for and on behalf of the owner for the purpose of service and for the purpose of receiving and receipt of notices and demands.
Contact your local housing or zoning office to be sure your rental property complies with city and county requirements for inspections, rent control, occupancy limits, property codes and zoning. Many cities and counties require inspections, registrations and have specific maintenance regulations.
Kansas Forms & Documents
Kansas 3 Day Notice for Non-Payment of Rent
Kansas 10 Day Notice to Vacate for Non-Payment of Rent
Kansas 14 Day Notice to Perform or Vacate
Kansas Lease Features
There are so many great features included in the Lease Package:
Language required by Kansas law
Clauses that may be left as is, or customized
Guidance from green Kansas Assist instruction boxes
Options to create and add unique clauses
ezSign, email or print lease
Create your Kansas Lease Agreement for Residential, Condo, House, Home, Trailer, Apartment, Townhome, Housing, Real Estate, Duplex, Buildings, and many more!
Kansas Lease Package Documents
Here is a selection of the many forms that may be included in the Kansas lease package:
Rules and Regulations
One click adds any or all of the available rules and regulations. This is a sampling:
Tenant must maintain smoke & carbon monoxide detectors and report faulty devices.
Trampolines are prohibited.
Tenant must notify landlord of any change in employment.
Tenant shall immediately notify landlord of any pest control problems.
Tenant responsible for removing snow/ice from stairs and walkways.
Basement and attic may not be modified for use as living quarters.
Tenant must obtain landlord's written permission to install satellite system/antenna.
Related Articles
Kansas Landlord Tenant Law and Regulations
View Article >
Why ezLandlordForms?
#1 Rated Lease Agreement
9.3 TrustPilot Rating, with 3,384 Reviews
Flexible Billing
Choose one-time or subscription billing
State Assist
So you know you're complying with state laws
Full Support
Phone, live chat, or email... try us now!
Unlimited Access
Edit & print any of our forms with pro access
Satisfaction Guarantee
Trusted by over 2.3 million landlords & property managers