New York Lease Agreement with ezSign
Now with ezSign. This Do-It-Yourself New York lease agreement offers guidance of New York law and allows you the option to include additional NYC or Buffalo disclosures.
Document Last Modified: 8/26/2021
Document Features
Uses Lease Builder
State-Specific
ezSign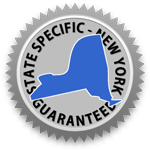 Our New York-specific lease agreement addresses the state's complex Landlord-Tenant laws by automatically attaching such required documents as the New York Sprinkler Disclosure, as well as the federally-required Lead-Based Paint Disclosure and Certification for older homes, among others.
To further help New York landlords weed through all the regulations, our New York Assist, information text boxes will guide you in applying state lease laws as you create your form. Not only are necessary clauses and addenda language included, but a variety of optional addenda and disclosures may also be selected. In addition, this document also meets lease requirements for the city of New York.
All default lease text has been written specifically to protect the landlord in the case of litigation, by anticipating and addressing common scenarios.
New York City: In addition to ensuring that New York state requirements are met, New York City rules also are incorporated into this form. Among others, the required Window Guard notice and Rent Stabilization rider are easily attached to New York leases.
A Great Lease makes a Great Landlord
▶ Watch the Great Lease Video
Video to Share with New Tenants
▶ Watch the Move in Video
New York State Laws
Category
State Law
Ending and Renewing
New York Law
If a tenant has a lease of less than one year, a 30-day notice is now mandatory to end the lease.
A 60-day notice is required for renters who have lived in an apartment for more than one year, but less than two years, or have a lease of at least one year, but less than two years.
Tenants who have lived in a unit for more than two years, or have a lease of at least two years, must get a 90-day notice.
Additionally, the same notice timeframes listed above apply if the landlord intends to raise the rent for a unit of more than 5%.
Landlords of regulated apartments are required to give 90- to 120-day notices to end the lease.
Security Deposit
New York Law
Security deposit for all properties (formerly this only applied to most rent-regulated properties) is now limited by law to one (1) month's rent. Additionally, landlords must now return security deposits within 14 days of the tenant leaving the unit, along with an itemized statement covering any deductions made.

If the apartment is in a building with 6 or more units, the landlord is required by law to place the security deposit in a separate interest-bearing bank account in New York State. The Landlord must then notify the tenant concerning the bank in which it's being held. The landlord may keep 1% of the amount deposited per year for administrative expenses, the remaining interest is to be paid annually to the tenant or left to accumulate at the tenant's option.

The landlord must return the security deposit, less any lawful deduction, to the tenant at the end of the lease or within a reasonable time thereafter. If the damage was done, the landlord may apply part or all of the security deposit to the cost of repair.
Returned Payment Fee
New York Law
A dishonored check charge must be specified in the lease and may not exceed $20.
Late Fee
New York Law
Landlords cannot charge late fees until rent is five days late and the late fee cannot be more than $50 or 5% of the monthly rent, whichever is less.


Insurance Requirements
New York Law
For rent regulated apartments, the landlord may not require the tenant to obtain renter's insurance because this effectively requires the tenant to pay a fee in excess of the legal regulated rent.
Addenda & Disclosures
New York Law
New York Assist: If the leased premises was constructed prior to 1978 (or prior to January 1, 1960, within New York City limits), the landlord must provide all tenants with the Lead-Based Paint EPA Disclosure and the Lead-Based Paint EPA Pamphlet.

Sprinkler system notice: Every residential lease shall provide conspicuous notice in boldface type as to the existence or non-existence of a maintained and operative sprinkler system in the leased premises. If there is a maintained and operative sprinkler system in the leased premises, the residential lease agreement shall provide further notice as to the last date of maintenance and inspection.

NYC: Local Law 117 requires that the property owner of multiple dwellings provide stove knob covers for gas-powered stoves where the owner knows or reasonably should know that a child under six years of age resides.
Notice to Enter
New York Law
Reasonable notice is required except in an emergency.
Landlord Requirements
New York Law
Electronic Rent Payments: A landlord shall not require a lessee or tenant to use electronic billing and/or payment system as the only method for the payment of rent.

Owners must ensure that buildings are safe, clean, and well maintained, in both common areas and in individual apartments. Among other responsibilities, owners must provide and maintain security measures, heat, hot and cold water, good lighting and make repairs to keep the building in good repair.
Contact your local housing or zoning office to be sure your rental property complies with city and county requirements for inspections, rent control, occupancy limits, property codes and zoning. Many cities and counties require inspections, registrations and have specific maintenance regulations.
New York Forms & Documents
New York - Buffalo Rental Registry Information
New York City Window Guard Notice (Lease Addendum)
New York City Annual Stove Knob Cover Notice
New York City Rent-Stabilized Rider (Form RA-LR1)
New York City Bed Bug Infestation Disclosure
New York Sprinkler Disclosure
Buffalo Disclosure of Smoking Policy
NYC Child Notice for Lead Paint Compliance
NYC Lease Renewal Form - EPTA Form RTP-8
New York City Required Annual Notice -Window Guards and Lead Paint
NYC Lease Renewal for Rent Stabilized Housing
New York Demand For Rent 14 Day Notice
New York How To Prepare for a Landlord Tenant Trial
New York Notice to Vacate
NYC Increase in Rent (for Rent Controlled Units)
New York Lease Features
There are so many great features included in the Lease Package:
Instant answers to state-related lease rules via New York Assist
Required New York terms
Quickly include addenda by checking a box
Customize existing addenda or completely create your own
Execute the lease with ezSign, email lease or print lease
Create your New York lease agreements for Residential, Condo, House, Home, Trailer, Apartment, Townhome, Housing, Real Estate, Duplex, Buildings, and many more!
New York Lease Package Documents
Select a few or include all of the optional addenda. Use the current wording or customize them to your specifications. There are dozens, but here are a few:
Rules and Regulations
Our New York lease rules and regulations options are the perfect alternatives to a full addendum. They allow you to set terms on common leasing issues by checking a box or by adding your own, brief description. Examples:
Tenant may not use windows, decks or balconies for drying laundry.
Landlord does not permit loud gatherings.
Water beds and liquid furniture are not permitted without landlord's written permission.
Tenant shall notify landlord of any pest control problems.
Related Articles
How to Legally Lease Using Airbnb in NY, When 72% of Rentals Are Illegal
View Article >
New York Landlord Tenant Law and Regulations
View Article >
Why ezLandlordForms?
#1 Rated Lease Agreement
9.3 TrustPilot Rating, with 3,384 Reviews
Flexible Billing
Choose one-time or subscription billing
State Assist
So you know you're complying with state laws
Full Support
Phone, live chat, or email... try us now!
Unlimited Access
Edit & print any of our forms with pro access
Satisfaction Guarantee
Trusted by over 2.3 million landlords & property managers