South Carolina Lease Agreement with ezSign
Now with ezSign. South Carolina imposes many regulations on lease agreements, which our lease builder will help explain as you create an SC rental contract.
Document Last Modified: 2/18/2020
Document Features
Uses Lease Builder
State-Specific
ezSign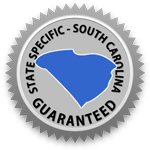 Managing rental properties in South Carolina requires careful consideration of the state's Landlord Tenant laws. Our Lease Builder guides the South Carolina landlord or property manager in creating a rental agreement package that complies with those laws. This lease and all of our attorney-drafted, user-friendly lease forms, include terms that are specifically chosen to minimize the landlord's exposure in the event of legal action.
As you complete blank fields in this lease agreement, you may refer to the green South Carolina Assist instruction boxes that appear in applicable sections. For instance, in the landlord information section of the Lease Builder, an Assist box will explain that your tenant must, under state law, be given a written name and address for the landlord or for any agent who will be acting on the landlord's behalf. In the fees and maintenance section of the Lease Builder, an Assist box explains that if a fee will be charged for a returned check, that fee may not, under state law, exceed $30.
The lease package also includes both required and optional addenda, disclosures and informational documents to protect you and your investment property.
SOUTH CAROLINA LEASE FEATURES
South Carolina state-required terms
Custom clauses
Help provided with multiple, South Carolina Assist boxes
Options to add your own clauses
ezSign, email or print lease
SOUTH CAROLINA LEASE PACKAGE DOCUMENTS
These represent just a few of the additional legal forms you may include in your lease package:
RULES & REGULATIONS

Below is a sample of the dozens of additional rules you can include in your South Carolina lease package by simply checking boxes:

Tenant agrees not to use the Leased Premises for any unlawful purposes including but not limited to the sale, use or possession of illegal drugs on or around the leased premises.
Charcoal and gas grills may not be used inside the leased premises.
Absolutely no hazardous materials are permitted to be in or around the leased premises at any time.
Tenant agrees not to transfer, assign or sub-lease the Leased Premises without the Landlord's written permission. (Legally required)
No smoking permitted in the leased premises.
Trampolines prohibited on the leased premises.
Why ezLandlordForms?
#1 Rated Lease Agreement
9.3 TrustPilot Rating, with 3,384 Reviews
No Recurring Billing
No automatic charges or monthly billing
State Assist
So you know you're complying with state laws
Full Support
Phone, live chat, or email... try us now!
Unlimited Access
Edit & print any of our forms with pro access
Satisfaction Guarantee
Trusted by over 2.3 million landlords & property managers