Idaho Lease Agreement with ezSign
Now with ezSign. Idaho's landlord-tenant laws are unique, so our ID lease wizard guides you through them as you build your custom Idaho lease agreement.
Document Last Modified: 6/9/2021
Document Features
Uses Lease Builder
State-Specific
ezSign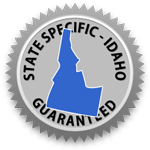 Build a complete, professional rental packet for your new tenants that includes all the terms you need to protect your investment. Our team of legal professionals continually researches statutes in order to ensure that this Idaho-specific lease complies with the state's Landlord-Tenant laws.
Create the agreement using our easy Lease Builder Wizard. The technology will guide you in entering names, dates and other terms in the responsive fields. In cases where you must apply an Idaho law, our green Idaho Assist text boxes will provide clear instructions on how to do so.
There are multiple opportunities to customize this document, as well. A simple click of the mouse is all that it takes to include or remove optional restrictions, add fees, and insert rules. For rules which require a longer explanation, an addendum may be selected and may be customized with your preferred wording. This flexibility allows you to cover circumstances that could come up in your unique rental property - the way that you want to address them. Once the lease is complete, your ezLandlordForms account will retain all the details. This makes it easy to create tenant notices, as well as subsequent rental agreements.
A Great Lease makes a Great Landlord
▶ Watch the Great Lease Video
Video to Share with New Tenants
▶ Watch the Move in Video
Idaho State Laws
Category
State Law
Ending and Renewing
Idaho Law
WRITTEN LEASE - WITH END OF LEASE PROVISION: Instructions and/or terms in the lease itself that provides for how to end or terminate the lease shall be followed unless both parties agree otherwise.

WRITTEN LEASE - WITH NO END OF TERM PROVISION: If there is no provision in a lease regarding what happens when the lease ends, the lease simply expires, and the tenant becomes a "holdover" tenant. At this point, unless the landlord agrees to continue the tenancy or a new lease is signed, the landlord can start eviction proceedings

MONTH TO MONTH LEASES: If the lease is a month-to-month tenancy, either party may end the lease with at least a month's advance written notice to the other party.

RENT INCREASES: Landlords may increase a tenant's rent only after proper notice. The landlord may not increase the rent during the lease term unless the tenant agrees.
Security Deposit
Idaho Law
There is no limit to the security deposit charged to the tenant so long as it is reasonable.

IMPORTANT: The landlord must maintain a separate record of deposits. During the tenant's lease term, deposit funds should be held in a special escrow or trust account for safekeeping to avoid intermingling refundable funds (deposits) with nonrefundable funds (rents).
Returned Payment Fee
Idaho Law
Idaho does not limit the amount a landlord can charge a tenant for a late fee.
Late Fee
Idaho Law
Idaho does not limit the amount a landlord can charge a tenant for a late fee.
Insurance Requirements
Idaho Law
Landlords may require tenants to obtain rental insurance, and could make the failure to do so a breach of the lease.
Addenda & Disclosures
Idaho Law
LEAD PAINT:
If the leased premises was constructed prior to 1978, the landlord must provide all tenants with the Lead-Based Paint EPA Disclosure and the Lead-Based Paint EPA Pamphlet.
Notice to Enter
Idaho Law
There is no requirement for the landlord to give notice. However, it is highly recommended to at least give 24 hours notice to enter the leased premises.
Landlord Requirements
Idaho Law
Non-Refundable Fees:
A lease that requires the tenant to pay large non-refundable, upfront fees is not permitted.
Contact your local housing or zoning office to be sure your rental property complies with city and county requirements for inspections, rent control, occupancy limits, property codes and zoning. Many cities and counties require inspections, registrations and have specific maintenance regulations.
Idaho Forms & Documents
Idaho Landlord and Tenant Guidelines
Idaho 3 Day Notice to Pay Rent or Quit
Idaho 3 Day Notice to Quit
Idaho Complaint for Eviction
IDAHO LEASE FEATURES
There are so many great features included in the Lease Package:
All terms that Idaho requires of leases
Options to add and customize clauses
Direction provided with green, Idaho Assist boxes
Options to add your own terms
ezSign, email or print lease
Create your Iowa Lease Agreement for Residential, Condo, House, Home, Trailer, Apartment, Townhome, Housing, Real Estate, Duplex, Buildings, and many more!
IOWA LEASE PACKAGE DOCUMENTS
All optional addenda and disclosures may be checked off in the Lease Builder to be added to the lease:
RULES & REGULATIONS
Rules eliminate confusion over your expectations for your property. Among those that are popular with many landlords and property managers are:
Tenant must inform landlord of employment change.
Late fees will be strictly enforced.
Storage of hazardous materials on premises is prohibited.
Stove, oven or range may not be used as a source for heat.
No smoking in the leased premises.
Tenant must follow condominium or homeowners association rules.
Tenant responsible for removing snow and ice from stairs and walkways.
Related Articles
Idaho Landlord Tenant Law and Regulations
View Article >
Why ezLandlordForms?
#1 Rated Lease Agreement
9.3 TrustPilot Rating, with 3,384 Reviews
Flexible Billing
Choose one-time or subscription billing
State Assist
So you know you're complying with state laws
Full Support
Phone, live chat, or email... try us now!
Unlimited Access
Edit & print any of our forms with pro access
Satisfaction Guarantee
Trusted by over 2.3 million landlords & property managers