Montana Lease Agreement with ezSign
Now with ezSign. We make it easy to comply with MT leasing laws by explaining relevant legal restrictions in turn, as you create a Montana lease agreement.
Document Last Modified: 6/11/2021
Document Features
Uses Lease Builder
State-Specific
ezSign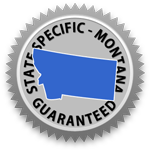 This rental agreement complies with Montana's Landlord Tenant laws, which govern the legal relationship between the landlord and the tenant. It meets state statutes, but also allows customization by the landlord.
The lease is created using the online, interactive, Lease Builder Wizard. The user will be prompted to fill in dates and names, select optional rules, and choose terms. At each step, there are also opportunities to add blank fields and type in your own distinct wording.
In sections where specific Montana laws apply, blocks of text titled Montana Assist give guidance on making choices that satisfy those restrictions. For example, Montana considers damage and cleaning fees to be part of the security deposit, and therefore refundable.
To further explain your expectations to your tenants, include any of the dozens of available addenda, disclosures and information documents. Some examples are shown below.
A Great Lease makes a Great Landlord
▶ Watch the Great Lease Video
Video to Share with New Tenants
▶ Watch the Move in Video
Montana State Laws
Category
State Law
Ending and Renewing
Montana Law
Month to Month: By written notice of at least 30 days prior to the termination date.
Fixed Term Lease: Automatically terminates at the end of the lease unless specified otherwise.
Security Deposit
Montana Law
There is no limit to the security deposit charged to the tenant so long as it is reasonable.
Returned Payment Fee
Montana Law
Returned/dishonored check fees may not exceed $30. To recover the service charge, the landlord must make the demand in writing.
Late Fee
Montana Law
Late fees should remain reasonable and related to the landlord's actual expenses incurred.
Insurance Requirements
Montana Law
Landlords may require tenants to obtain rental insurance.
Addenda & Disclosures
Montana Law
If the leased premises was constructed prior to 1978, the landlord must provide all tenants with the Lead-Based Paint EPA Disclosure and the Lead-Based Paint EPA Pamphlet.

At the beginning of the tenancy the landlord must provide the tenant with a written statement of the condition of the premises.

The landlord may use the Move in Move Out Condition Report included in the addendum section below.
Notice to Enter
Montana Law
Landlords must give at least 24 hours notice to enter the leased premises.
Landlord Requirements
Montana Law
Non-Refundable Fees
A fee or charge for cleaning and damages, no matter how designated, is presumed to be a security deposit. A Security Deposit is always a refundable item.

If the landlord controls the heat, it must be supplied between October 1st and May 1st.
Contact your local housing or zoning office to be sure your rental property complies with city and county requirements for inspections, rent control, occupancy limits, property codes and zoning. Many cities and counties require inspections, registrations and have specific maintenance regulations.
Montana Forms & Documents
Montana Landlords' Rights & Duties Handbook
Montana Notice to Vacate
Montana Lease Features
There are so many great features included in the Lease Package:
Directions for complying with state laws via Montana Assist
All Montana-required language
Clauses which may be customized
Options to add your own terms
ezSign, email or print lease
Create your Montana Lease Agreement for Residential, Condo, House, Home, Trailer, Apartment, Townhome, Housing, Real Estate, Duplex, Buildings, and many more!
Montana Lease Package Documents
The lease package may include any of the following forms, and many more:
Optional lease packet cover page with your custom logo, and table of contents
Rules and Regulations
Optional rules, including those below, may be included with the Montana lease package:
Use of kerosene heaters is prohibited
Absolutely no smoking in rental property.
Tenant must not use leased premises for any unlawful purpose.
Tenant responsible for removing snow, ice from stairs and walkways.
Late fees are strictly enforced and any unpaid fees will not be waived.
No hazardous materials permitted to be on leased premises at any time.
Tenant will test/maintain carbon monoxide detectors and report malfunctions to landlord.
Related Articles
Montana Landlord Tenant Law and Regulations
View Article >
Why ezLandlordForms?
#1 Rated Lease Agreement
9.3 TrustPilot Rating, with 3,384 Reviews
Flexible Billing
Choose one-time or subscription billing
State Assist
So you know you're complying with state laws
Full Support
Phone, live chat, or email... try us now!
Unlimited Access
Edit & print any of our forms with pro access
Satisfaction Guarantee
Trusted by over 2.3 million landlords & property managers