Kentucky Lease Agreement with ezSign
Now with ezSign. Our Kentucky rental agreement is both quick and thorough, allowing customization and informing you of Kentucky laws as you create the lease.
Document Last Modified: 6/11/2021
Document Features
Uses Lease Builder
State-Specific
ezSign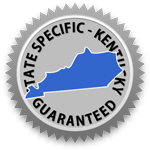 This Kentucky lease agreement meets the state's complex Landlord Tenant laws, yet is easy and intuitive to fill in. As the landlord or property manager completes this form, lease details are saved to the user's account for future reference. This makes property management more efficient, because details may be used to automatically fill in subsequent tenant notices.
Our unique Lease Builder takes you through the steps to create a legal document, and guides you in properly applying specific state rules. For instance, landlords in Kentucky are permitted to insist that a tenant purchase renter insurance. This and other state rules are spelled out in green, Kentucky Assist instruction boxes. This Kentucky rental agreement also meets the Landlord Tenant requirements for the cities of Lexington and Louisville.
In addition to state-required text, this form includes such federally-required information as the Lead Paint Disclosure and the Lead Paint Pamphlet.
Also, dozens of optional addenda, disclosures and information pamphlets - that will make a landlord's expectations clear - may be attached to the main contract, by checking boxes in the last step of the Lease Builder.
Opportunities to customize lease conditions appear throughout the process. As terms are selected, alternate fields will appear; this is how the Lease Builder program is different from a blank agreement purchased at an office supply store.
Finally, the landlord can periodically save and download the lease for a thorough review before returning to the Lease Builder to make any desired changes as many times as needed.
Direct any questions to the ezLandlordForms customer support team. It is the best in the industry, and staff can expertly guide landlords through building, emailing, and ezSigning the finished document.
A Great Lease makes a Great Landlord
▶ Watch the Great Lease Video
Video to Share with New Tenants
▶ Watch the Move in Video
Kentucky State Laws
Category
State Law
Ending and Renewing
Kentucky Law
Week to Week: The landlord or tenant may terminate the tenancy by a written notice given to the other at least 7 days before the termination date specified in the notice.

Month to Month: The landlord or tenant may terminate the tenancy by a written notice given to the other at least 30 days before the periodic date specified within the notice.

Fixed Term Leases: Unless otherwise specified within the lease, the tenant vacates when the lease terminates.
Security Deposit
Kentucky Law
There is no limit placed on the security deposit charged to the tenant so long as it is reasonable. Landlords must deposit the security deposit in a bank account and provide the tenant with the bank name, address, and account number.
Please Note: Before occupancy, a complete list of any existing damage to the property, and a cost estimate for the necessary repairs are required before the tenant moves into the premises.
Returned Payment Fee
Kentucky Law
Returned payment fees may not exceed $50 and must be specified within the lease. Ky. Rev. Stat. Ann. § 514.040
Late Fee
Kentucky Law
Late fees should remain reasonable and related to the landlord's actual expenses incurred.
Insurance Requirements
Kentucky Law
Landlords may require tenants to obtain rental insurance, and could make the failure to do so a breach of the lease.
Addenda & Disclosures
Kentucky Law
If the leased premises was constructed prior to 1978, the landlord must provide all tenants with the Lead-Based Paint EPA Disclosure and the Lead-Based Paint EPA Pamphlet.
Notice to Enter
Kentucky Law
Landlords must give at least 2 days notice before entering the leased premises for non emergency reasons.
Landlord Requirements
Kentucky Law
Non-Refundable Fees
There are no stated regulations limiting the collection of non-refundable fees.
Contact your local housing or zoning office to be sure your rental property complies with city and county requirements for inspections, rent control, occupancy limits, property codes and zoning. Many cities and counties require inspections, registrations and have specific maintenance regulations.
Louisville: All property located in Louisville Metro and occupied or offered for occupancy in exchange for money or any other consideration must be registered with Louisville Metro Government. Failure to register is subject to a fine up to $100 per day per housing unit.
Lexington: Short term rentals must obtain a business license as well as a Certificate of Occupancy. In Lexington, short term rentals are defined as rentals for a period of less than one week in duration.
Kentucky Forms & Documents
Kentucky 7 Day Notice to Pay Rent or Quit
Kentucky 14 Day Notice to Cure or Vacate
Kentucky 14 Day Notice to Vacate
Kentucky Official Forcible Detainer Complaint
Kentucky Lease Features
There are so many great features included in the Lease Package:
Legal language that meets Kentucky requirements
Kentucky Assist instruction boxes provide guidance on filling in terms
Custom clauses using language the landlord selects
Options to enter unique rules and terms
ezSign, email or print lease
Create your Kentucky Lease Agreement for Residential, Condo, House, Home, Trailer, Apartment, Townhome, Housing, Real Estate, Duplex, Buildings, and many more!
Kentucky Lease Package Documents
Additional forms, that are easy to fill in, may be added to the lease by checking a box. This is a sample of optional documents:
Rules and Regulations
Write and include your own rules and guidelines, or select optional, pre-written guidelines from the dozens offered, including:
Tenant may not interfere with the peaceful enjoyment of the neighbors.
Late fees are mandatory and any non-payments will not be waived.
Landlord has provided fire extinguisher(s) for your safety. Tenant may not misuse, dismantle, block or remove the fire extinguisher and must report any use, malfunction or repair required.
All windows and doors must remain closed during inclement weather.
Description of available parking.
Tenant may not sublet.
Why ezLandlordForms?
#1 Rated Lease Agreement
9.3 TrustPilot Rating, with 3,384 Reviews
Flexible Billing
Choose one-time or subscription billing
State Assist
So you know you're complying with state laws
Full Support
Phone, live chat, or email... try us now!
Unlimited Access
Edit & print any of our forms with pro access
Satisfaction Guarantee
Trusted by over 2.3 million landlords & property managers