District of Columbia Lease Agreement with ezSign
Now with ezSign. Washington DC has its own set of landlord-tenant laws, despite its diminutive size. This DC lease agreement complies and offers legal tips.
Document Last Modified: 2/18/2020
Document Features
Uses Lease Builder
State-Specific
ezSign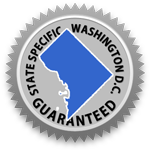 Landlords and property managers with rentals in the District of Columbia must meet specific requirements set by law. The District maintains strict rules on registering rentals and on rent control, and it even enacted its own Tenant Bill of Rights Amendment in 2014. This Lease Agreement meets District laws and is updated when new amendments are passed, so that your rental contract is compliant.
Numerous documents provided on our DC forms page supply the background and details you need to ensure a professional lease that will protect your real estate investment. The easy-to-use Lease Builder Wizard lets you quickly enter terms, select options for rent payments, and set expectations for tenants' care of your property.
Green, shaded DC Assist instruction boxes guide you in making the right choices when DC laws must be applied. For instance, in Step 3 of the Lease Builder Wizard, a DC Assist will explain that landlords may not charge tenants more than the equivalent of a month's rent as a security deposit; further, the deposit must be held in an interest-bearing account.
DISTRICT OF COLUMBIA LEASE FEATURES
All District-required language
Custom clauses
Help provided with green, DC Assist boxes
Options to add your own clauses
ezSign, email or print lease
DISTRICT OF COLUMBIA LEASE PACKAGE DOCUMENTS
Some addenda will automatically be attached to the lease. Then, you may add as many extra addenda as you wish. Here are some examples or required and optional addenda:
RULES & REGULATIONS
Any of these rules and regulations, and more, may be added to your lease by checking a box:
Tenant will not transfer, assign or sublease unit without landlord's written permission.
Tenant shall follow rules of any governing condominium or homeowners association.
Use of windows, decks, or balconies for the purpose of drying laundry is prohibited.
Tenant may not place any signs on or about the leased premises.
Installation of a satellite system or antenna must be approved by landlord.
Tenant must maintain air filters for heater and/or air conditioner.
Available parking is described in lease.
Why ezLandlordForms?
#1 Rated Lease Agreement
9.3 TrustPilot Rating, with 3,384 Reviews
No Recurring Billing
No automatic charges or monthly billing
State Assist
So you know you're complying with state laws
Full Support
Phone, live chat, or email... try us now!
Unlimited Access
Edit & print any of our forms with pro access
Satisfaction Guarantee
Trusted by over 2.3 million landlords & property managers