District of Columbia Lease Agreement with ezSign
Now with ezSign. Washington DC has its own set of Landlord-Tenant Laws, despite its diminutive size. This DC Lease Agreement complies and offers legal tips.
Document Last Modified: 7/2/2021
Document Features
Uses Lease Builder
State-Specific
ezSign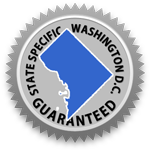 Landlords and property managers with rentals in the District of Columbia must meet specific requirements set by law. The District maintains strict rules on registering rentals and on rent control, and it even enacted its own Tenant Bill of Rights Amendment in 2014. This Lease Agreement meets District laws and is updated when new amendments are passed, so that your rental contract is compliant.
Numerous documents provided on our DC forms page supply the background and details you need to ensure a professional Lease that will protect your real estate investment. The easy-to-use Lease Builder Wizard lets you quickly enter terms, select options for rent payments, and set expectations for Tenants' care of your property.
Green, shaded DC Assist instruction boxes guide you in making the right choices when DC laws must be applied. For instance, in Step 3 of the Lease Builder Wizard, a DC Assist will explain that Landlords may not charge Tenants more than the equivalent of a month's rent as a security deposit; further, the deposit must be held in an interest-bearing account.
A Great Lease makes a Great Landlord
▶ Watch the Great Lease Video
Video to Share with New Tenants
▶ Watch the Move in Video
District of Columbia State Laws
Category
State Law
Ending and Renewing
DC Law
Periodic Term: When real estate is Leased on a month to month or quarter to quarter basis, Landlords or Tenants must give advance notice of 30 days when ending or renewing a Lease.

Fixed Term: When real estate is Leased for a certain term, no notice to terminate the Lease shall be necessary, however, the Landlord is entitled to possession immediately upon the expiration of the term.

For rent-controlled units, rent adjustment information: DC Certification of Rent Adjustment of General Applicability
Security Deposit
DC Law
Collecting last month's rent in advance is not permitted.

Non-Refundable Fees: There are no stated regulations limiting the collection of non-refundable fees.
Returned Payment Fee
DC Law
There are no statutory limitations placed on a charge for a returned payment fee.
Late Fee
DC Law
Late fee cannot exceed 5% of rent and there is a five day grace period. If a Tenant is receiving government assistance for housing, the late fee will apply only to the portion paid by the Tenant. Any late fees must be stated in the Lease.
Insurance Requirements
DC Law
In DC, Landlords are not permitted to require Tenants to obtain rental insurance.
Addenda & Disclosures
DC Law
If the Leased premises was constructed prior to 1978, the Landlord must provide all Tenants with the Lead-Based Paint EPA Disclosure and Lead-Based Paint EPA Pamphlet.
Notice to Enter
DC Law
Landlords must provide at least 48 Hours notice to enter the Leased premises.
Landlord Requirements
DC Law
Landlords must provide the Tenant with a copy of the Lease and all addendums within seven (7) days after execution of the Lease.

In DC, all Landlords are governed by the Rental Housing Act of 1985 unless they are exempt or excluded from the Act. Landlords must register with the Housing Regulation Administration to ensure compliance with DC's complex rent control system (which establishes a maximum amount of rent a Landlord may charge for a rental unit).

Landlords should check with local housing officials, an attorney, or rent control board for further information and ensure compliance.
Contact your local housing or zoning office to be sure your rental property complies with city and county requirements for inspections, rent control, occupancy limits, property codes and zoning. Many cities and counties require inspections, registrations and have specific maintenance regulations.
District of Columbia Forms & Documents
District of Columbia BBL Inspection Consent Form
DC Required Notice to Tenants of Housing Code Provisions
District of Columbia Lead Disclosure Form
DC Housing Disclosure to Applicant (RAD Form 3)
Washington DC Tenant Bill of Rights
DC Rental Registration/Claim of Exemption (RAD Form 1)
D.C. 30 Day Notice to Correct or Vacate (RAD Form 10)
DC 30 Day Notice to Vacate for Illegal Activity (RAD Form 11)
District of Columbia Lease Features
There are so many great features included in the Lease Agreement:
All District-required language
Custom clauses
Help provided with green, DC Assist boxes
Options to add your own clauses
ezSign, email or print Lease
Create your District of Columbia Lease Agreement for Residential, Condo, House, Home, Trailer, Apartment, Townhome, Housing, Real Estate, Duplex, Buildings, and many more!
District of Columbia Lease Package Documents
Some addenda will automatically be attached to the Lease. Then, you may add as many extra addenda as you wish. Here are some examples or required and optional addenda:
Rules and Regulations
Any of these rules and regulations, and more, may be added to your Lease by checking a box:
Tenant will not transfer, assign or Sublease unit without Landlord's written permission.
Tenant shall follow rules of any governing condominium or homeowners association.
Use of windows, decks, or balconies for the purpose of drying laundry is prohibited.
Tenant may not place any signs on or about the Leased premises.
Installation of a satellite system or antenna must be approved by Landlord.
Tenant must maintain air filters for heater and/or air conditioner.
Available parking is described in Lease.
Why ezLandlordForms?
#1 Rated Lease Agreement
9.3 TrustPilot Rating, with 3,384 Reviews
Flexible Billing
Choose one-time or subscription billing
State Assist
So you know you're complying with state laws
Full Support
Phone, live chat, or email... try us now!
Unlimited Access
Edit & print any of our forms with pro access
Satisfaction Guarantee
Trusted by over 2.3 million landlords & property managers