Maine Lease Agreement with ezSign
Now with ezSign. Given Maine's landlord-tenant laws, it's critical Maine landlords use a Maine lease agreement, which we provide including law tips as you go.
Document Last Modified: 6/11/2021
Document Features
Uses Lease Builder
State-Specific
ezSign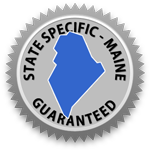 This rental agreement includes all terms that are required to meet Maine's Landlord Tenant laws. It has also been written with professional, legal language that is designed to minimize the landlord's exposure in the event of litigation.
Each section of the lease includes tips and guidance. The green, Maine Assist text boxes guide you in properly applying the law. For instance, Maine landlords may not require a security deposit amount that is greater than the equivalent of two months' rent.
Moving through the lease sections, you may select terms from lists of options, or you may type in your own terms. It is an easy, interactive template, meaning that as the landlord or property manager selects options, the lease will add or remove subsequent phrases. Once you've built your basic contract, you can choose from dozens of additional addenda that expand on rules, so that your full expectations for your rental will be clear.
A Great Lease makes a Great Landlord
▶ Watch the Great Lease Video
Video to Share with New Tenants
▶ Watch the Move in Video
Maine State Laws
Category
State Law
Ending and Renewing
Maine Law
Unless otherwise specified within the lease, landlords or tenants must give 30 days advance notice before lease termination.
Security Deposit
Maine Law
A landlord shall not demand or receive a security deposit in excess of 2 months' rent.
Returned Payment Fee
Maine Law
For returned payments, the Landlord must give notice that the check has been dishonored. The notice must state to whom the check was payable, the amount, date, and number of the check, as well as the name of the bank on which the check is drawn.

The notice must also contain a warning that failure to pay within 10 days will subject the tenant to additional costs which include court and processing charges incurred by the landlord, interest at the rate of 12% per year from the date of failed payment, and attorney's fees. §6071
Late Fee
Maine Law
Payment of rent is late if it is not made within 15 days from the time the payment is due. A landlord may not assess a fee for the late payment of rent which exceeds 4% of the amount due for 1 month.

Please Note: It's important to change the default number in the field where it states - Tenant is charged a late fee after "5" (default number) days to "15" days.
Insurance Requirements
Maine Law
Landlords may require tenants to obtain rental insurance.
Addenda & Disclosures
Maine Law
If the leased premises was constructed prior to 1978, the landlord must provide all tenants with the Lead-Based Paint EPA Disclosure and the Lead-Based Paint EPA Pamphlet.

RADON: The State of Maine has passed a law requiring landlords to test all rental properties for radon. In addition, a written disclosure statement must be given to each tenant, informing them of the risks of radon exposure. Those risks include lung cancer. The tenant will have to sign an acknowledgment that they have received this disclosure.
Both of these forms are available in the ezProLease.

Exception for radon testing of mobile homes: Due to the nature of mobile homes, radon testing is not required in mobile homes which are on public water and have wheels under them and do not have permanent, durable skirting (which creates the equivalent to a basement or crawlspace under the mobile home). Un-insulated wood planking or un-insulated plastic affixed to framing is not considered permanent or durable when determining the need for radon testing. A mobile home with poured concrete or masonry block foundation walls; or one with air-tight and insulated skirting, must be tested.
Notice to Enter
Maine Law
Landlords must give at least 24 hour notice before entering leased premises.
Landlord Requirements
Maine Law
Landlords may not lease or offer to lease a dwelling unit in a multi-unit residential building where the expense of furnishing electricity to the common areas or other areas not within the unit is the sole responsibility of the tenant, unless both parties have agreed in writing that the tenant will pay for such costs in return for a stated reduction in rent or other specified fair consideration that approximates the actual cost of electricity to the common areas. "Common areas" include, but are not limited to, hallways, stairwells, basements, attics, storage areas, fuel furnaces or water heaters used in common with other tenants.
Contact your local housing or zoning office to be sure your rental property complies with city and county requirements for inspections, rent control, occupancy limits, property codes and zoning. Many cities and counties require inspections, registrations and have specific maintenance regulations.
Maine Forms & Documents
Maine Radon Disclosure
Maine Energy Efficient Disclosure Form
Maine Residential Rental Property Lead Disclosure Statement
Maine Complaint for Forced Entry & Detainer
Maine 7 Day Demand for Rent
Maine 7 Day Notice to Vacate
Maine 30 Day Notice to Terminate Tenancy
Maine Lease Features
There are so many great features included in the Lease Package:
All language required by Maine
Custom clauses
Help provided with green, Maine Assist boxes
Options to add your own clauses
ezSign, email or print lease
Create your Maine Lease Agreement for Residential, Condo, House, Home, Trailer, Apartment, Townhome, Housing, Real Estate, Duplex, Buildings, and many more!
Maine Lease Package Documents
The Maine lease package includes all required forms. Among the many optional forms are these examples:
Rules and Regulations
Select from multiple options to keep your rental protected and your tenant clear about your expectations. For instance:
Tenant must obtain written permission to install a satellite system or antenna.
Stove, oven and range may not used as heating.
All windows and doors must remain closed during inclement weather.
Tenant will test and maintain carbon monoxide detector(s), and will report any malfunctions to the landlord.
Tenant responsible for removing snow, ice from stairs and walkways.
Late fees are strictly enforced and any unpaid fees will not be waived.
Charcoal and gas grills may not be used or stored on any common areas, balconies, decks, patios, porches, and/or landings or entrance ways.
No hazardous materials are permitted in or around leased premises at any time.
Why ezLandlordForms?
#1 Rated Lease Agreement
9.3 TrustPilot Rating, with 3,384 Reviews
Flexible Billing
Choose one-time or subscription billing
State Assist
So you know you're complying with state laws
Full Support
Phone, live chat, or email... try us now!
Unlimited Access
Edit & print any of our forms with pro access
Satisfaction Guarantee
Trusted by over 2.3 million landlords & property managers