Massachusetts Lease Agreement with ezSign
Now with ezSign. Create your do-it-yourself Massachusetts Lease Agreement to provide a strict contract that is up to date on MA landlord tenant code.
Document Last Modified: 8/26/2021
Document Features
Uses Lease Builder
State-Specific
ezSign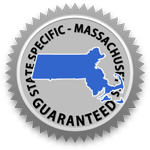 Our attorney-approved Massachusetts lease agreement meets state laws, and is periodically updated as Massachusetts Landlord-Tenant regulations change, to ensure that your document is state-specific. In addition, this document also meets lease requirements for the city of Boston.
As you go through the Lease Builder and complete such fields as the rent amount, tenant names and more, refer to the State Assist information boxes so that you can be sure you are complying with Massachusetts law. For instance, when you enter terms for the security deposit, the State Assist box explains that landlords in Massachusetts must provide a written statement of the condition within 10 days of collecting the security deposit from the tenant.
Along with the disclosures, addendums, and information documents that are relevant to Massachusetts, you also may attach an unlimited, customized addendum that set rules on pets, guests, maintenance, parking, pest control, and many other issues. The text offered in the Massachusetts lease agreement is specifically written to minimize the landlord's exposure in case of legal action.
A Great Lease makes a Great Landlord
▶ Watch the Great Lease Video
Video to Share with New Tenants
▶ Watch the Move in Video
Massachusetts State Laws
Category
State Law
Ending and Renewing
Massachusetts Law
Under a Fixed Term Tenancy (a tenancy with a specific beginning and ending date), the lease ends on the date specified unless otherwise agreed upon by both the landlord and tenant.

Under a Periodic Tenancy, also referred to as "tenant at will", (a tenancy that is ongoing with no specific ending date) the lease ends, when either the tenant or landlord serves a written notice. The time of notice must be equal to the length of time between rental payments or 30 days, whichever is longer.

For further information, please visit: MAlegislature.gov
Security Deposit
Massachusetts Law
A landlord can only require a tenant to pay for the following items upon moving in:
first month's rent
last month's rent
a security deposit of no more than one month's rent
the cost of buying and installing a new lock.

Massachusetts law permits that landlords may charge tenants only for
(1) first month's rent,
(2) last month's rent,
(3) a security deposit, and
(4) a key installation fee.

Any additional amenity use fee is illegal.
Returned Payment Fee
Massachusetts Law
Assessed fees should be reasonably related to the expenses the landlord incurs as a result of a returned payment.
Late Fee
Massachusetts Law
30 days after the due date, the landlord may charge a reasonable fee on late rent.

Please Note: It's important to change the default number in the field where it states - Tenant is charged a late fee after "5" (default number) days to "30" days or more.
Insurance Requirements
Massachusetts Law
Landlords may require tenants to obtain rental insurance, and could make the failure to do so a breach of the lease.
Addenda & Disclosures
Massachusetts Law
If the leased premises was constructed prior to 1978, the landlord must provide all tenants with the Lead-Based Paint EPA Disclosure and the Lead-Based Paint EPA Pamphlet. Landlords must supply the tenant with a copy of the most recent lead inspection report for the leased premises, a letter of "interim control" if intermediate steps are being taken to control the lead paint, or a letter of compliance indicating that any necessary de-leading measures have been taken.
Notice to Enter
Massachusetts Law
Landlord is required to provide reasonable notice.
Landlord Requirements
Massachusetts Law
Massachusetts regulations require that rental units with cooking facilities contain a kitchen sink, a stove and oven, and allow for the installation of a refrigerator.

A lease may not contain clauses nor may a landlord require that the tenant pay for electricity or gas, water or heat when the service or bill is in the landlord's name. The law also requires that a landlord must pay the utilities unless there is a meter that separately calculates the tenant's utility use.

IMPORTANT: Under provisions of the State Sanitary Code, the landlord is responsible for paying for heat and hot water. The landlord can only require the tenant to pay for heat and hot water in accordance with landlord-tenant statutes when it is written into a lease agreement.
Contact your local housing or zoning office to be sure your rental property complies with city and county requirements for inspections, rent control, occupancy limits, property codes and zoning. Many cities and counties require inspections, registrations and have specific maintenance regulations.
Massachusetts Forms & Documents
Massachusetts Tenant Lead Law Notification and Certification Form
Massachusetts Statement of Condition
Massachusetts 14 Day Notice To Quit for Non-Payment of Rent
Massachusetts 30-Day Notice to Quit
Massachusetts Lease Features
There are so many great features included in the Lease Package:
Help provided with green, Massachusetts Assist instruction boxes
Massachusetts required language automatically included
Clauses that may be customized
Unlimited options to add your own rules and guidelines
ezSign, email or print lease
Create your Massachusetts Lease Agreement for Residential, Condo, House, Home, Trailer, Apartment, Townhome, Housing, Real Estate, Duplex, Buildings, and many more!
Massachusetts Lease Package Documents
Here are some of the forms that must be included in the lease agreement, as well as some forms which you may choose to include in the Massachusetts lease if you wish:
Massachusetts Statement of Condition - Legally required
Massachusetts Lead Certification and Tenant Notification - Legally required for units built before 1978
Option to Purchase Property Addendum
Pet Addendum
Zero-Tolerance for Crime
Optional cover page, Table of Contents and personal logo
Rules and Regulations
Below are just a few of the dozens of available rules and regulations you can check off for inclusion in your Massachusetts lease package:
The Tenant agrees to test carbon monoxide detector(s) periodically as well as maintain operational batteries at all times.
Late fees are strictly enforced and any unpaid fees will not be waived.
No Smoking in leased premises.
Tenant must report malfunctioning smoke detectors.
Why ezLandlordForms?
#1 Rated Lease Agreement
9.3 TrustPilot Rating, with 3,384 Reviews
Flexible Billing
Choose one-time or subscription billing
State Assist
So you know you're complying with state laws
Full Support
Phone, live chat, or email... try us now!
Unlimited Access
Edit & print any of our forms with pro access
Satisfaction Guarantee
Trusted by over 2.3 million landlords & property managers