Virginia Lease Agreement with ezSign
Now with ezSign. The most complete Virginia lease agreement package available online. We pride ourselves on superior legal forms - minus the cost of attorneys or high fees.
Document Last Modified: 6/14/2021
Document Features
Uses Lease Builder
State-Specific
ezSign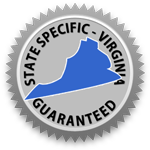 Whether you're a seasoned property manager or a first-time landlord, we simplify your workload by helping you to tailor a lease that complies with Virginia's complex Landlord-Tenant laws. Using our Virginia Lease Builder, you can be confident in knowing that the state's lease laws and regulations are met.
In addition, this document also meets lease requirements for the city of Virginia Beach. Our Virginia Assist boxes highlight relevant parts of Virginia's laws and regulations as you fill in your lease in seven quick steps. Additionally, the state-specific lease agreement includes carefully-worded clauses aimed at protecting landlords from litigation. You also have the option to customize terms and add unlimited addenda pertinent to your rental property.
A Great Lease makes a Great Landlord
▶ Watch the Great Lease Video
Video to Share with New Tenants
▶ Watch the Move in Video
Virginia State Laws
Category
State Law
Ending and Renewing
Virginia Law
Week-to-Week: The landlord or the tenant may terminate a tenancy by serving a written notice to the other 7 days prior to the next rental due date.
Month-to-Month: The landlord or the tenant may terminate a tenancy by serving a written notice to the other at least 30 days before the next rental due date.
Year to Year: The landlord or tenant may terminate a tenancy by either party giving 90 days notice, in writing, before the end of any year of the tenancy.
Fixed-Term: As specified within the lease agreement.
Security Deposit
Virginia Law
Security deposit may not exceed two months' rent.
Returned Payment Fee
Virginia Law
The processing fee for a returned check or payment shall not exceed $50 and must be specified in the rental agreement.
Late Fee
Virginia Law
Assessed fees should be reasonably related to the expenses the landlord incurs as a result of a late payment.
Insurance Requirements
Virginia Law
No statute: 24 hours notice and during reasonable hours is always recommended.
Addenda & Disclosures
Virginia Law
The following disclosures may be required:
1. Disclosures for properties located adjacent to a military air installation; remedy for non-disclosure.
2. Disclosure of mold in dwelling units.
3. Disclosures for properties with defective drywall; remedy for nondisclosure..
4. Disclosures for property previously used to manufacture methamphetamine; remedy for nondisclosure.
5. Notice to tenant in event of foreclosure.
Notice to Enter
Virginia Law
Landlords must provide at least 24 hours notice before entering leased premises.
Landlord Requirements
Virginia Law
Subleasing:
If the rental agreement contains any provision whereby the landlord may approve or disapprove a sublessee or assignee of the tenant, the landlord shall within 10 business days of receipt by him of the written application of the prospective sublessee or assignee on a form to be provided by the landlord, approve or disapprove the sublessee or assignee. Failure of the landlord to act within 10 business days shall be deemed evidence of his approval.

Smoke Detector Information: The landlord/Owner not an agent is responsible for making sure there are working smoke detectors at the commencement of the lease and at least once a year afterwards, as applicable. The owner must also make sure that the tenant gets a letter specifically stating that all of the smoke detectors are installed and working.

***Smoke detectors are required in each sleeping room, outside of each sleeping area and on each story of the dwelling unit. If the property contains more than one rental unit, a smoke detector shall be installed in the common areas.
Contact your local housing or zoning office to be sure your rental property complies with city and county requirements for inspections, rent control, occupancy limits, property codes and zoning. Many cities and counties require inspections, registrations and have specific maintenance regulations.

In limited instances, a property may be exempt from the guidelines of the Virginia Residential Landlord Tenant Act (VRLTA). Refer to Section § 55-248.3:1. Applicability of chapter. For example, single-family rental houses where the landlord owns and rents two or fewer houses are exempt. In these limited instances, to opt-out of the Virginia Residential Landlord and Tenant Act, the landlord must state this in the rental agreement.
Virginia Beach: All rental dwellings within designated Rental Inspection Districts are subject to inspection upon written notice to the owner. Owners of rental properties in these districts will be notified to register their properties with Code Enforcement.
Virginia Forms & Documents
Virginia Landlord Tenant Act & Handbook
Virginia Graeme Baker Act for Public Swimming Pools and Hot-tubsAct
Virginia Military Noise Disclosure
Virginia Official Summons for Unlawful Detainer
Virginia 21/30 Day Notice to Cure or Vacate
Virginia 5 Day Notice to Pay or Vacate
Virginia Lease Features
There are so many great features included in the Lease Package:
Virginia-specific terms included
Clauses that can be personalized
Virginia Assist tips
Ability to include individual guidelines
Sign lease electronically or print lease and add signatures
Create your Virginia lease agreement for Residential, Condo, House, Home, Trailer, Apartment, Townhome, Housing, Real Estate, Duplex, Buildings, and many more!
Virginia Lease Package Documents
Virginia addenda and many optional clauses are easily attached to the lease, such as:
Rules and Regulations
Some of the many choices for rules and regulations that you can include:
Tenant shall notify landlord of any pest control problems.
Tenant must notify landlord of any change in employment.
Use of any provided swimming pool or hot tub is at tenant's own risk.
Tenant may not store or park a recreational or commercial vehicle or watercraft at leased
property without written permission from landlord.
Related Articles
Virginia Landlord Tenant Law and Regulations
View Article >
Why ezLandlordForms?
#1 Rated Lease Agreement
9.3 TrustPilot Rating, with 3,384 Reviews
Flexible Billing
Choose one-time or subscription billing
State Assist
So you know you're complying with state laws
Full Support
Phone, live chat, or email... try us now!
Unlimited Access
Edit & print any of our forms with pro access
Satisfaction Guarantee
Trusted by over 2.3 million landlords & property managers