Virginia Lease Agreement with ezSign
Now with ezSign. The most complete Virginia lease agreement package available online. We pride ourselves on superior legal forms - minus the cost of attorneys or high fees.
Document Last Modified: 1/7/2021
Document Features
Uses Lease Builder
State-Specific
ezSign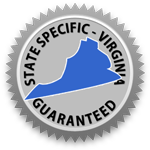 Whether you're a seasoned property manager or a first-time landlord, we simplify your workload by helping you to tailor a lease that complies with Virginia's complex Landlord Tenant laws. Using our Virginia Lease Builder, you can be confident in knowing that the state's lease laws and regulations are met.
In addition, this document also meets lease requirements for the city of Virginia Beach. Our Virginia Assist boxes highlight relevant parts of Virginia's laws and regulations as you fill in your lease in seven quick steps. Additionally, the state-specific lease agreement includes carefully-worded clauses aimed at protecting landlords from litigation. You also have the option to customize terms and add unlimited addenda pertinent to your rental property.
VIRGINIA LEASE FEATURES
Virginia-specific terms included
Clauses that can be personalized
Virginia Assist tips
Ability to include individual guidelines
Sign lease electronically or print lease and add signatures

VIRGINIA LEASE PACKAGE DOCUMENTS

Virginia addenda and many optional clauses are easily attached to the lease, such as:

ADDITIONAL RULES THAT MAY BE ADDED

Some of the many choices for rules and regulations that you can include:

Tenant shall notify landlord of any pest control problems.
Tenant must notify landlord of any change in employment.
Use of any provided swimming pool or hot tub is at tenant's own risk.
Tenant may not store or park a recreational or commercial vehicle or watercraft at leased
property without written permission from landlord.
Related Articles
Virginia Landlord Tenant Law and Regulations
View Article >
Why ezLandlordForms?
#1 Rated Lease Agreement
9.3 TrustPilot Rating, with 3,384 Reviews
Flexible Billing
Choose one-time or subscription billing
State Assist
So you know you're complying with state laws
Full Support
Phone, live chat, or email... try us now!
Unlimited Access
Edit & print any of our forms with pro access
Satisfaction Guarantee
Trusted by over 2.3 million landlords & property managers