Pennsylvania Lease Agreement with ezSign
Now with ezSign. Pennsylvania lease agreements must reflect the often-onerous state landlord-tenant laws, so our PA Assist offers law tips as you create your lease.
Document Last Modified: 2/18/2020
Document Features
Uses Lease Builder
State-Specific
ezSign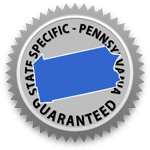 As you fill in the state-specific, Pennsylvania lease agreement, our
Pennsylvania Assist
will provide help with easy-to-understand explanations of applicable laws. This helps you ensure that your document will meet the Keystone state's Landlord Tenant laws and regulations.
For instance, in Step 2 of the Lease Builder, a green,
Pennsylvania Assist
text box will remind you that security deposits may not exceed two months' rent.
Along with meeting state laws, the Lease Builder allows you to add and amend rules that pertain to your specific rental property.
Note: This document also meets lease requirements for the city of Philadelphia.
PENNSYLVANIA LEASE FEATURES
Required Pennsylvania terms automatically included.
Green, Pennsylvania Assist text boxes to explain state rules
Customizable clauses
Options to add your own clauses and rules
Execute the lease via ezSign, email or printing
PENNSYLVANIA LEASE PACKAGE DOCUMENTS Each lease you create may be customized with a cover page, a logo of your choosing, and any number of optional disclosures and addenda, such as:
Move In Move Out Walkthrough Checklist
Instructions for Depositing Rent into Bank Account
Early Lease Termination Addendum
Zero Tolerance for Criminal Activity
Lease Co-Signer Agreement
RULES AND REGULATIONS
When you need to briefly address a simple issue, add your own rules or check off rules that the Lease Builder offers, such as:
Tenant is responsible for removing snow and ice from stairs and walkways.
Tenant will provide their own pest control services.
Tenant agrees not to transfer, assign or sub-lease the Leased Premises without the Landlord's written permission.
Under no circumstance may a stove, oven or range be used as a source of heat.
Tenant may not interfere with neighbors' peaceful enjoyment of their surroundings.

Related Articles
Pennsylvania Landlord Tenant Law and Regulations
View Article >
Why ezLandlordForms?
#1 Rated Lease Agreement
9.3 TrustPilot Rating, with 3,384 Reviews
No Recurring Billing
No automatic charges or monthly billing
State Assist
So you know you're complying with state laws
Full Support
Phone, live chat, or email... try us now!
Unlimited Access
Edit & print any of our forms with pro access
Satisfaction Guarantee
Trusted by over 2.3 million landlords & property managers