Pennsylvania Lease Agreement with ezSign
Now with ezSign. Pennsylvania lease agreements must reflect the often-onerous state landlord-tenant laws, so our PA Assist offers law tips as you create your lease.
Document Last Modified: 8/26/2021
Document Features
Uses Lease Builder
State-Specific
ezSign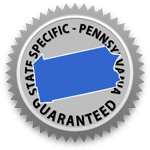 As you fill in the state-specific, Pennsylvania lease agreement, our Pennsylvania Assist will provide help with easy-to-understand explanations of applicable laws. This helps you ensure that your document will meet the Keystone state's Landlord Tenant laws and regulations.
For instance, in Step 2 of the Lease Builder, a green, Pennsylvania Assist text box will remind you that security deposits may not exceed two months' rent.
The Pennsylvania lease clauses have been expressly written to minimize the landlord's exposure to litigation.
Along with meeting state laws, the Lease Builder allows you to add and amend rules that pertain to your specific rental property.
Note: This document also meets lease requirements for the city of Philadelphia.
A Great Lease makes a Great Landlord
▶ Watch the Great Lease Video
Video to Share with New Tenants
▶ Watch the Move in Video
Pennsylvania State Laws
Category
State Law
Ending and Renewing
Pennsylvania Law
For the number of days to renew or not renew; there are no restrictions placed on the notice required to end a lease, other than what is specified in the written lease.

Philadelphia: To increase rent, if the lease term is for less than one year, then the notice must be given to the tenant at least 30 days before the rental increase. If the lease term is for one year or more, then the notice must be given at least 60 days before the rental increase.
Security Deposit
Pennsylvania Law
Landlords may not require a sum in excess of 2 months' rent for a security deposit. During the second and subsequent years of the lease, or during any renewal of the original lease, the security deposit may not exceed 1 month's rent.
Returned Payment Fee
Pennsylvania Law
Bad checks
As long as such a charge is specified within the lease, a service charge for a returned payment is permitted and may not exceed $50, unless the payee is charged fees in excess of $50, then the service charge shall not exceed the actual amount of the fees.
Late Fee
Pennsylvania Law
There is no limit placed on the amount that can be charged for a late fee, however, assessed fees should be reasonably related to the expenses the landlord incurs as a result of a late payment.
Late fees may be a flat fee, percentage, or a per day charge.
Insurance Requirements
Pennsylvania Law
Landlords may require tenants to obtain rental insurance, and could make the failure to do so a breach of the lease.
Addenda & Disclosures
Pennsylvania Law
If the leased premises was constructed prior to 1978, the landlord must provide all tenants with the Lead-Based Paint EPA Disclosure and the Lead-Based Paint EPA Pamphlet. Philadelphia: No lessor of Targeted Housing (a pre-1978 property in which a child aged 6 or under will be living) may enter into a new lease agreement unless ALL of the following three requirements are satisfied:
1. The lessor provides the lessee with a valid certification prepared by a certified lead inspector stating that the property is either lead-free or lead-safe.
2. The lessee signs a copy of the above.
3. The lessor provides the lessee with a pamphlet produced by the City that describes best practices for reducing the risk of lead exposure from lead plumbing.

Philadelphia: A new ordinance requiring multi-family rental owners to provide written disclosure of their smoking policies in their leases is in effect. The disclosure must be a part of the lease and state whether smoking is prohibited in all units, permitted in all units, or permitted in some specified units.
Notice to Enter
Pennsylvania Law
No statute, however, we always recommend at least giving 24 hours notice before entering leased premises.
Landlord Requirements
Pennsylvania Law
Landlords MUST give new tenants the following:
A Certificate of Rental Suitability from the Department of Licenses and Inspections that confirms the landlord has obtained all of the necessary licenses and there are no outstanding property maintenance or fire code violations at the property;
A signed written statement by the landlord certifying that the unit is in suitable condition to rent; and
A copy of the "Partners For Good Housing"handbook issued by L&I. This law only applies to new tenants, not to lease renewals.
A Certificate is required each time a property is rented. Landlords who fail to get a Certificate, may be subject to fines and penalties. All landlords must also have a valid Housing Inspection License to collect rent.
Contact your local housing or zoning office to be sure your rental property complies with city and county requirements for inspections, rent control, occupancy limits, property codes, and zoning. Many cities and counties require inspections, registrations and have specific maintenance regulations.

In Philadelphia, landlords MUST obtain a Certificate of Rental Suitability and a Housing Rental License. Prior to getting this license, applicants should obtain a Commercial Activity License (for non-owner-occupied properties with 4 or more units), Business Tax Account Number, Federal Tax Identification Number or Social Security Number (for individuals), and Zoning Approval (for two or more units). Licenses cost $50/unit and must be renewed annually.

Pittsburgh: Of particular importance for student rentals, please note that Pittsburgh's housing code allows up to three unrelated people to live in a single-family home (families are not limited). Recent enforcement has levied enormous fines for violations of this city ordinance.
Pennsylvania Forms & Documents
Pennsylvania 30-Day Notice to Quit
Pennsylvania 15-Day Notice to Quit Breach of Lease
Pennsylvania 10-Day Notice to Quit
Pennsylvania Landlord-Tenant Act
Philadelphia Gas Works Landlord Cooperation Instructions
Pennsylvania Landlord-Tenant Act- Disposition of Abandoned Personal Property
Pennsylvania Lease Features
Required Pennsylvania terms automatically included.
Green, Pennsylvania Assist text boxes to explain state rules
Customizable clauses
Options to add your own clauses and rules
Execute the lease via ezSign, email or printing
Create your Pennsylvania lease agreement for Residential, Condo, House, Home, Trailer, Apartment, Townhome, Housing, Real Estate, Duplex, Buildings, and many more!
Pennsylvania Lease Package Documents
Each lease you create may be customized with a cover page, a logo of your choosing, and any number of optional disclosures and addenda, such as:
Move In Move Out Walkthrough Checklist
Instructions for Depositing Rent into Bank Account
Early Lease Termination Addendum
Zero Tolerance for Criminal Activity
Lease Co-Signer Agreement
Rules and Regulations
When you need to briefly address a simple issue, add your own rules or check off rules that the Lease Builder offers, such as:
Tenant is responsible for removing snow and ice from stairs and walkways.
Tenant will provide their own pest control services.
Tenant agrees not to transfer, assign or sub-lease the Leased Premises without the Landlord's written permission.
Under no circumstance may a stove, oven or range be used as a source of heat.
Tenant may not interfere with neighbors' peaceful enjoyment of their surroundings.

Related Articles
Pennsylvania Landlord Tenant Law and Regulations
View Article >
Why ezLandlordForms?
#1 Rated Lease Agreement
9.3 TrustPilot Rating, with 3,384 Reviews
Flexible Billing
Choose one-time or subscription billing
State Assist
So you know you're complying with state laws
Full Support
Phone, live chat, or email... try us now!
Unlimited Access
Edit & print any of our forms with pro access
Satisfaction Guarantee
Trusted by over 2.3 million landlords & property managers