New Mexico Lease Agreement with ezSign
Now with ezSign. New Mexico has unique landlord-tenant laws; we'll guide you through the basic requirements as you complete your New Mexico lease agreement.
Document Last Modified: 6/11/2021
Document Features
Uses Lease Builder
State-Specific
ezSign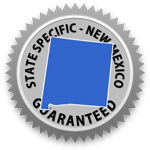 The single most important document you will need as a landlord is the lease agreement. This New Mexico-specific document is easy to prepare, meets state laws, and provides the landlord with a professional lease that sets the tone for an effective landlord-tenant relationship.
Our attorneys monitor the Landlord Tenant laws in New Mexico so that this form complies with all regulations. As you complete the fields in the Lease Builder, simply read instructions in the green, highlighted New Mexico Assist text boxes. They help you make the correct choices on security deposits and late fee amounts, along with other rental terms.
This document also meets lease requirements for the city of Albuquerque. The New Mexico lease agreement is a complete package. It allows you to attach unlimited addenda to address all of the many issues that come up during a tenancy. In addition, the agreement allows you to write in your own terms and conditions as needed.
You may save and review this form at any time to see your progress, and then return to the Lease Builder to continue customizing your agreement package.
A Great Lease makes a Great Landlord
▶ Watch the Great Lease Video
Video to Share with New Tenants
▶ Watch the Move in Video
New Mexico State Laws
Category
State Law
Ending and Renewing
New Mexico Law
Month to Month: The tenant or landlord must give written notice to the other at least 30 days prior to the periodic rental date as specified within the notice.
Fixed Term: The tenant or landlord must give written notice to the other as specified within the lease or at least 30 days prior to the end of the rental agreement.
Security Deposit
New Mexico Law
If the duration of the lease is: Less than 1 Year: The landlord cannot demand or receive a deposit that is more than the amount of 1 month's rent.
1 Year or Greater: A landlord may demand a reasonable deposit from the tenant, which may be used to cover the cost of any damages caused to the premises by the tenant during the term of residency. Under an annual rental agreement, if the landlord receives a deposit from the tenant in an amount greater than one month's rent, the landlord is required to pay the tenant annual interest equal to the passbook interest permitted to savings and loan associations in New Mexico.
Please Note: If the landlord demands prepaid rent for the last month of the tenancy, such an amount is not considered a deposit.
Returned Payment Fee
New Mexico Law
There are no statutory limits placed on a fee for a returned payment, however, such fees should remain reasonable and related to the landlord's actual expenses incurred.
Late Fee
New Mexico Law
The landlord may charge a late fee that does not exceed 10% of the total rent payment for each rental period that the resident is in default.
Insurance Requirements
New Mexico Law
Landlords may require tenants to obtain rental insurance.
Addenda & Disclosures
New Mexico Law
If the leased premises was constructed prior to 1978, the landlord must provide all tenants with the Lead-Based Paint EPA Disclosure and the Lead-Based Paint EPA Pamphlet.
Notice to Enter
New Mexico Law
Landlords are required to give at least 24 hours notice for non emergencies.
Landlord Requirements
New Mexico Law
The owner or any person authorized to enter into a rental agreement on his/her behalf shall disclose to the resident in writing at or before the commencement of the residency the name, address, and telephone number of:
(1) the person authorized to manage the premises; and
(2) an owner of the premises or a person authorized to act for and on behalf of the owner for the purpose of service of process and for the purpose of receiving and keeping receipts for notices and demands.

There are no stated regulations forcing a landlord to accept a sub-lease arrangement.
Contact your local housing or zoning office to be sure your rental property complies with city and county requirements for inspections, rent control, occupancy limits, property codes and zoning. Many cities and counties require inspections, registrations and have specific maintenance regulations.
New Mexico Forms & Documents
New Mexico 3 Day Notice for Non-Payment of Rent
New Mexico 7 Day Notice to Comply (1st Violation)
New Mexico 7 Day Notice to Vacate (2nd Violation)
New Mexico Lease Features
All New Mexico-required language
Custom clauses
Help provided with green,
New Mexico Assist
boxes
Options to add your own clauses
ezSign, email or print lease
Create your New Mexico lease agreements for Residential, Condo, House, Home, Trailer, Apartment, Townhome, Housing, Real Estate, Duplex, Buildings, and many more!
New Mexico Lease Package Documents
As part of your lease package you are entitled to these and many other addenda:
Rules and Regulations
Set additional rules for your property by checking boxes in the Lease Builder. Here are some of the choices:
Tenant must obtain landlord's written permission to install satellite system/antenna.
Trash must be taken to the curb on required days.
Fire extinguisher(s) have been provided for tenant safety. They may not be misused, dismantled, or blocked, and may be used only in an emergency.
Barbecues, gas or charcoal, may not be used inside rental unit premises.
No smoking permitted.
Storage of toxic substances or hazardous materials is prohibited on premises.
Tenant shall maintain smoke detectors and report faulty detectors to landlord.
Related Articles
New Mexico Landlord Tenant Law and Regulations
View Article >
Why ezLandlordForms?
#1 Rated Lease Agreement
9.3 TrustPilot Rating, with 3,384 Reviews
Flexible Billing
Choose one-time or subscription billing
State Assist
So you know you're complying with state laws
Full Support
Phone, live chat, or email... try us now!
Unlimited Access
Edit & print any of our forms with pro access
Satisfaction Guarantee
Trusted by over 2.3 million landlords & property managers