New Hampshire Lease Agreement with ezSign
Now with ezSign. Like all states, New Hampshire has unique leasing laws; our NH lease wizard summarizes laws as you create a New Hampshire rental agreement.
Document Last Modified: 6/11/2021
Document Features
Uses Lease Builder
State-Specific
ezSign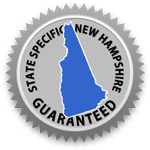 This New Hampshire Lease Agreement meets the state's Landlord-Tenant laws. It is easy to create using our Lease Builder Wizard, and the resulting document is a professional and legal instrument designed to protect your investment.
The Lease Builder provides information on how to correctly apply the state's rules on rentals and also offers options on terms and rules that suit individual landlord specifications. Basic document terms, selected by our attorneys in order to minimize the landlord's legal exposure, are automatically included in the finished lease. In addition, there are multiple, optional rules and terms; these may be chosen to further strengthen your lease and minimize any confusion over landlord and tenant responsibilities.
Move through the seven-step process, making selections on rent, deposit, fees, and more. Customize clauses or addenda as needed. The lease may be downloaded for review at any step in the process. It may be executed online using our electronic signature service.
A Great Lease makes a Great Landlord
▶ Watch the Great Lease Video
Video to Share with New Tenants
▶ Watch the Move in Video
New Hampshire State Laws
Category
State Law
Ending and Renewing
New Hampshire Law
30 days notice is required by statute to end a lease agreement. N.H. Rev. Stat. 540:2, 540:3
Security Deposit
New Hampshire Law
The security deposit shall not exceed one month's rent. If the deposit is not paid by check, the landlord must provide the tenant with a receipt including the amount and where the deposit will be held. Landlords shall provide written notice to the tenant that a written list of conditions in the rental unit in need of repair or correction, if any, should be given to the landlord within 5 days of occupancy. Finally, interest must be paid on security deposits held for a year or longer.
Returned Payment Fee
New Hampshire Law
Landlords may assess a collection fee for a dishonored payment of no more than $25 unless otherwise authorized by a written agreement with the tenant.
Late Fee
New Hampshire Law
There are no statutes that regulate late fees on rentals.
Insurance Requirements
New Hampshire Law
Landlords may require tenants to obtain rental insurance.
Addenda & Disclosures
New Hampshire Law
LEAD PAINT: If the leased premises was constructed prior to 1978, the landlord must provide all tenants with the Lead-Based Paint EPA Disclosure and the Lead-Based Paint EPA Pamphlet.

SMOKE DETECTORS/CARBON MONOXIDE: A Carbon Monoxide Detector must be installed in every rental unit and should be installed outside of each separate sleeping area in the immediate area of the bedrooms.

BEDBUGS: Landlords MUST begin remediation within seven days of being notified by a tenant that bed bugs are in a rental. If the landlord fails to act, the tenant can ask a judge to order remediation. The tenant must allow the landlord to enter within 72 hours after notification. If the landlord gets a complaint from a connecting unit, the landlord is allowed emergency entry into that unit with 48 hours of notice. The landlord must provide written instructions for preparing the rental for remediation 72 hours in advance. Failure by the tenant to comply may lead to eviction, but landlords must allow for reasonable requests for other accommodations.
Landlords are required to pay upfront for remediation, but tenants may be required to repay the landlord if they are responsible for the infestation. Landlords must attempt to work out a reasonable repayment plan with the tenant. The tenant is presumed to be responsible if only his or her unit has bed bugs and there have been no other reports in the unit or adjacent units in the six months. Landlords can evict tenants responsible for an infestation who don't pay for remediation if the landlord shows a reasonable repayment plan was offered to the tenant.
The law is silent on the type of remediation, but landlords must show a sizable reduction of the infestation in 60 days.
Notice to Enter
New Hampshire Law
Landlords are required to provide reasonable notice
Landlord Requirements
New Hampshire Law
Medical Marijuana: The use of medical marijuana is legal in the state of New Hampshire under special circumstances. Marijuana cannot be used on someone else's property without the written permission of the property owner or, in the case of leased property, without the permission of the tenant.
IMPORTANT: Marijuana cannot be smoked on leased premises if doing so would violate rental policies.

Smoke Detectors: Every rental unit as defined in RSA 153:1, IX-a shall be equipped with at least one automatic fire warning device. An automatic fire warning device shall be located in each hallway or area which is adjacent to a sleeping area. The provisions of this paragraph shall be in addition to any requirements under paragraph II. The owner of the rental unit shall be responsible for maintaining the automatic fire warning device in a suitable condition.
Contact your local housing or zoning office to be sure your rental property complies with city and county requirements for inspections, rent control, occupancy limits, property codes and zoning. Many cities and counties require inspections, registrations and have specific maintenance regulations.
New Hampshire Forms & Documents
New Hampshire Property Abandonment Letter
New Hampshire Demand For Rent
New Hampshire Eviction Notice
New Hampshire Lease Features
There are so many great features included in the Lease Package:
ezSign, email, or print lease
Language that is required by the state of New Hampshire
Custom clauses
Help provided with green, New Hampshire Assist boxes
Options to add your own clauses
Create your New Hampshire Lease Agreement for Residential, Condo, House, Home, Trailer, Apartment, Townhome, Housing, Real Estate, Duplex, Buildings, and many more!
New Hampshire Lease Package Documents
See some of the many official documents available with the NH lease:
Rules and Regulations
These are among the numerous rules and regulations that may be added by simply checking a box:
Landlord does not permit loud gatherings
Tenant agrees to test and maintain smoke detector(s).
Tenant shall notify landlord of any pest control problems.
Garbage/trash must be taken to the curb on the required days.
Tenant may not misuse, dismantle, block or remove fire extinguisher(s).
No hazardous materials permitted in or around leased premises at any time.
Written permission to install a satellite system must be obtained for the rental unit.
Related Articles
New Hampshire Landlord Tenant Law and Regulations
View Article >
Why ezLandlordForms?
#1 Rated Lease Agreement
9.3 TrustPilot Rating, with 3,384 Reviews
Flexible Billing
Choose one-time or subscription billing
State Assist
So you know you're complying with state laws
Full Support
Phone, live chat, or email... try us now!
Unlimited Access
Edit & print any of our forms with pro access
Satisfaction Guarantee
Trusted by over 2.3 million landlords & property managers