Connecticut Lease Agreement with ezSign
Now with ezSign. Connecticut has unique and strict landlord-tenant laws; our CT lease wizard helps guide you through them as you build a Connecticut lease!
Document Last Modified: 2/18/2020
Document Features
Uses Lease Builder
State-Specific
ezSign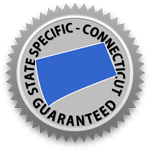 Managing rental properties in Connecticut is easier with a solid lease agreement package that meets state laws and addresses and the individual landlord or property manager preferences.
This Connecticut-specific lease agreement is created through seven easy steps. In many sections, our Lease Builder Wizard will automatically include terms and rules that the state Landlord Tenant laws require. In sections that require you to choose between several options, our Connecticut Assist gives clear guidance on how to make the right choice under the law. For example, the Rent and Deposit section requires you to indicate how rent payments and the security deposit will be submitted (certified check, cash, credit card etc.) You will see an explanation in the green, Connecticut Assist box that states that you may not require tenants to make payments by electronic funds transfer.
Along with the rental agreement, you will see numerous options to include common disclosures and addenda by checking boxes. This saves you from writing out lengthy rules using appropriate contract terms.
CONNECTICUT LEASE FEATURES
All Connecticut-required language
Customizable clauses
Guidance offered with green, Connecticut Assist boxes
Options to add your own terms and rules
ezSign, email or print lease
CONNECTICUT LEASE PACKAGE DOCUMENTS
Below are some additional forms you may include with your lease package:
RULES & REGULATIONS
You may choose from more than 40 rules and regulations; below are just a few of the available rules and regulations that may be added to the lease by checking a box:
The Tenant must obtain written permission to install a satellite system or antenna on or around the Leased Premises.
The Tenant agrees to test carbon monoxide detector(s) periodically as well as maintain operational batteries at all times. The Tenant must report immediately to the Landlord any malfunction with carbon monoxide detector(s).
Charcoal and Gas Barbecue grills may not be used or stored on any common areas, balconies, decks, patios, porches, and/or landings or entrance ways.
Absolutely no hazardous materials are permitted to be in or around the Leased Premises at any time.
Why ezLandlordForms?
#1 Rated Lease Agreement
9.3 TrustPilot Rating, with 3,384 Reviews
No Recurring Billing
No automatic charges or monthly billing
State Assist
So you know you're complying with state laws
Full Support
Phone, live chat, or email... try us now!
Unlimited Access
Edit & print any of our forms with pro access
Satisfaction Guarantee
Trusted by over 2.3 million landlords & property managers