Connecticut Lease Agreement with ezSign
Now with ezSign. Connecticut has unique and strict Landlord-Tenant Laws; our CT Lease Wizard helps guide you through them as you build a Connecticut Lease!
Document Last Modified: 7/2/2021
Document Features
Uses Lease Builder
State-Specific
ezSign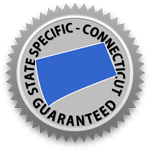 Managing rental properties in Connecticut is easier with a solid Lease Agreement package that meets state laws and addresses and the individual Landlord or property manager preferences.
This Connecticut-specific Lease agreement is created through seven easy steps. In many sections, our Lease Builder Wizard will automatically include terms and rules that the state Landlord-Tenant Laws require. In sections that require you to choose between several options, our Connecticut Assist gives clear guidance on how to make the right choice under the Law.
For example, the Rent and Deposit section requires you to indicate how rent payments and the Security Deposit will be submitted (certified check, cash, credit card, etc.) You will see an explanation in the green, Connecticut Assist box that states that you may not require Tenants to make payments by electronic funds transfer.
Along with the rental agreement, you will see numerous options to include common disclosures and addenda by checking boxes. This saves you from writing out lengthy rules using appropriate contract terms.
A Great Lease makes a Great Landlord
▶ Watch the Great Lease Video
Video to Share with New Tenants
▶ Watch the Move in Video
Connecticut State Laws
Category
State Law
Ending and Renewing
Connecticut Law
At least 30 days notice is required to end or renew a Lease term in Connecticut.
Security Deposit
Connecticut Law
For persons 62 years or older, the security deposit shall not exceed 1 month's rent.

For persons 62 years or younger, the security deposit shall not exceed 2 month's rent.

Tenants are entitled to interest for all months on which rent is paid on time. Landlords must pay Tenants interest on security deposits of at least the average commercial bank's savings deposit rate as annually determined and published by the Banking Commissioner.

Interest must be paid annually on the anniversary date of a tenancy either directly to Tenants or as a credit towards the next month's rent.

Please Note: Landlords who fail to pay interest on the security deposit may be sued or subject to a fine.

Landlords must return the balance of the security deposit within 30 days of Lease termination, plus any unpaid interest and if applicable a list of damages that the Landlord has deducted.

It's not required to specify in the Lease the maximum number of days to return the security deposit. This is optional.
Returned Payment Fee
Connecticut Law
A returned payment fee must not exceed $20 and must be specified within the Lease.
Late Fee
Connecticut Law
Landlords may impose a late fee after a 9 day grace period from the date rent is due.

Please Note: It's important to change the default number in the field where it states - Tenant is charged a late fee after "5" (default number) days to "9" days. Furthermore, according to Sec. 42-410. Late fees. Delinquency and default charges. Attorney's fees. (a) A late charge on a periodic payment that is delinquent for ten days or more MUST BE specified in the Lease and may not exceed the lesser of $10 or 5% of the unpaid portion of the late periodic payment.
Insurance Requirements
Connecticut Law
Landlords may require Tenants to obtain rental insurance.
Addenda & Disclosures
Connecticut Law
If the Leased premises was constructed prior to 1978, the Landlord must provide all Tenants with the Lead-Based Paint EPA Disclosure and Lead-Based Paint EPA Pamphlet.
Notice to Enter
Connecticut Law
The Landlord shall give the Tenant reasonable written or oral notice of his intent to enter and may enter only at reasonable times, except in case of emergency.
Landlord Requirements
Connecticut Law
Rent Payment: No Landlord of residential real property shall require electronic funds transfer as the exclusive form of payment of rent or a security deposit.

ALL dwellings MUST be equipped with smoke detection and warning equipment.
This includes carbon monoxide detection and warning equipment unless they do not contain a fuel-burning appliance, fireplace, or attached garage. Building owners must install the equipment on each level of a building.
Contact your local housing or zoning office to be sure your rental property complies with city and county requirements for inspections, rent control, occupancy limits, property codes and zoning. Many cities and counties require inspections, registrations and have specific maintenance regulations.
Connecticut Forms & Documents
Connecticut Eviction Process Instructions & Sample Forms
Connecticut Official Complaint - Non-Payment of Rent
Connecticut Notice to Quit Possession
Connecticut Official Complaint - Termination of Lease by Lapse of Time
Connecticut Lease Features
There are so many great features included in the Lease Package:
All Connecticut-required language
Customizable clauses
Guidance offered with green, Connecticut Assist boxes
Options to add your own terms and rules
ezSign, email or print Lease
Create your Connecticut Lease Agreement for Residential, Condo, House, Home, Trailer, Apartment, Townhome, Housing, Real Estate, Duplex, Buildings, and many more!
Connecticut Lease Package Documents
Below are some additional forms you may include with your Lease Package:
Rules and Regulations
You may choose from more than 40 rules and regulations; below are just a few of the available rules and regulations that may be added to the Lease by checking a box:
The Tenant must obtain written permission to install a satellite system or antenna on or around the Leased Premises.
The Tenant agrees to test carbon monoxide detector(s) periodically as well as maintain operational batteries at all times.
The Tenant must report immediately to the Landlord any malfunction with carbon monoxide detector(s).
Charcoal and Gas Barbecue grills may not be used or stored on any common areas, balconies, decks, patios, porches, and/or landings or entrance ways.
Absolutely no hazardous materials are permitted to be in or around the Leased Premises at any time.
Why ezLandlordForms?
#1 Rated Lease Agreement
9.3 TrustPilot Rating, with 3,384 Reviews
Flexible Billing
Choose one-time or subscription billing
State Assist
So you know you're complying with state laws
Full Support
Phone, live chat, or email... try us now!
Unlimited Access
Edit & print any of our forms with pro access
Satisfaction Guarantee
Trusted by over 2.3 million landlords & property managers