Michigan Lease Agreement with ezSign
Now with ezSign. This Michigan Lease Agreement is a comprehensive package that adheres to Michigan landlord-tenant laws and includes helpful law tips as you fill it out.
Document Last Modified: 6/11/2021
Document Features
Uses Lease Builder
State-Specific
ezSign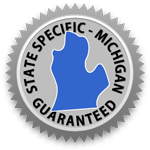 Our Michigan lease agreement allows you to select from an abundance of customizable features, addenda, disclosures and rules. At the same time, special Michigan Assist text boxes explain terms that must be applied in order to ensure the lease meets the state's Landlord Tenant laws. In addition, this document also meets lease requirements for the city of Detroit.
The ezLandlordForms Lease Wizard will lead you through seven steps: Rental Unit and Tenants; Landlord and Term; Rent and Deposit; Fees and Maintenance; Utilities and Services; Rules and Regulations; and Additional Documents.
Clauses in each step have been worded specifically to protect the landlord or property manager in cases of litigation.
Personalized logos may be included in the lease package. Further, you have the option to add custom sections to include your own guidelines and regulations.
A Great Lease makes a Great Landlord
▶ Watch the Great Lease Video
Video to Share with New Tenants
▶ Watch the Move in Video
Michigan State Laws
Category
State Law
Ending and Renewing
Michigan Law
A Fixed-Term Lease automatically terminates at the end of the lease unless otherwise specified.

A Periodic Lease is automatically renewed at the end of each rental period (month-to-month or week-to-week, depending on how often rent must be paid) unless written notice is provided equally to the amount of time of one rental period (one month, one week, etc.). In certain circumstances, senior citizens and persons incapable of living independently, who have lived in the rental unit for more than 13 months, may terminate the lease with 60 days' written notice.
Security Deposit
Michigan Law
(1) The lease or landlord may not require more than one and a half months rent for a security deposit.
(2) If the lease or landlord requires a security deposit,the landlord MUST provide the tenant with two copies of an inventory checklist before or when the tenant moves into the rental.
(3) The inventory checklist MUST have the following written notice on it, "You are also entitled to request and receive a copy of the last termination inventory checklist which shows what claims were chargeable to the last prior tenants,".
(4) The lease, or another written document, provided by the landlord within 14 days from when the tenant takes possession of the rental, MUST state the name and address of the financial institution (bank) that is holding the tenant's security deposit, or an address to send written mail to the landlord.
Returned Payment Fee
Michigan Law
Returned Check fee may not exceed $25 if paid within 7 days, excluding weekends & holidays, after notice was mailed. If not paid as requested above, but within 30 days after notice was mailed, the service fee is $35. Mich. Comp. Laws § 600.2952
Late Fee
Michigan Law
Landlords may assess reasonable late fees when the rent is past due.
Insurance Requirements
Michigan Law
Landlords may require tenants to obtain rental insurance.
Addenda & Disclosures
Michigan Law
If the leased premises was constructed prior to 1978, the landlord must provide all tenants with the Lead-Based Paint EPA Disclosure and the Lead-Based Paint EPA Pamphlet.
Detroit: Owners of rental property built before 1978 in the City of Detroit must have a lead inspection and risk assessment performed to determine the presence of lead based paint and lead based paint hazards.
Notice to Enter
Michigan Law
No statute; however, we recommend at least giving 24 hours notice before entering the leased premises.
Landlord Requirements
Michigan Law
Per 2017 legislation, landlords may prohibit the smoking or cultivation of marijuana for medical use on the leased premises, so long as the prohibition against smoking or cultivating marijuana is in the written lease.

Michigan requires text within the lease stating that the lease must comply with the Truth in Renting Act.
Contact your local housing or zoning office to be sure your rental property complies with city and county requirements for inspections, rent control, occupancy limits, property codes and zoning. Many cities and counties require inspections, registrations and have specific maintenance regulations.
Michigan Forms & Documents
East Lansing Addendum to the Lease
Michigan Walk-Through Checklist
Michigan Security Deposit Itemized Deductions Notice
Michigan Demand for Possession for Non-Payment of Rent
Michigan Lease Features
There are so many great features included in the Lease Package:
All Michigan-required language included
Customize lease terms
Special instructions provided throughMichigan Assist text boxes
Add endless clauses
ezSign, email or print lease
Create your Michigan Lease Agreement for Residential, Condo, House, Home, Trailer, Apartment, Townhome, Housing, Real Estate, Duplex, Buildings, and many more!
Michigan Lease Package Documents
Many optional documents may be attached to the lease package, including:
Michigan Rental Property Walk-Through Checklist
- required if collecting a deposit
Pet Addendum
Zero Tolerance for Criminal Activity
Pool/Hot Tub Addendum
Click here for all other Addenda, Disclosures, and Information Documents
Rules and Regulations
Leases may be further customized with the addition of optional rules, including:

Tenant must provide Renter's Insurance.
No hazardous materials stored in or around rental unit.
Garbage/trash must be taken to the curb on the required days.
Tenant agrees not to transfer, assign or sub-lease the Leased Premises without the Landlord's written permission.
Related Articles
Michigan Landlord Tenant Law and Regulations
View Article >
Why ezLandlordForms?
#1 Rated Lease Agreement
9.3 TrustPilot Rating, with 3,384 Reviews
Flexible Billing
Choose one-time or subscription billing
State Assist
So you know you're complying with state laws
Full Support
Phone, live chat, or email... try us now!
Unlimited Access
Edit & print any of our forms with pro access
Satisfaction Guarantee
Trusted by over 2.3 million landlords & property managers