Wyoming Lease Agreement with ezSign
Now with ezSign. Our Wyoming Assist information will guide you through all relevant WY landlord-tenant laws, as you create a Wyoming lease agreement.
Document Last Modified: 6/15/2021
Document Features
Uses Lease Builder
State-Specific
ezSign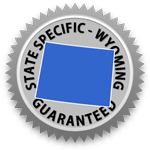 This comprehensive rental agreement includes all terms required by Wyoming Landlord Tenant law. It also allows the landlord or property manager to make easy changes, add special terms, and then print or email the document to tenants.
Using our intuitive Lease Builder Wizard program, you will be guided through seven sections where you may check optional rules and add more information.
Notice the green Wyoming Assist text boxes that explain how the state codes must be applied. For instance, see the box in Step 6 that addresses subleasing. It states that landlords may prohibit subleasing; and, if they allow a sublease, they may not charge a sublet fee.
This professional contract and all included supplemental forms have been drafted by our attorneys with language that decreases risk in the event of court action. Dozens of supplemental documents, some required by law, are included with your Pro membership. From lead-based paint disclosures to addenda that address every common leasing issue, this package includes the protection needed for your investment property.
A Great Lease makes a Great Landlord
▶ Watch the Great Lease Video
Video to Share with New Tenants
▶ Watch the Move in Video
Wyoming State Laws
Category
State Law
Ending and Renewing
Wyoming Law
Fixed Term Lease: Ordinarily expires by its own terms without written notice from either party. This type of lease cannot be terminated at the option of just one of the parties unless there is a provision to this effect within the lease.
Periodic Tenancy: Advance notice of termination by the landlord or tenant, as the case may be, is required to terminate a periodic tenancy. The amount of notice required is usually determined by the period of the tenancy itself. The notice must be 1 full rental period, and the termination date must coincide with the beginning of a new period. Therefore, a month-to-month lease would require 30 days' notice.
Security Deposit
Wyoming Law
There are no statutory limits placed on the amount of the security deposit charged to the tenant so long as it is reasonable.
Any rental agreement shall state whether any portion of a deposit is a nonrefundable and written notice of this fact shall be provided to the tenant at the time the deposit is taken.
Returned Payment Fee
Wyoming Law
Any person who issues a check which has been dishonored for any reason must pay to the holder of the check the amount of the check and a collection fee not to exceed $30.

Please Note: Any person who fails to pay the amount of the check and the collection fee within 30 days following the date of the written demand, is liable to the holder of the check for 3 times the amount of the check, but in no case less than $100, a collection fee of $30, and court costs.
Late Fee
Wyoming Law
There is no statutory limit on late charges, however, assessed fees should be reasonably related to the expenses the landlord incurs as a result of a late payment.
Insurance Requirements
Wyoming Law
The landlord may require the tenant to obtain an insurance policy for their personal belongings.
Addenda & Disclosures
Wyoming Law
If the leased premises was constructed before 1978, the landlord must provide all tenants with Lead-Based Paint EPA Disclosure and Lead-Based Paint EPA Pamphlet.
Notice to Enter
Wyoming Law
No Statute
Landlord Requirements
Wyoming Law
No additional requirements
Contact your local housing or zoning office to be sure your rental property complies with city and county requirements for inspections, rent control, occupancy limits, property codes and zoning. Many cities and counties require inspections, registrations and have specific maintenance regulations.
Wyoming Forms & Documents
Wyoming Notice to Quit for Breach of Lease
Wyoming Notice to Quit for Non-Payment of Rent
Wyoming Lease Features
Meets all Wyoming Landlord Tenant laws
Applies state rules with
Wyoming Assist
boxes
Clauses may be customized
Extra rules and terms easily added
ezSign, email or print lease
Create your Wyoming lease agreement for Residential, Condo, House, Home, Trailer, Apartment, Townhome, Housing, Real Estate, Duplex, Buildings, and many more!
Wyoming Lease Package Documents
With the Wyoming lease package you get as many supplemental forms as you need, including:
Rules and Regulations
Easy to select rules by checking optional boxes.
Absolutely no smoking.
Tenant shall notify landlord of pest control problems.
Tenant must notify Landlord of any changes in employment.
Late fees may not be waived and must be paid or legal action may be taken.
Basement and/or attic may not be used for living quarters without landlord's written permission.
The use of swimming pool or hot tub is at tenant's risk. Landlord is not responsible for injuries that occur due to use of pool or hot tub.
Why ezLandlordForms?
#1 Rated Lease Agreement
9.3 TrustPilot Rating, with 3,384 Reviews
Flexible Billing
Choose one-time or subscription billing
State Assist
So you know you're complying with state laws
Full Support
Phone, live chat, or email... try us now!
Unlimited Access
Edit & print any of our forms with pro access
Satisfaction Guarantee
Trusted by over 2.3 million landlords & property managers