Ohio Lease Agreement with ezSign
Now with ezSign. Prepare an Ohio lease quickly and easily - we guide you through Ohio's laws as you go, and generate a complete Ohio lease package for you.
Document Last Modified: 6/13/2021
Document Features
Uses Lease Builder
State-Specific
ezSign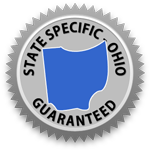 Like all states, Ohio has specific and unique Landlord Tenant laws. Whether you are a novice or seasoned professional landlord, we will help you quickly prepare a legal and comprehensive Ohio lease package that meets these laws.
Our built-in Lease Wizard helps you quickly select basic terms, as well as choose optional addenda and disclosures. Most areas of the lease are customizable so you have the option to enter the text you prefer.
In seven simple steps, you will prepare a customized lease package. Our Ohio Assist instruction boxes will help you properly apply Ohio's laws and regulations. In addition, this document also meets lease requirements for the cities of Cincinnati, Cleveland and Columbus.
Further, you have the option to include many popular lease addendums and disclosures. Each has been written to protect the landlord and minimize exposure to legal action.
A Great Lease makes a Great Landlord
▶ Watch the Great Lease Video
Video to Share with New Tenants
▶ Watch the Move in Video
Ohio State Laws
Category
State Law
Ending and Renewing
Ohio Law
A one year lease with an automatic renewal clause must be notarized, per Ohio's statute of conveyances. R.C. 5301.01

Fixed Term: Notice would be as is specified within the lease. However, leases requiring 60 days notice of intent not to renew have been held unenforceable by Ohio Courts.

Periodic: However long the periodic tenancy is, that is how much notice one party wishing to terminate the lease must give the other. For instance, a month to month lease requires 30 days notice of intent to terminate.

Please Note: The notice period does not begin until the start of the next rental period. (R.C. 5321.17)
Security Deposit
Ohio Law
There is no limit to the maximum amount a landlord may collect for the security deposit.

The landlord must pay the tenant interest on any amount of the security deposit in excess of 1 month's rent. R.C. 5321.16(A)

Any deduction from the security deposit shall be itemized and identified by the landlord in a written notice delivered to the tenant together with the amount due, within 30 Days after termination of the rental agreement and delivery of possession.
Returned Payment Fee
Ohio Law
Assessed fees may not exceed $30 or 10% of the face amount of the instrument, whichever is greater, plus the amount of any fees charged to the holder of the check by any financial institution as a result of the check not being honored. Ohio Rev. Code Ann. § 1319.16
Late Fee
Ohio Law
Assessed fees should be reasonably related to the expenses the landlord incurs as a result of a late payment.
Insurance Requirements
Ohio Law
Landlords may require tenants to obtain rental insurance, and could make the failure to do so a breach of the lease.
Addenda & Disclosures
Ohio Law
If the leased premises was constructed prior to 1978, the landlord must provide all tenants with the Lead-Based Paint EPA Disclosure and the Lead-Based Paint EPA Pamphlet.
Notice to Enter
Ohio Law
Landlords are required to at least give 24 hours notice before entering leased premises.
Landlord Requirements
Ohio Law
Include the owner's name and address, along with the name and address of the owner's agent, if any. If the owner or agent is a corporation/business entity, list the name of the person in charge and the address of the principal place of business in the county or if the business is not located in the county, then include the principal business location in Ohio.
Contact your local housing or zoning office to be sure your rental property complies with city and county requirements for inspections, rent control, occupancy limits, property codes and zoning. Many cities and counties require inspections, registrations and have specific maintenance regulations.

CLEVELAND: Cleveland Codified Ordinance Section 365 requires that all owners, agents or person in charge of any dwelling units or designed or intended to be used as rental dwelling units located within the City of Cleveland must register and pay rental registration fees of $35.00 per unit and obtain a certificate of rental registration annually from the Department of Building & Housing for such structures or units.
CINCINNATI: O.R.C. Chapter 5323 requires registration of residential real property with the County Auditor by its owner. The rule applies only in urban counties, counties with more than 200,000 in population. Qualifying counties include: Butler, Cuyahoga, Franklin, Hamilton (which includes Cincinnati), Lake, Lorain, Lucas, Mahoning, Montgomery, Summit, Lorain, and Trumbull.
TOLEDO: Owners of residential rental property must register said property with the county auditor.
Ohio Forms & Documents
Ohio Landlord Tenant Law
Ohio 3 Day Notice to Pay or Vacate
Ohio 3 Day Notice to Vacate
Cleveland 3 Day Notice for Non-Payment
Cleveland 3 Day Notice to Vacate
Ohio Lease Features
There are so many great features included in the Lease Package:
Legal terms required by the state of Ohio
Custom clauses
Ohio Assist information in special, green, text boxes
Options to add your own rules
ezSign, email or print lease
Create your Ohio lease agreement for Residential, Condo, House, Home, Trailer, Apartment, Townhome, Housing, Real Estate, Duplex, Buildings, and many more!
Ohio Lease Package Documents
Below are samples of the numerous customizable documents that you may choose to include in your Ohio lease package:
Optional cover page with personalized logo and tailored Table of Contents
Pest Control & Bedbug Addendum
Lead-Based Paint Lease Disclosure – Required by federal law for all rental dwellings constructed prior to 1978
Move-In/Out Property Walk-Through Checklist
Lease Option Purchase Agreement
Military Addendum – To be signed as part of lease agreements with military tenants

Rules and Regulations
Common lease regulations may be added to your document with a simple click. Here are several options:
Absolutely no smoking is permitted in the leased premises.
Late fees are strictly enforced and any unpaid fees will not be waived.
Tenant must obtain renter insurance.
Tenant must notify landlord of any changes in employment.
Tenant replace and/or clean filters for heater and/or air conditioner.
Why ezLandlordForms?
#1 Rated Lease Agreement
9.3 TrustPilot Rating, with 3,384 Reviews
Flexible Billing
Choose one-time or subscription billing
State Assist
So you know you're complying with state laws
Full Support
Phone, live chat, or email... try us now!
Unlimited Access
Edit & print any of our forms with pro access
Satisfaction Guarantee
Trusted by over 2.3 million landlords & property managers