North Dakota Lease Agreement with ezSign
Now with ezSign. To help you comply with North Dakota lease regulations, we provide ND leasing tips as you create your North Dakota rental agreement.
Document Last Modified: 6/13/2021
Document Features
Uses Lease Builder
State-Specific
ezSign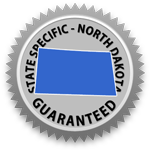 This rental agreement may be used as a professional, legal contract. It fully complies with the North Dakota laws that govern the landlord and tenant relationship by automatically including all terms that state codes require.
This document is prepared in our Lease Builder Wizard program, which moves the user through seven easy steps. In most cases, agreement terms are inserted by selecting from multiple choice lists. There are also options to add your own unique text.
The Lease Builder guides you in making the proper legal selection when there is more than one option for applying a term. This guidance is supplied in the form of green-shaded North Dakota Assist text boxes, which appear throughout the lease. For instance, in setting security deposit amounts, you will see an Assist that explains the maximum allowable charge for a deposit, as well as the landlord's obligation to place deposit money in an interest-bearing account.
Along with required legal language, there are many easy options to customize this lease. The landlord may check boxes for optional rules, and may attach unlimited addenda to address more complex regulations.
A Great Lease makes a Great Landlord
▶ Watch the Great Lease Video
Video to Share with New Tenants
▶ Watch the Move in Video
North Dakota State Laws
Category
State Law
Ending and Renewing
North Dakota Law
Landlords may not enforce an automatic renewal clause in a residential lease without giving the tenant at least a 30-day written notice prior to the end of the current lease period. Notice may be delivered personally or by first-class mail. If such notice is not given by the landlord, the lease will convert to a month-to-month tenancy.

Please Note: In order to remain in compliance with state regulations, please review the information above BEFORE choosing the automatic renewal selection.

Month-to-Month: If there is no provision in the month-to-month periodic lease stating how much advance notice must be given to end the lease (written or verbal), either party may terminate the lease by giving at least 30 days written notice at any time. 47-16-15

Fixed Term: Terminates automatically at the end of the lease period without the need of any notice from either landlord or tenant, unless otherwise specified within the lease.
Security Deposit
North Dakota Law
A security deposit may not exceed an amount equal to 1 month's rent. The landlord may require a "pet deposit" which may not exceed $2,500 or 2 month's rent, whichever is greater.

The landlord is obligated to deposit the money in a federally insured interest-bearing savings or checking account.
Returned Payment Fee
North Dakota Law
The maker of a dishonored check may be liable for collection fees or costs not to exceed
$30. N.D. Cent. Code § 6-08-16 and N.D. Cent. Code § 6-08-16.2
Late Fee
North Dakota Law
The landlord may charge a late fee, however, the lease must state how much the late fee will be and on what date it will be effective.
Insurance Requirements
North Dakota Law
Landlords may require tenants to obtain rental insurance.
Addenda & Disclosures
North Dakota Law
If the leased premises was constructed prior to 1978, the landlord must provide all tenants with the Lead-Based Paint EPA Disclosure and the Lead-Based Paint EPA Pamphlet.
Notice to Enter
North Dakota Law
Landlords must provide reasonable notice to enter leased premises.
Landlord Requirements
North Dakota Law
No additional Requirements
Contact your local housing or zoning office to be sure your rental property complies with city and county requirements for inspections, rent control, occupancy limits, property codes and zoning. Many cities and counties require inspections, registrations and have specific maintenance regulations.
North Dakota Forms & Documents
North Dakota Notice of Intention to Evict
North Dakota Notice of Intent to Evict for Non-Payment
North Dakota Lease Features
There are so many great features included in the Lease Package:
All North Dakota-required language
Clauses that may be customized
Help provided with green North Dakota Assist boxes
Options to add your own rules and terms
ezSign, email or print lease
Create your North Dakota lease agreements for Residential, Condo, House, Home, Trailer, Apartment, Townhome, Housing, Real Estate, Duplex, Buildings, and many more!
North Dakota Lease Package Documents
Many supplemental forms may be included at no extra charge with the basic agreement. Among them are these:
Rules and Regulations
Below are just some of the available rules and regulations to include:
Late fees are strictly enforced and will not be waived.
Charcoal and gas grills may not be used or stored in any common areas.
Absolutely no hazardous materials permitted in or around leased premises.
Tenant may not store or park an RV, commercial vehicle or watercraft.
Parking is permitted only in areas described in the lease.
Tenant shall abide by all Condominium/Homeowners Association rules.
Related Articles
North Dakota Landlord Tenant Law and Regulations
View Article >
Why ezLandlordForms?
#1 Rated Lease Agreement
9.3 TrustPilot Rating, with 3,384 Reviews
Flexible Billing
Choose one-time or subscription billing
State Assist
So you know you're complying with state laws
Full Support
Phone, live chat, or email... try us now!
Unlimited Access
Edit & print any of our forms with pro access
Satisfaction Guarantee
Trusted by over 2.3 million landlords & property managers