Iowa Lease Agreement with ezSign
Now with ezSign. Iowa has its own leasing laws and restrictions, which we explain at each step of the way as you create an Iowa lease agreement.
Document Last Modified: 6/7/2021
Document Features
Uses Lease Builder
State-Specific
ezSign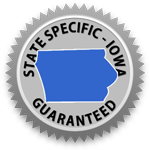 This Iowa-specific lease agreement package is easy to fill in, using our unique, Lease Builder program. Along with meeting the state's Landlord Tenant laws, the document allows you to include addenda and disclosures that are necessary for a professional, legal rental contract.
Look for Iowa Assist tips and summaries as you go through the Lease Builder and make your choices. They will guide you in following state rules. For instance, in setting a security deposit amount, an Iowa Assist tip explains that landlords may not collect a security deposit that is greater than two months' rent.
When completely filled in, this document may be downloaded to your computer for review, and then edited to make any additions or corrections. It also may be emailed to someone for their review.
The text in this template has been selected specifically to minimize the landlord's exposure in the case of legal action. However, it may be enhanced with your own, custom terms. Also, the thoroughness of this document makes it easy to send tenant notices in cases of unpaid rent or other lease violations. That is because the terms are spelled out so clearly, that violations can be described with ease.
A Great Lease makes a Great Landlord
▶ Watch the Great Lease Video
Video to Share with New Tenants
▶ Watch the Move in Video
Iowa State Laws
Category
State Law
Ending and Renewing
Iowa Law
Week to Week: Tenancy may be terminated by a written notice given at least 10 days prior to the end date specified in the notice.

Month to Month: Tenancy may be terminated by a written notice given at least 30 days prior to the periodic rental date specified in the notice.

Fixed Term Leases: Notice to end the lease shall be specified within the rental agreement. If no notice requirement is specified, then the lease ends and the tenant shall vacate the premises.
Security Deposit
Iowa Law
Landlords may not collect a security deposit that is greater than 2 months' rent. All security deposits shall be held in a bank or savings and loan association, or credit union.
Returned Payment Fee
Iowa Law
The maximum fee that may be charged for a dishonored payment is $30, provided it is specified within the lease or posted conspicuously. Iowa Code § 554.3512
Late Fee
Iowa Law
When the rent is:
$700 per month or less, the maximum late fee is $12 per day to a maximum late fee permitted of $60 per month.
More than $700, the maximum per day limit goes to $20 per day to a maximum monthly limit of $100.
Insurance Requirements
Iowa Law
Landlords may require tenants to obtain rental insurance.
Addenda & Disclosures
Iowa Law
If the leased premises was constructed prior to 1978, the landlord must provide all tenants with the Lead-Based Paint EPA Disclosure and the Lead-Based Paint EPA Pamphlet.
Notice to Enter
Iowa Law
Landlords are required to give at least 24 hours notice to enter the leased premises.
Landlord Requirements
Iowa Law
The landlord or a person authorized to enter into a rental agreement on behalf of the landlord shall disclose to the tenant in writing at or before the commencement of the tenancy the name and address of, the owner or the person authorized to manage the premises.

If the tenant is to be responsible for the maintenance of the property it should be so stated in the rental agreement.

The landlord or any person authorized to enter into a rental agreement on the landlord's behalf shall fully explain utility rates, charges, and services to the prospective tenant before the rental agreement is signed unless utilities are paid by the tenant directly to the company providing service.

SUBLEASING
A tenant has the right to sublet unless the rental agreement specifically prohibits this.
Contact your local housing or zoning office to be sure your rental property complies with city and county requirements for inspections, rent control, occupancy limits, property codes and zoning. Many cities and counties require inspections, registrations and have specific maintenance regulations.
Des Moines: City code requires that all rental properties have a rental inspection certificate before occupancy. Fees are payable to the City of Des Moines, addressed to the Neighborhood Inspection Zoning Division.
Iowa Forms & Documents
Iowa 3 Day Notice to Quit for Non-Payment of Rent
Iowa 3 Day Notice to Quit & Vacate
Iowa 7 Day Notice to Comply
Iowa 7 Day Notice to Vacate
Iowa Forced Entry Detainer Form for Eviction
Iowa 30 Day Notice to Terminate Lease
Iowa 3 Day Notice to Quit & Vacate
IOWA LEASE FEATURES
There are so many great features included in the Lease Package:
All terms required by Iowa landlord tenant law
Clauses which may be expanded with custom terms
Help provided with green, Iowa Assist boxes
Options to add your own rental terms
ezSign, email or print lease
Create your Iowa Lease Agreement for Residential, Condo, House, Home, Trailer, Apartment, Townhome, Housing, Real Estate, Duplex, Buildings, and many more!
IOWA LEASE PACKAGE DOCUMENTS
These are some of the numerous documents that you can include in this package:
RULES & REGULATIONS
Additional instructions for tenants are available by checking boxes. Here are just a few:
Tenant shall abide by rules and regulations of governing condominium or homeowners association.
Late fees are strictly enforced and if fees are accrued they must be paid.
Tenant must keep the fire escape clear at all times.
Absolutely no hazardous materials are permitted to be in or around the leased premises at any time.
Drying of laundry can not be done by hanging off of windows, decks, or balconies.
Leased unit is for sale and must be kept in showable condition.
Why ezLandlordForms?
#1 Rated Lease Agreement
9.3 TrustPilot Rating, with 3,384 Reviews
Flexible Billing
Choose one-time or subscription billing
State Assist
So you know you're complying with state laws
Full Support
Phone, live chat, or email... try us now!
Unlimited Access
Edit & print any of our forms with pro access
Satisfaction Guarantee
Trusted by over 2.3 million landlords & property managers