Arkansas Lease Agreement with ezSign
Now with ezSign. Like all states, Arkansas has its own strict landlord-tenant laws, that must be followed when filling out an Arkansas lease agreement.
Document Last Modified: 2/18/2020
Document Features
Uses Lease Builder
State-Specific
ezSign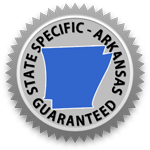 This lease meets laws that the State of Arkansas sets to address the rights and responsibilities of both landlords and tenants. It contains language selected by real estate attorneys with the aim of reducing the landlord's exposure in the event of litigation. The lease is completed online, while logged into your ezLandlordForms account, and then may be executed electronically or with manual signatures. The lease may be emailed, or downloaded to the computer to print.
Working through the multi-step Lease Builder Wizard, the system will prompt the user to fill in prepared fields. Green, shaded Arkansas Assist information areas will help in correctly applying state laws.
Additionally, there are many optional provisions that may be included to address the specific requirements of individual rental properties and their settings. For instance, a furnished rental may be addressed with the Furnished Rental Addendum, and a lease for a rental with limited parking may include an optional section that describes available parking. Rules on guests, extra keys, the use of pools and spas, and many more topics can easily be added by checking optional boxes.
Once this lease is complete, both property and tenant information are retained in the account, and then automatically filled into notices and renewals, as needed.
ARKANSAS LEASE FEATURES
All terms that Arkansas landlord tenant law requires
Clauses that may be customized
Easy to apply state rules with Arkansas Assist boxes
Options to add your own rules and terms
ezSign, email or print lease
ARKANSAS LEASE PACKAGE DOCUMENTS
Below are some of the many forms you may include in the Arkansas lease package:
RULES & REGULATIONS
These rules and many more may be added to the lease by simply checking a box:
Under no circumstance may a stove, oven or range be used as a source of heat.
All windows and doors must remain closed during inclement weather.
Late fees are strictly enforced and any unpaid fees will not be waived.
Charcoal and gas grills may not be used or stored in common areas.
Absolutely no hazardous materials are permitted in or around leased premises.
The tenant must notify landlord of any changes in employment.
Related Articles
Arkansas Landlord Tenant Law and Regulations
View Article >
Why ezLandlordForms?
#1 Rated Lease Agreement
9.3 TrustPilot Rating, with 3,384 Reviews
No Recurring Billing
No automatic charges or monthly billing
State Assist
So you know you're complying with state laws
Full Support
Phone, live chat, or email... try us now!
Unlimited Access
Edit & print any of our forms with pro access
Satisfaction Guarantee
Trusted by over 2.3 million landlords & property managers