Arizona Lease Agreement with ezSign
Now with ezSign. Protect yourself with ezLandlordForms's Arizona Lease Package that includes all the state laws and regulations that must be included.
Document Last Modified: 2/18/2020
Document Features
Uses Lease Builder
State-Specific
ezSign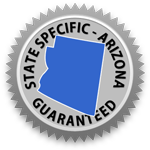 Our Arizona lease is designed with legal help that keeps your document compliant with state laws and legal restrictions on lease agreements.
At each stage of filling in the Arizona lease agreement, our Arizona Assist will provide prompts, warnings, and tips that help you better understand the state's Landlord Tenant laws. For instance, Arizona sets limits on security deposits, and it requires out-of-state landlords to use in-state agents to receive property notices and process paperwork on behalf of the owner. In designing our leases, we called on years of case law to understand common lawsuits, and included legal clauses specifically written to minimize the landlord's exposure to legal action. From rental application forms, to tenant credit reports and criminal background checks, to creating and executing your customized Arizona lease package, everything you need is right here.
Please note: In addition, this document also meets lease requirements for the cities of Phoenix, Tucson and Mesa.
ARIZONA LEASE FEATURES
All Arizona-required language
Guidance on Landlord Tenant laws through Arizona Assist text boxes
Customization of terms
Options to add your own clauses
ezSign, email or print lease
ARIZONA LEASE PACKAGE DOCUMENTS
These are just some of the dozens of additional legal forms you can include in your Arizona lease package:
Rental Unit Condition Walk-Through Checklist
Purchase Option Addendum
Pet Addendum
Arizona Pool Safety Notice
Zero Tolerance for Criminal Activity
Click on a term for the full list of Rental Addenda, Lease Disclosures, and Tenant Information Documents
RULES AND REGULATIONS
Below are some of the dozens of optional rules and regulations you can include in your Arizona lease package:
The use of any provided swimming pool or hot tub is at the Tenant's own risk.
The Tenant agrees to test smoke detectors periodically as well as maintain operational batteries at all times.
The Tenant shall abide by all rules and regulations mandated by any governing Condominium Association or Homeowners Association.
Late fees are strictly enforced and any unpaid fees will not be waived.
Charcoal and Gas Barbecue grills may not be used or stored on any common areas, balconies, decks, patios, porches, and/or landings or entrance ways.
Why ezLandlordForms?
#1 Rated Lease Agreement
9.3 TrustPilot Rating, with 3,384 Reviews
No Recurring Billing
No automatic charges or monthly billing
State Assist
So you know you're complying with state laws
Full Support
Phone, live chat, or email... try us now!
Unlimited Access
Edit & print any of our forms with pro access
Satisfaction Guarantee
Trusted by over 2.3 million landlords & property managers