Hawaii Lease Agreement with ezSign
Now with ezSign. Hawaii has unique Landlord-Tenant regulations; our HI Lease Wizard will summarize local laws as you create your Hawaii Lease Agreement.
Document Last Modified: 7/2/2021
Document Features
Uses Lease Builder
State-Specific
ezSign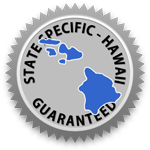 This comprehensive, Hawaii-specific, rental contract is easy to prepare. After completion, it may be downloaded to your computer for printing, and/or may be emailed to a Tenant. It can also be electronically signed by the Landlord and all Tenants. This document also meets Lease requirements for the city of Honolulu.
This organized, precise and professional document is prepared on our website using our Lease Builder, a responsive program that automatically adds or removes fields, depending on information that you enter. Help with following state laws is provided in the unique Hawaii Assist instruction boxes that are highlighted in green. They will guide you in properly setting the security deposit amount, in choosing rules on subletting, and in addressing other terms.
This rental agreement is a complete package, and includes all addenda and disclosures selected.
A Great Lease makes a Great Landlord
▶ Watch the Great Lease Video
Video to Share with New Tenants
▶ Watch the Move in Video
Hawaii State Laws
Category
State Law
Ending and Renewing
Hawaii Law
Month-to-Month Tenancy: Either the Landlord or the Tenant may terminate the rental agreement, provided proper notice is given. It is not necessary to give any reason for the termination.

Landlords - When the Landlord wishes to terminate the tenancy, the Landlord must give the Tenant written notice no less than 45 days before the anticipated termination date. The Tenant may vacate the unit at any time within the 45 days and is responsible for payment of prorated rent for the period that the premises is occupied and for notifying the Landlord of the day of vacating.

Tenants - When the Tenant wishes to terminate the tenancy, the tenant must give the Landlord written notice of no less than 28 days before the anticipated termination date. The Tenant is responsible for payment of rent through the date stated in the termination notice, or through the date it is re-rented, whichever comes first.

Fixed Term Rentals: Rental agreements for fixed terms have a termination date stated in the agreement. Termination is automatic and there is no notice required unless specified within the Lease.
Security Deposit
Hawaii Law
The security deposit may not exceed an amount equal to one month's rent.

The Landlord and Tenant may agree upon the collection of the last month's rent in advance but this must be in writing.

A Landlord may demand a security deposit for a pet. This would not apply for assistant animals!
Returned Payment Fee
Hawaii Law
Assessed fees may not be more than $30 and must be reasonably related to expenses the Landlord incurs as a result of a returned payment or should apply to the actual charges the Landlord receives from the bank.
Late Fee
Hawaii Law
Update: Hawaii now caps late payment fees at eight (8) percent of the amount of rent due.
Insurance Requirements
Hawaii Law
Landlords may require Tenants to obtain rental insurance.
Addenda & Disclosures
Hawaii Law
If the Leased Premises was constructed prior to 1978, the Landlord must provide all Tenants with the Lead-Based Paint EPA Disclosure and the Lead-Based Paint EPA Pamphlet.
Notice to Enter
Hawaii Law
Landlord's are required to give at least 2 days notice to enter the Leased Premises.
Landlord Requirements
Hawaii Law
Disclosure of Owner or Manager:
The Tenant shall be given, in writing, the name and address of the owner or the owner's agent authorized to receive rent, notices, and demands. This information must be kept current at all times.

HRS Section 521-37 Subleases and assignments.
(a) Unless otherwise agreed to in a written rental agreement and except as otherwise provided in this section, the Tenant may sublet the Tenant's dwelling unit or assign the rental agreement to another without the Landlord's consent.

Non-Refundable Fees:
The Landlord may not require or receive from or on behalf of a Tenant at the beginning of a rental agreement any money other than the first month's rent, last month's rent if agreed upon in writing and a security deposit.
Contact your local housing or zoning office to be sure your rental property complies with city and county requirements for inspections, rent control, occupancy limits, property codes and zoning. Many cities and counties require inspections, registrations and have specific maintenance regulations.
Hawaii Forms & Documents
Hawaii Landlord Tenant Handbook
Hawaii 5 Day Notice to Pay Rent
Hawaii 10 Day Notice to Cure
Hawaii Official Landlord Tenant Complaint (1st Circuit Court)
Hawaii Official Landlord Tenant Complaint (2nd Circuit Court)
Hawaii Official Landlord Tenant Complaint (3rd Circuit Court)
Hawaii Official Landlord Tenant Complaint (5th Circuit Court)
Hawaii Lease Features
There are so many great features included in the Lease Agreement:
All Hawaii-required language
Guidance provided with legal Hawaii Assist information boxes
Clauses which are customizable
Options to create and include add your own clauses
ezSign, email or print Lease
Create your Hawaii Lease Agreement for Residential, Condo, House, Home, Trailer, Apartment, Townhome, Housing, Real Estate, Duplex, Buildings, and many more!
Hawaii Lease Package Documents
Take full advantage of all the forms offered with this Lease Agreement. The following are just a small sample:
Rules and Regulations
Protecting your investment is the chief purpose of this solid Lease Agreement. Here are further examples of rules you can add:
Absolutely no smoking is permitted in rental home.
Penalty for late rent must be paid or legal action may be taken.
Pest problems must be reported immediately to the Landlord.
Absolutely no hazardous or illegal materials may be stored or kept in or around rental unit at any time.
Malfunctioning smoke alarm(s) must be reported immediately to Landlord. Tenant responsible for regular battery changes and may not remove smoke detectors.
Why ezLandlordForms?
#1 Rated Lease Agreement
9.3 TrustPilot Rating, with 3,384 Reviews
Flexible Billing
Choose one-time or subscription billing
State Assist
So you know you're complying with state laws
Full Support
Phone, live chat, or email... try us now!
Unlimited Access
Edit & print any of our forms with pro access
Satisfaction Guarantee
Trusted by over 2.3 million landlords & property managers