Nevada Lease Agreement with ezSign
Now with ezSign. Quickly create a custom Nevada lease agreement as our wizard guides you through relevant NV rental laws as you need them.
Document Last Modified: 6/11/2021
Document Features
Uses Lease Builder
State-Specific
ezSign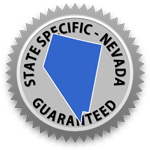 Now with ezSign. Every state has its own unique requirements for landlords to follow, and Nevada is no exception to the rule. Fortunately, our team of attorneys, real estate experts and web experts have created the ultimate tool to help you quickly customize a lease contract that adheres to all Nevada laws.
In seven EZ steps you will be able to type in or auto-fill property and tenant information, select from preset options and even add your own custom clauses throughout, to help you protect your rental property. We also provide you with dozens of optional (and sometimes legally required) addendums and informative pamphlets that can simply be added to any lease.
Our Nevada Assist will also be with you the whole time, displaying legal tips and restrictions as you need them while filling in the details of your lease. Not only will you find yourself creating a perfect custom package but, understanding Nevada's landlord-tenant laws has never been easier.
If any of this sounds confusing, we understand; sometimes it's easier to just do, rather than reading about it. This is why we let you create rental agreements and download them to preview, with no obligations to buy anything.
Managing a property like a professional can be difficult. Let ezlandlordforms take on all of the challenges for you, and start building your lease today!
A Great Lease makes a Great Landlord
▶ Watch the Great Lease Video
Video to Share with New Tenants
▶ Watch the Move in Video
Nevada State Laws
Category
State Law
Ending and Renewing
Nevada Law
Fixed Term Lease: May terminate at the end of the lease unless specified otherwise. All notice provisions must be contained in the original lease agreement unless agreed to later by both parties in a signed, written addendum.
Periodic Tenancies: A landlord may require a tenant to provide written or oral notice to terminate a lease equal to one periodic term of the tenancy. For example, if rent is paid monthly, the landlord may require up to 30 days' notice for ending a lease.
Security Deposit
Nevada Law
According to NRS 118A.242: A security deposit, including last month's rent, may not exceed an amount equal to 3 months rent.
Returned Payment Fee
Nevada Law
New for July 2019: Late fee may not exceed 5% of regular rent.
Late Fee
Nevada Law
The maker of a bad check may be charged a collection fee of no more than $25.00 for each dishonored check.
Insurance Requirements
Nevada Law
There are no laws that specifically state that a tenant is required to carry insurance on the property. However, a rental agreement may specify that the landlord requires insurance to be carried or it is a violation of the lease agreement.
Addenda & Disclosures
Nevada Law
If the leased premises was constructed prior to 1978, the landlord must provide all tenants with the Lead-Based Paint EPA Disclosure and the Lead-Based Paint EPA Pamphlet.
Notice to Enter
Nevada Law
Landlords are required to give at least 24 hours notice before entering leased premises.
Landlord Requirements
Nevada Law
The lease must fully explain each fee and why it is required. This may include a non-refundable cleaning fee.
(Nevada CHAPTER 118A - LANDLORD AND TENANT: DWELLINGS § 118A.242).
Subletting:
A landlord may not unreasonably withhold his consent to a tenant's request to assign/sublet the property.
Contact your local housing or zoning office to be sure your rental property complies with city and county requirements for inspections, rent control, occupancy limits, property codes and zoning. Many cities and counties require inspections, registrations and have specific maintenance regulations.
Nevada Forms & Documents
Nevada Quitclaim Deed
Nevada Landlord Tenant Eviction Handbook
Nevada 5 Day Tenancy-At-Will Notice
Nevada 7 Day No Cause Notice to Quit
Nevada 30 Day No Cause Notice to Quit
Nevada Lease Features
There are so many great features included in the Lease Package:
Now with ezSign (also Printable)
Complies with up-to-date Nevada landlord-tenant laws.
Try it free: no need to even enter payment details until you're ready to print!
Legal protection without the jargon and legalese: we left only the necessary elements to keep you protected in court.
Not sure what you have to include or worried about missing anything? Our NV lease wizard will direct you every step of the way!
Easily editable to customize for your specific needs.
Not just a simple lease contract, our rental package includes dozens of optional guides, addendums and legal disclosures that range from useful to legally-required in some cases.
Create your Nevada Lease Agreement for Residential, Condo, House, Home, Trailer, Apartment, Townhome, Housing, Real Estate, Duplex, Buildings, and many more!
Rental Package Documents
We've got all of the legal forms you would ever need, but we'll leave that to your discretion, these are just a sample of some of your options:
Optional custom cover page & table of contents
Rules & Regulations
When building a lease you have to set your Regulations and Boundaries, here a just a few that are yours with the click of a mouse:
The burning of candles is not permitted within the Leased Premises..
Absolutely no smoking is permitted in the Leased Premises.
Late fees are strictly enforced and any unpaid fees will not be waived.
The Storage of hazardous materials are not permitted to be in or around the Leased Premises at any time.
The Tenant agrees to test and maintain smoke detector(s).li>
The Tenant must alert the police and Landlord if illegal activity happens within or neighboring the Rental Unit
Why ezLandlordForms?
#1 Rated Lease Agreement
9.3 TrustPilot Rating, with 3,384 Reviews
Flexible Billing
Choose one-time or subscription billing
State Assist
So you know you're complying with state laws
Full Support
Phone, live chat, or email... try us now!
Unlimited Access
Edit & print any of our forms with pro access
Satisfaction Guarantee
Trusted by over 2.3 million landlords & property managers