Texas Lease Agreement with ezSign
Now with ezSign. This Texas lease agreement is easy to download, legal, simple to email and completely customizable. It also includes TX Assist law tips as you go.
Document Last Modified: 6/14/2021
Document Features
Uses Lease Builder
State-Specific
ezSign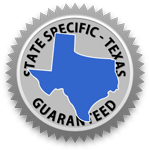 Landlord Tenant laws in Texas can be confusing, so our goal is to summarize and explain in plain English the relevant laws as you create a lease agreement. As you complete the information fields in our streamlined Lease Builder, our Texas Assist guides you through the laws and regulations at each step, from late payment rules to laws on renewing a lease.
Automatically included in your Texas lease are the necessary legal terms and Texas-required disclosures. In addition, this document also meets lease requirements for the cities of Arlington, Austin, Corpus Christi, Dallas, El Paso, Fort Worth, Houston, Plano and San Antonio.
You also have the option to customize your Texas lease by attaching any of the many addenda offered, such as one that outlines your policy on tenant guests, or one that lays out your expectations for preventing the growth of mold, among others.
Dozens of clauses, designed to limit the landlord's exposure to litigation, may be selected in the Rules & Regulations section of the Lease Builder.
Quickly and easily create a Texas lease agreement today, and rest assured our Texas Assist will guide you through the process. When the state-specific lease is complete, it may be signed electronically with no additional fee.
A Great Lease Makes a Great Landlord
▶ Watch the Great Lease Video
Video to Share with New Tenants
▶ Watch the Move in Video
Texas State Laws
Category
State Law
Ending and Renewing
Texas Law
Monthly: May be terminated by the tenant or the landlord, giving notice of termination to the other party of at least 30 days. Less than one month: May be terminated by the tenant or the landlord, giving notice of termination to the other of at least the number of days in the rent paying period, not including the day the notice is given.
Fixed term: Will end on the date specified within the lease and tenant will vacate, unless other arrangements specified within the lease.
Security Deposit
Texas Law
There is no limit on the security deposit charged to the tenant, so long as it is reasonable.
Returned Payment Fee
Texas Law
Must be included in the lease agreement.
Late Fees
Texas Law
Must be included in the Lease.
Insurance Requirements
Texas Law
Landlords may require tenants to obtain rental insurance. This does not absolve landlords of liability in all instances such as negligence on the landlord's part.
Addenda & Disclosures
Texas Law
Lead-Based Paint EPA Disclosure and the Lead-Based Paint EPA Pamphlet.
Notice to Enter
Texas Law
No Requirement, however it is highly recommended to give tenants reasonable notice.
Landlord Requirements
Texas Law
Landlords MUST provide one copy of the lease to Tenant within three business days of the date the lease is signed by each party to the lease.
Contact your local housing or zoning office to be sure your rental property complies with city and county requirements for inspections, rent control, occupancy limits, property codes and zoning. Many cities and counties require inspections, registrations and have specific maintenance regulations.
Texas Forms & Documents
Texas Property Code Title 8 Landlord Tenant
Texas Tenant Screening Criteria Disclosure
Texas Notice to Vacate for Unpaid Rent
Texas 3 Day Notice to Vacate
Texas Lease Features
Texas-required language
Ability to add custom clauses and select your own options
Critical help supplied with
Texas Assist
information boxes
Multiple options for adding tenant rules and regulations
Option to digitally sign, email or print the lease package
Create your Texas lease agreement for Residential, Condo, House, Home, Trailer, Apartment, Townhome, Housing, Real Estate, Duplex, Buildings, and many more!
Texas Lease Package Documents
Among the features that may be added to the Texas lease are:
Cover page and Table of Contents
A company logo
Rules and Regulations
Some of the many optional rules and regulations for the Texas lease:
Tenant may not interfere with the peaceful enjoyment of neighbors.
Tenant must report any malfunction of smoke detectors.
Tenant shall use ventilating fans at all times when bathing or cooking.
Waterbeds and liquid furniture not permitted without written permission of landlord.
Why ezLandlordForms?
#1 Rated Lease Agreement
9.3 TrustPilot Rating, with 3,384 Reviews
Flexible Billing
Choose one-time or subscription billing
State Assist
So you know you're complying with state laws
Full Support
Phone, live chat, or email... try us now!
Unlimited Access
Edit & print any of our forms with pro access
Satisfaction Guarantee
Trusted by over 2.3 million landlords & property managers