Texas Lease Agreement with ezSign
Create and Download the Texas Residential Lease & Rental Agreement printable PDF for Landlords. This state-specific Lease is customizable and includes TX laws.
Document Last Modified: 11/8/2023
Document Features
Uses Lease Builder
State-Specific
ezSign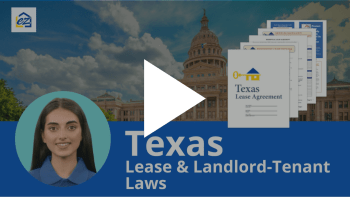 Watch Our Videos
▶ This is Why a Lease is so Important
▶ How to ezSign your Lease Agreement
Video to Share with Tenants
Table of Contents
TX Residential Lease Agreement
Our Texas Residential Lease Agreement is guaranteed to comply with all Texas state and rental laws.
We offer state assist tips as you build your Texas Rental Agreement
We automatically include any state-required language, clauses, or terms
We automatically include any state-required disclosures, addendum, or documents
We Provide the Highest Quality Texas Lease Available Online
You won't find a better Lease Agreement online than the Texas ezProLease.
A Lease Agreement that leverages the expertise of thousands of Landlords
Recommended by Shark Tank's Barbara Corcoran
Over 3 million Leases created since 2006
Rated "excellent" 4.8 from 5,000+ reviews


Rated "excellent" 4.8 from 5,000+ reviews on Trustpilot
Our Lease is EZ to build and customize online. With our Lease Builder Wizard, Landlords just follow simple, user-friendly prompts to create and customize their complete Lease Package.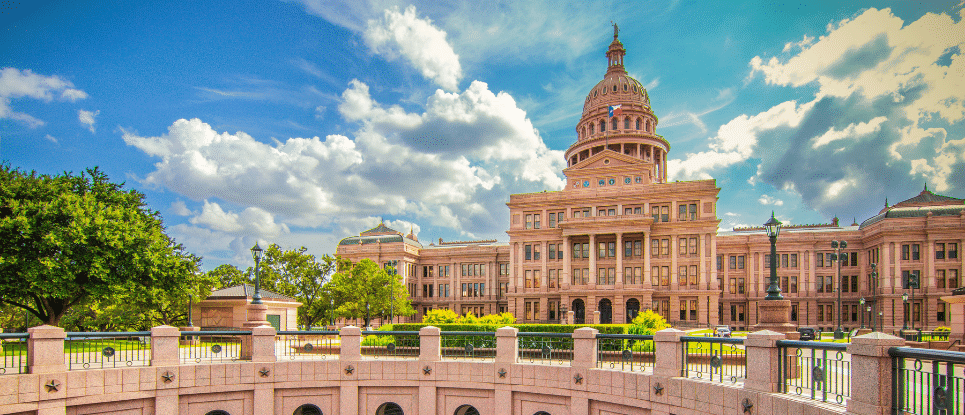 Texas Landlord-Tenant Laws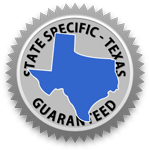 As a Texas Landlord, it's important that you comply with all state laws when creating a lease and managing a rental property.
The good news is that when you create a Texas Lease Agreement with our Lease Builder Wizard, we guarantee that it will comply withall state laws.
That said, we know that Landlords need to be familiar with applicable laws. So here's an overview of some key ones:
Category
State Law
Ending and Renewing

Monthly: May be terminated by the tenant or the landlord, giving notice of termination to the other party of at least 30 days. Less than one month: May be terminated by the tenant or the landlord, giving notice of termination to the other of at least the number of days in the rent paying period, not including the day the notice is given.
Fixed term: Will end on the date specified within the lease and tenant will vacate, unless other arrangements specified within the lease.
Security Deposit

There is no limit on the security deposit charged to the tenant, so long as it is reasonable.
Returned Payment Fee

Must be included in the lease agreement.
Late Fees

Landlords may collect a late fee as long as:
1) The late fee was stated in writing in the Lease Agreement
2) Rent is more than 2 days late
3) The late fee is reasonable.
For properties with 4 or fewer units, a late fee of 12% or less of the monthly rent is considered reasonable.
For properties with 5 or more units, a late fee of 10% or less of the monthly rent amount is considered reasonable.
Insurance Requirements

Landlords may require tenants to obtain rental insurance. This does not absolve landlords of liability in all instances such as negligence on the landlord's part.
Addenda & Disclosures

Lead-Based Paint EPA Disclosure and the Lead-Based Paint EPA Pamphlet.
Notice to Enter

No Requirement, however it is highly recommended to give tenants reasonable notice.
Landlord Requirements

Landlords MUST provide one copy of the lease to Tenant within three business days of the date the lease is signed by each party to the lease.
Required Disclosures
One of the hardest parts of drafting a state-specific Lease is ensuring that it includes all required disclosures, language, and addenda.
Our Lease Builder Wizard automatically includes state-required language, terms, and disclosures.
While we make it EZ to create a Texas Rental Contract, we know that pro Landlords like to be familiar with state requirements. With that in mind, here's an overview of disclosures Texas Landlords must provide:
Lead-Based Paint Disclosure: Pursuant to federal law, the Landlord is required to include a Lead-Based Paint Disclosure for all rental units built before 1978.
Texas Parking Rules Addendum: A Texas Rental Agreement must include either a Parking Rules Addendum or specific language in the body of the Lease about parking rules. This must state "PARKING RULES" in capital letters and include both towing and parking policies. If this language is included in an addendum, the addendum must be signed by the Tenant (§ 92.0131 of the Texas Property Code)
Texas Flood Disclosure: As of January 1, 2022, Texas Landlords must notify Tenants of potential flood risks in the Lease Agreement.
Special Conditions to Cancel Agreement/Family Violence Clause - Every Texas Lease must contain language from § 92.016 of the Texas Property Code letting Tenants know of their right to end the Lease early due to special conditions. The Lease must specifically include the language:
"Tenants may have special statutory rights to terminate the Lease early in certain situations involving family violence or a military deployment or transfer."
Note: Tenant must give thirty (30) days written notice to terminate the Lease early due to special conditions.
Notice and Time for Repairs/Tenant Remedies - A Landlord must include language about Tenants' remedies if repairs are not completed in a reasonable time frame, which is generally seven (7) days. (Texas Property Code § 92.056)
Agent/Owner Identification – The Lease contract must state the individual or entity on the deed or record of the property, including their name and address. Other individuals, besides the owner, that are on-site must also be listed in the Lease. (Texas Property Code § 92.201).
Pro Tip: With our Texas Lease Agreement form, all required disclosures are automatically included in your Lease Package.
Frequently Asked Questions
Can I sign my Texas Rental Agreement electronically?
Yes, you may sign Texas Rental Contracts electronically. The Lease is considered fully executed when there's a signature - whether that be an electronic signature or hard-copy signature - by both the Tenant and the Landlord. Our Leases make signing easy, with unlimited access to our esign tool, ezSign.
Do Lease Agreements Need to Be Notarized in Texas?
No, Texas Lease Agreements do not need to be notarized. They just need to be signed by the Tenant and Landlord.
How Do I Fill Out a Texas Residential Lease?
Our Lease Builder Wizard provides step-by-step instructions that make it easy for Landlords to create and customize a comprehensive Texas Rental Contract entirely online.

The key for filling out a Texas Residential Lease Agreement is starting with a great, state-specific Lease and then customizing it to meet the needs of your rental. While there are a number of basic Lease Agreements, simple Leases, or fill-in-the-blank Leases available online - for example, the Texas Association of Realtors Lease Agreement and other similar generic and fillable Leases - it's worth taking the time to complete a more thorough Lease. After all, you have a lot invested in your rentals, so you don't want to rely on anything but a great Lease with all of the protection you need.
What's the Difference between a Texas Commercial Lease Agreement and a Texas Residential Lease Agreement?
Both Commercial Lease Agreements and Residential Lease Agreements provide the terms under which a Tenant rents property from a Landlord. The difference is the type of property - Commercial Leases are for properties that are used for a business, while residential Lease Agreements are for properties that are lived in by Tenants.

There are a number of different types of Residential Lease Agreements - for example, month-to-month, vacation or short-term Leases, and sublease agreements.
How Much Are Pet Fees in Texas?
Texas has no set pet fee laws. Landlords can set their own policies regarding pets, pet fees, and pet deposits.
Pro Tip: It's always a good idea to include a Pet Addendum as part of the Lease Package.
Other Popular Forms
Pro Tip: Should you need to withhold some of the security deposit to cover damage, it's key to have good documentation of property condition. This checklist is a great way to make sure you have all the documentation you need!
Texas State Specific Documents
Pro Tip: This form must be used before a Landlord can file a forcible entry and detainer suit.
Pro Tip: This form must be used before a Landlord can initiate eviction proceedings.
Lease Agreements for Neighboring States
Don't see the Lease you're looking for? No worries - Just check out our Library of Forms, which includes over 200 free Landlord forms and Leases for all 50 states!
Create Document
Use our Lease Builder Wizard to easily create a Texas Lease Agreement and Lease Package. Once it's created, you and your Tenant can sign it electronically with our ezSign tool.

Then, it's automatically stored on the web, with ezCloudStorage. It's also printable and EZ to download as a PDF, so you can have a hard copy too if you prefer.

Bottom line: We make it EZ for every Landlord to create, sign, and store a great Texas Lease!
Back To Top ▲