Oklahoma Lease Agreement with ezSign
Now with ezSign. Oklahoma has dozens of restrictions on lease agreement provisions, so our Oklahoma Assist will guide you through the entire rental process.
Document Last Modified: 2/18/2020
Document Features
Uses Lease Builder
State-Specific
ezSign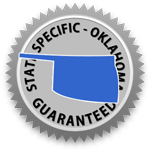 The lease contract is the most important legal document used to protect investment properties. Therefore, a landlord must make sure that every element of the contract reflects his or her wishes, and that it complies with state or province Landlord Tenant laws. Such laws are constantly evolving, which means that rental agreements must change and adapt with the required addenda, disclosures, limitations and legal language. ezLandlordForms monitors these changes, and updates forms accordingly, so that writing a professional Oklahoma lease that meets state guidelines is easy. This legal lease agreement also complies with the Landlord Tenants laws of Oklahoma City.
Our Oklahoma rental agreements may be used for residences, commercial properties and vacation homes, as well as for storage spaces, garages, farm land and more. They include text that can be customized to individual needs.
Throughout the Lease Builder, Oklahoma Assist instruction boxes will guide you in following state laws. Both landlord and tenant will appreciate the easy-to-understand language throughout the document.
This lease may be created and reviewed before payment. Support staff are available to answer how-to questions. Click the Live Help - Online Now button at the top right of this web page for the industry's best online assistance 7 days a week.
OKLAHOMA LEASE FEATURES
All Oklahoma-required language
Clauses that may be customized
Help provided with green, Oklahoma Assist boxes
Options to add your own rules and terms
ezSign, email or print lease
OKLAHOMA LEASE PACKAGE DOCUMENTS
Here are just a few of the many optional notices and addenda that may be included in the Oklahoma lease, from the last step of the Lease Builder:
RULES & REGULATIONS
These are just some of the more than 40 rules that may be included in the lease:
No Smoking policy.
Garbage must be taken out on the specified trash day - no sooner - or penalty/fees may be issued.
Tenant will be responsible for any fine issued to themselves or landlord due to tenant negligence.
Tenant must follow federal, state, and local laws.
The use of kerosene heaters is prohibited.
Stove, oven or range may never be used as a heat source.
Related Articles
Oklahoma Landlord Tenant Law and Regulations
View Article >
Why ezLandlordForms?
#1 Rated Lease Agreement
9.3 TrustPilot Rating, with 3,384 Reviews
No Recurring Billing
No automatic charges or monthly billing
State Assist
So you know you're complying with state laws
Full Support
Phone, live chat, or email... try us now!
Unlimited Access
Edit & print any of our forms with pro access
Satisfaction Guarantee
Trusted by over 2.3 million landlords & property managers