Oklahoma Lease Agreement with ezSign
Now with ezSign. Oklahoma has dozens of restrictions on lease agreement provisions, so our Oklahoma Assist will guide you through the entire rental process.
Document Last Modified: 6/13/2021
Document Features
Uses Lease Builder
State-Specific
ezSign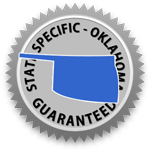 The lease contract is the most important legal document used to protect investment properties. Therefore, a landlord must make sure that every element of the contract reflects his or her wishes, and that it complies with state or province Landlord Tenant laws. Such laws are constantly evolving, which means that rental agreements must change and adapt with the required addenda, disclosures, limitations and legal language. ezLandlordForms monitors these changes, and updates forms accordingly, so that writing a professional Oklahoma lease that meets state guidelines is easy. This legal lease agreement also complies with the Landlord Tenants laws of Oklahoma City.
Our Oklahoma rental agreements may be used for residences, commercial properties and vacation homes, as well as for storage spaces, garages, farm land and more. They include text that can be customized to individual needs.
Throughout the Lease Builder, Oklahoma Assist instruction boxes will guide you in following state laws. Both landlord and tenant will appreciate the easy-to-understand language throughout the document.
This lease may be created and reviewed before payment. Support staff are available to answer how-to questions. Click the Live Help - Online Now button at the top right of this web page for the industry's best online assistance 7 days a week.
A Great Lease makes a Great Landlord
▶ Watch the Great Lease Video
Video to Share with New Tenants
▶ Watch the Move in Video
Oklahoma State Laws
Category
State Law
Ending and Renewing
Oklahoma Law
Week to Week Tenancy: 7 days advance written notice.

Month-to-Month Tenancy: 30 days advance written notice.

Fixed Term: Expires on the stated ending date without notice, unless otherwise agreed upon.
Security Deposit
Oklahoma Law
There is no limit placed on the amount collected for a security deposit. The deposit must be kept in an escrow account, in a federally insured institution within the State of Oklahoma.
Returned Payment Fee
Oklahoma Law
There are no stated regulations on the amount that may be charged for a returned or dishonored payment. However, any amount charged should not be so high as to be considered unconscionable.
Late Fee
Oklahoma Law
Late fee must be a reasonable estimate of damages.
Insurance Requirements
Oklahoma Law
There are no specifications.
Addenda & Disclosures
Oklahoma Law
If the leased premises was constructed prior to 1978, the landlord must provide all tenants with the Lead-Based Paint EPA Disclosure and the Lead-Based Paint EPA Pamphlet.If the premises to be rented has flooded within the past 5 years and such fact is known to the landlord, the landlord shall include such information prominently and in writing as part of any written rental agreement.
Notice to Enter
Oklahoma Law
Landlords must provide at least 24 hours notice before entering the leased premises.
Landlord Requirements
Oklahoma Law
No additional requirements.
Contact your local housing or zoning office to be sure your rental property complies with city and county requirements for inspections, rent control, occupancy limits, property codes and zoning. Many cities and counties require inspections, registrations and have specific maintenance regulations.

Oklahoma City and Tulsa: Oklahoma's Protect Property Rights Act prohibits municipalities from implementing mandatory property registration programs.
Oklahoma Forms & Documents
Oklahoma 10 Day Demand for Compliance
Oklahoma 5 Day Demand for Rent
Oklahoma Lease Features
All Oklahoma-required language
Clauses that may be customized
Help provided with green,
Oklahoma Assist
boxes
Options to add your own rules and terms
ezSign, email or print lease
Create your Oklahoma lease agreement for Residential, Condo, House, Home, Trailer, Apartment, Townhome, Housing, Real Estate, Duplex, Buildings, and many more!
Oklahoma Lease Package Documents
Here are just a few of the many optional notices and addenda that may be included in the Oklahoma lease, from the last step of the Lease Builder:
Rules and Regulations
These are just some of the more than 40 rules that may be included in the lease:
No Smoking policy.
Garbage must be taken out on the specified trash day - no sooner - or penalty/fees may be issued.
Tenant will be responsible for any fine issued to themselves or landlord due to tenant negligence.
Tenant must follow federal, state, and local laws.
The use of kerosene heaters is prohibited.
Stove, oven or range may never be used as a heat source.
Related Articles
Oklahoma Landlord Tenant Law and Regulations
View Article >
Why ezLandlordForms?
#1 Rated Lease Agreement
9.3 TrustPilot Rating, with 3,384 Reviews
Flexible Billing
Choose one-time or subscription billing
State Assist
So you know you're complying with state laws
Full Support
Phone, live chat, or email... try us now!
Unlimited Access
Edit & print any of our forms with pro access
Satisfaction Guarantee
Trusted by over 2.3 million landlords & property managers