South Dakota Lease Agreement with ezSign
Now with ezSign. South Dakota has unique landlord-tenant regulations that leases must follow. Use our SD law tips as you create a South Dakota lease agreement.
Document Last Modified: 2/18/2020
Document Features
Uses Lease Builder
State-Specific
ezSign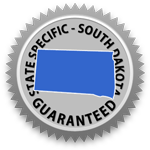 This legal, rental document meets every guideline under South Dakota's Landlord Tenant laws. It is easy to create this form; and it may be downloaded for a printed copy, emailed to tenants, and executed completely online using our included ezSign service. Completed leases are stored in your account.
Simply follow the seven steps in our Lease Builder Wizard. Our program saves names, addresses and dates as you enter them, and plugs them in subsequent lease sections, so that you only have to type them once.
Follow the specific instructions that are shaded in light green and titled South Dakota Assist, and appear in each lease section. These instructions are provided to ensure that you are correctly applying the applicable state law.
Many supplemental forms may be attached to this document at no extra cost. They can be added by checking optional boxes in Step 7, Additional Documents. These addenda allow the landlord or property manager to state expectations that require more explanation than a short sentence or two. One example is the Pet Addendum, which lays out pet rules in explicit terms over seven paragraphs. The Pet form and many others may be customized to fit particular circumstances at your rental.
SOUTH DAKOTA LEASE FEATURES
All Oklahoma-required language
Clauses that may be customized
Help provided with green Oklahoma Assist boxes
Options to add your own rules and terms
ezSign, email or print lease
SOUTH DAKOTA LEASE PACKAGE DOCUMENTS
Some of the many legal forms that you can add to your lease include:
RULES & REGULATIONS
Some of the optional rules that may added by simply checking a box in the Lease Builder include:
Installation of a satellite system requires landlord's written permission.
Late fees must be paid and will not be waived.
A stove, oven or range may never be used as a heating source.
Hazardous materials may not be stored in or around premises at any time.
Windows and doors must be closed during inclement weather.
Tenant may not sublet premises.
Tenant must purchase renter insurance.
Related Articles
South Dakota Landlord Tenant Law and Regulations
View Article >
Why ezLandlordForms?
#1 Rated Lease Agreement
9.3 TrustPilot Rating, with 3,384 Reviews
No Recurring Billing
No automatic charges or monthly billing
State Assist
So you know you're complying with state laws
Full Support
Phone, live chat, or email... try us now!
Unlimited Access
Edit & print any of our forms with pro access
Satisfaction Guarantee
Trusted by over 2.3 million landlords & property managers