Tennessee Lease Agreement with ezSign
Now with ezSign. Tennessee has its own specific landlord-tenant laws, which we will walk you through as you create your Tennessee lease agreement.
Document Last Modified: 2/18/2020
Document Features
Uses Lease Builder
State-Specific
ezSign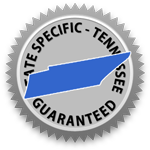 Document Description
Now with ezSign. Whether you are a weekend landlord or a veteran, you are responsible for knowing pertinent landlord-tenant laws in Tennessee. That's why we have attorney-approved legal prompts built in to our ez lease builder wizard to assist Tennessee landlords and property managers along the way. You can build your lease in just 7 easy steps with confidence that your lease is legally intact. Many Tennessee landlords and property managers are unaware of fines imposed when landlords fail to register their properties with their local building code's agency, but with our ez lease builder that information is provided for you.
Did you know Tennessee imposes a mandatory five-day grace period before the rent can be considered late, and the maximum late fee is 10% of the rent? This information, along with much more, is provided for you as you build your lease through our ez lease builder.
Not only is the knowledge provided to ensure an enforceable lease, our ez lease package also includes relevant forms like the Lease Renewal Agreement and Tenant Guest Policy. You will also find standardized forms such as the Tenant's Waiver of Insurance and Non-Renewal Notices to name a few.
With our attorney approved ez lease package for Tennessee landlords, the fact that you may be just a weekend landlord can be your little secret.
Tennessee Lease Features
Now with ezSign (also Printable)
Tennessee-Specific - Designed by legal experts to comply with TN laws
Customizable Lease Wizard - Our easy-to-use lease wizard will simplify the process by auto responding to a few simple details to customize your lease package!
Straightforward – No worries about deciphering pesky legal jargon. We've compiled the required information in a comprehensive, user-friendly document with built-in protection for landlords and property managers.
TN Assist –Creating your lease with our ez lease builder is a cinch in just 7 easy steps with our legal prompts guiding you through each one.
Approximately 35 or more Selectable Rules and Regulations
Complete TN Lease Package –Our lease packages include every form imaginable for landlords and property managers to operate efficiently.
Comprehensive –Our ez lease packages are carefully constructed to include all of the required and industry standard forms you need to successfully manage your residential rentals.
Rental Package Documents
Here are just a few of our collection of legal forms you can include in your TN lease package:
Rules & Regulations
Below are just a few of the dozens of available rules and regulations you can select to include in your Arizona lease package:
The Tenant must obtain written permission to install a satellite system or antenna on or around the Leased Premises.
The Tenant agrees to test carbon monoxide detector(s) periodically as well as maintain operational batteries at all times. The Tenant must report immediately to the Landlord any malfunction with carbon monoxide detector(s).
Late fees are strictly enforced and any unpaid fees will not be waived.
Charcoal and Gas Barbecue grills may not be used or stored on any common areas, balconies, decks, patios, porches, and/or landings or entranceways.
Absolutely no hazardous materials are permitted to be in or around the Leased Premises at any time.
The Tenant must report any malfunction with smoke detector(s) immediately to Landlord. The Tenant agrees not to remove, dismantle or take any action to interfere with the operation of any smoke detector(s) installed on the Leased Premises.
Related Articles
Tennessee Landlord Tenant Law and Regulations
View Article >
Why ezLandlordForms?
#1 Rated Lease Agreement
9.3 TrustPilot Rating, with 3,384 Reviews
No Recurring Billing
No automatic charges or monthly billing
State Assist
So you know you're complying with state laws
Full Support
Phone, live chat, or email... try us now!
Unlimited Access
Edit & print any of our forms with pro access
Satisfaction Guarantee
Trusted by over 2.3 million landlords & property managers