Mississippi Lease Agreement with ezSign
Now with ezSign. This Mississippi lease agreement includes both MS law tips as you create it and a variety of additional protective documents to include.
Document Last Modified: 2/18/2020
Document Features
Uses Lease Builder
State-Specific
ezSign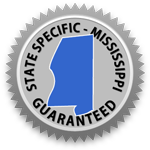 Mississippi's landlords can manage their rentals easily with this state specific rental agreement package. Along with the basic contract, unlimited addenda may be included to stipulate exactly what is expected from tenants.
The basic language is guaranteed to meet the Mississippi Landlord tenant laws, and is written explicitly to minimize owner risk in the event of litigation. However, the agreement also allows extensive customization.
The seven-step Lease Builder Wizard program guides the user in completing fields for names, addresses and other terms. In cases where a state law must be applied, Green text boxes labeled "Mississippi Assist" give specific guidelines. For example, in the Rules and Regulations section, the Assist explains that, if a landlord wants to require tenants to obtain rental insurance, this is permitted under state law.
This professional, legal document saves hours of document preparation time, because the rental address, and tenant and landlord names, must only be entered once. In subsequent steps, the Lease Builder automatically fills in those saved details.
MISSISSIPPI LEASE FEATURES
All Landlord Tenant terms that the State of Mississippi requires
Clauses that may be customized
Easy application of state rules with Mississippi Assist boxes
Options to add your own rules and terms
ezSign, email or print lease
MISSISSIPPI LEASE PACKAGE DOCUMENTS
Any of the following addenda, plus many more, may be included in your lease:
RULES & REGULATIONS
Many rules don't require a lengthy addendum. These are some of the rules that may be selected by checking a box in the last step of the Lease Builder:
Late fees are strictly enforced and any unpaid fees will not be waived.
Absolutely no smoking is permitted in the leased premises.
Tenant may not interfere with the peaceful enjoyment of the neighbors.
Trash must be taken out on the scheduled days and not before.
Tenant must immediately report malfunctions with smoke detector(s) to landlord.
Tenant agrees not to use the rental unit for any unlawful purposes, including but not limited to the sale, use or possession of illegal drugs.
Related Articles
Mississippi Landlord Tenant Law and Regulations
View Article >
Why ezLandlordForms?
#1 Rated Lease Agreement
9.3 TrustPilot Rating, with 3,384 Reviews
No Recurring Billing
No automatic charges or monthly billing
State Assist
So you know you're complying with state laws
Full Support
Phone, live chat, or email... try us now!
Unlimited Access
Edit & print any of our forms with pro access
Satisfaction Guarantee
Trusted by over 2.3 million landlords & property managers