Delaware Lease Agreement with ezSign
Now with ezSign. The First State enforces its own Lease Laws, so our DE Lease Wizard offers law tips as you build your Delaware Rental Agreement.
Document Last Modified: 7/2/2021
Document Features
Uses Lease Builder
State-Specific
ezSign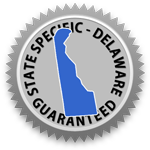 This Delaware-specific Lease contract can be customized to address any special terms that you, the landlord or property manager, wish to add. However, the basic text already covers many common leasing issues; and our attorneys drafted the document using language designed to eliminate or minimize the landlord's liability in the event of legal action.
The seven-step process for creating this form can easily be completed in less than an hour, by following easy instructions in the Lease Builder Wizard. Most fields, such as the length of the rental term, are completed by choosing among several options. Our Delaware Assist offers instructions and tips at each step so that you can be sure that your terms comply with the state's Landlord-Tenant laws.
Finally, dozens of optional, supplemental documents are included with this basic contract, if desired. They may be selected by checking the appropriate boxes in the last step of the Lease Builder Wizard. In cases where a supplemental document may be customized, there is no need to retype names and dates, as our Autofill feature does that for you.
A Great Lease makes a Great Landlord
▶ Watch the Great Lease Video
Video to Share with New Tenants
▶ Watch the Move in Video
Delaware State Laws
Category
State Law
Ending and Renewing
Delaware Law
Landlords may terminate a Lease by giving the Tenant advance written notice of a minimum of 60 days' as specified below:

Fixed Term Lease: Notice shall be given to the Tenant before the expiration of the term of the Lease.
Month to Month Lease: Notice shall be given by the first day of the month preceding the last month of the tenancy.
Security Deposit
Delaware Law
When the rental agreement is for one year or more, or month-to-month tenancies that last one year or more, the security deposit may not exceed an amount equal to one month's rent.

The landlord may require a security deposit in excess of one month's rent for a furnished rental unit, rental of certain federally-assisted housing, and where the tenancy is expected to last less than one year. Each security deposit shall be placed by the landlord in an escrow bank account in a federally insured banking institution with an office that accepts deposits within the state.

Please Note: The landlord must disclose to the Tenant the location of the security deposit.
Returned Payment Fee
Delaware Law
Landlords may charge a service fee provided that it is specified within the Lease and is not more than $40. Del. Code Ann. Tit. 6, § 1301A
Late Fee
Delaware Law
If late fees are stated within the Lease, late charges may not exceed 5% of the monthly rent.
A late charge is considered additional rent.
A late charge may not be imposed until 5 days after the date rent is due.
The Tenant will have an extra 3 days to pay rent if the landlord DOES NOT have a local office.
Insurance Requirements
Delaware Law
Landlords may require Tenants to obtain rental insurance.
Addenda & Disclosures
Delaware Law
If the Leased Premises was constructed prior to 1978, the landlord must provide all Tenants with the Lead-Based Paint EPA Disclosure and Lead-Based Paint EPA Pamphlet. The Landlord must also provide the Tenant with a copy of an executed Lease, free of charge.

In addition, a summary of The Delaware Residential Landlord-Tenant Code" as prepared by the Consumer Protection Unit of the Attorney General's Office is required to be given to the new Tenant at the beginning of the rental term and is included below under Addendums.
Notice to Enter
Delaware Law
Landlords must give 48 hours Notice to Tenants to access Leased Premises.
Landlord Requirements
Delaware Law
Non-Refundable Fees:
Except for an optional service fee for actual services rendered, such as a pool fee or tennis court fee, a landlord shall not charge to a Tenant any nonrefundable fee as a condition for occupancy of the rental unit.
Contact your local housing or zoning office to be sure your rental property complies with city and county requirements for inspections, rent control, occupancy limits, property codes and zoning. Many cities and counties require inspections, registrations and have specific maintenance regulations.
Delaware Forms & Documents
Delaware Landlord Tenant Code (Complete)
Delaware 5 Day Notice
Delaware 7 Day Notice To Cure or Vacate
Delaware Court Civil Complaint
Delaware Lease Features
There are so many great features included in the Lease Package:
Complies with Delaware's code governing the Landlord-Tenant relationship
Easy application of state rules with Delaware Assist
Special clauses can be customized
Extra rules and terms as needed
ezSign, email or print Lease
Create your Delaware Lease Agreement for Residential, Condo, House, Home, Trailer, Apartment, Townhome, Housing, Real Estate, Duplex, Building, and many more!
Delaware Lease Package Documents
Included here are a few of the supplemental legal forms to add to your Lease Package:
Rules and Regulations
View some of the rules you can include by checking a box in Step 6 of the Lease Builder Wizard:
Absolutely no smoking.
Tenants required to obtain rental insurance.
Tenant must notify landlord of any change in employment.
Late fees are strictly enforced and any unpaid fees will not be waived.
Charcoal and gas grills may not be used or stored on any common areas.
Absolutely no hazardous materials are permitted in or around Leased premises.
Tenant must immediately report smoke detector malfunction to landlord.
Tenant agrees not to remove, dismantle or take any action to interfere with smoke detector operation.
Related Articles
Delaware Landlord Tenant Law and Regulations
View Article >
Why ezLandlordForms?
#1 Rated Lease Agreement
9.3 TrustPilot Rating, with 3,384 Reviews
Flexible Billing
Choose one-time or subscription billing
State Assist
So you know you're complying with state laws
Full Support
Phone, live chat, or email... try us now!
Unlimited Access
Edit & print any of our forms with pro access
Satisfaction Guarantee
Trusted by over 2.3 million landlords & property managers