Illinois Lease Agreement with ezSign
Now with ezSign. This Illinois lease agreement is designed to be both highly customizable and adherent to the landlord-tenant laws of IL.
Document Last Modified: 6/7/2021
Document Features
Uses Lease Builder
State-Specific
ezSign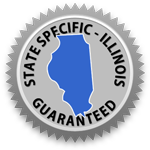 This complete Illinois lease package automatically attaches state-required addenda and disclosures. It is also customizable, meaning that you can supplement the required terms with your own text, throughout the document.
As you fill in the state-specific lease agreement, our Illinois State Assist will appear with directions on making sure the lease meets Illinois Landlord Tenant laws and regulations. In addition, this document also meets lease requirements for the city of Chicago.
Our attorney-approved clauses are designed to minimize litigation, protecting the landlord in common lawsuits.
The easy-to-use Lease Builder program takes you through the form, prompting you for dates, names, rent, deposit, utilities and other information at each step.
A Great Lease makes a Great Landlord
▶ Watch the Great Lease Video
Video to Share with New Tenants
▶ Watch the Move in Video
Illinois State Laws
Category
State Law
Ending and Renewing
Illinois Law
Automatic renewal provisions must appear clearly and conspicuously in the lease. Best practice tip: have the tenant sign next to the renewal clause.

Month to Month Lease: Requires 30 days written notice to terminate.

Year to Year Lease: Requires 60 days written notice to terminate.

Fixed Term Lease: Unless otherwise specified within the lease, the tenant shall vacate when the rental agreement ends.
Security Deposit
Illinois Law
There is no limit to the security deposit charged to the tenant so long as it is reasonable.
Returned Payment Fee
Illinois Law
A returned payment fee may not exceed $25.
Late Fee
Illinois Law
CHICAGO: The landlord may charge $10 per month as a late fee for rents under $500 and a 5% per month late fee on that part of the rent that exceeds the initial $500.
Insurance Requirements
Illinois Law
Landlords may require tenants to obtain rental insurance, and could make the failure to do so a breach of the lease.
Addenda & Disclosures
Illinois Law
LEAD PAINT: If the leased premises was constructed prior to 1978, the landlord must provide all tenants with the Lead-Based Paint EPA Disclosure and the Lead-Based Paint EPA Pamphlet.
Notice to Enter
Illinois Law
There is no requirement for the landlord to give notice. However, it is highly recommended to at least give 24 hours notice to enter the leased premises.
Landlord Requirements
Illinois Law
SUBLEASING
Where a lease requires consent to sublease, the landlord cannot unreasonably withhold it. In Chicago, landlords shall accept a reasonable sublease proposed by the tenant without an assessment of additional fees or charges.
Contact your local housing or zoning office to be sure your rental property complies with city and county requirements for inspections, rent control, occupancy limits, property codes and zoning. Many cities and counties require inspections, registrations and have specific maintenance regulations.
Illinois Forms & Documents
Chicago Lease Addendum - Heating Costs
City of Evanston Landlord Tenant Ordinance (Illinois)
Illinois Landlord-Tenant Laws & Rights
Illinois 5 Day Notice to Pay Rent
Illinois 10 Day Notice to Cure
ILLINOIS LEASE FEATURES
There are so many great features included in the Lease Package:
Language required by Illinois
Custom clauses and rules
Illinois Assist guidance
Optional terms rules and regulations
ESign, email, or print lease
Create your Illinois Lease Agreement for Residential, Condo, House, Home, Trailer, Apartment, Townhome, Housing, Real Estate, Duplex, Buildings, and many more!
ILLINOIS LEASE PACKAGE DOCUMENTS
Below is just a sampling of the dozens of documents you can include in your Illinois lease package:
RULES AND REGULATIONS
Along with the addenda and disclosures that may be attached to the lease, are the following optional rules. Check off those you wish to include when you create your lease.
Tenant is responsible for all repairs needed in or about the Leased Premises up to [$]. Landlord will be responsible for repairs that exceed this amount.
Tenant agrees not to transfer, assign or sub-lease the Leased Premises without the Landlord's written permission.
Include a description of the available parking on the lease.
Tenant shall abide by all rules mandated by Condominium or Homeowners Association.
Related Articles
Illinois Landlord Tenant Law and Regulations
View Article >
Why ezLandlordForms?
#1 Rated Lease Agreement
9.3 TrustPilot Rating, with 3,384 Reviews
Flexible Billing
Choose one-time or subscription billing
State Assist
So you know you're complying with state laws
Full Support
Phone, live chat, or email... try us now!
Unlimited Access
Edit & print any of our forms with pro access
Satisfaction Guarantee
Trusted by over 2.3 million landlords & property managers