Illinois Lease Agreement with ezSign
Create and Download the Illinois Residential Lease & Rental Agreement printable PDF for Landlords. This state-specific Lease is customizable and includes IL laws.
Document Last Modified: 11/6/2023
Document Features
Uses Lease Builder
State-Specific
ezSign
Pro Tip: Before signing a Lease, always have Applicants complete a thorough Tenant Screening and Rental Application. We offer Landlords a Rental Application that is 100% free!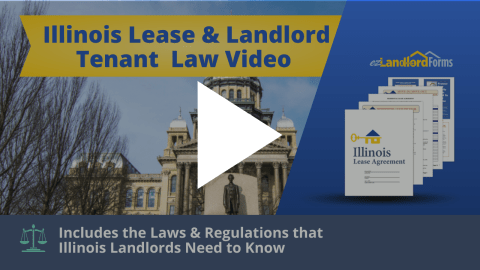 Watch Our Videos
▶ This is Why a Lease is so Important
▶ How to ezSign your Lease Agreement
Video to Share with Tenants
Table of Contents
Illinois Lease Agreement
Illinois Landlords! Your Lease Agreement must comply with all Illinois Lease laws. This means a generic, fillable Lease won't give you the protection you need.
Instead, you need a state-specific Lease that covers all terms of a tenancy and complies with all state laws.
With our Lease Builder Wizard, it's EZ to create a great, Illinois Lease.
Follow user-friendly prompts to customize your Lease
Get State Assist tips to point out Illinois Laws as you build your Lease
Illinois-required language, terms, and addendums are automatically included
Just click a box to add any additional disclosures or addendums you want, for example, a Pet Addendum,Hot Tub/Pool Addendum, or a Pest Control Addendum.
Create, review, and sign entirely online.

Rated "excellent" 4.8 from 5,000+ reviews on
Trustpilot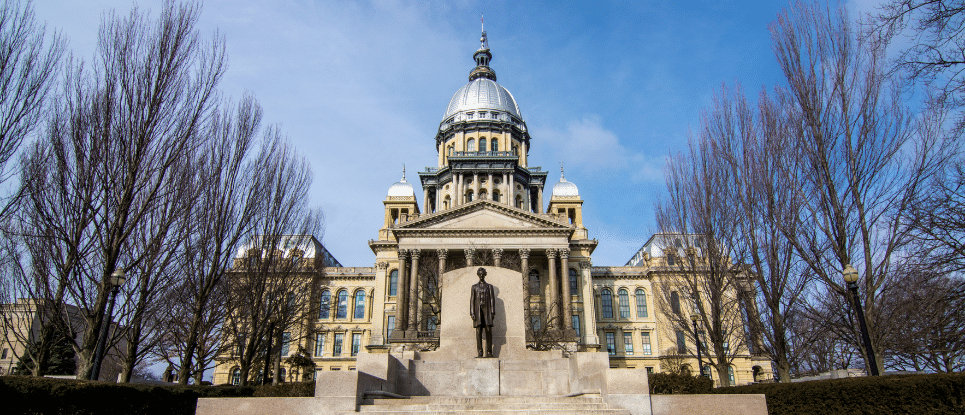 Pro Tip: Our Illinois Lease Agreement is GUARANTEED to comply with all Illinois state laws.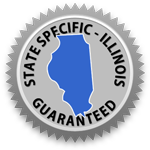 Illinois Landlord-Tenant Laws
It's important to be familiar with all state laws as you manage a rental property. To make this EZ, here's an overview of some key Illinois Landlord-Tenant Laws.
Keep in mind: our Illinois Lease complies with all Illinois laws and requirements. So you don't need to worry about any of these statutes or rules as you build a Lease. Nice to have one less thing to worry about!
Category
State Law
Ending and Renewing

Automatic renewal provisions must appear clearly and conspicuously in the lease. Best practice tip: have the tenant sign next to the renewal clause.

Month to Month Lease: Requires 30 days written notice to terminate.

Year to Year Lease: Requires 60 days written notice to terminate.

Fixed Term Lease: Unless otherwise specified within the lease, the tenant shall vacate when the rental agreement ends.
Security Deposit

There is no limit to the security deposit charged to the tenant so long as it is reasonable.
Returned Payment Fee

A returned payment fee may not exceed $25.
Late Fee

CHICAGO: The landlord may charge $10 per month as a late fee for rents under $500 and a 5% per month late fee on that part of the rent that exceeds the initial $500.
Insurance Requirements

Landlords may require tenants to obtain rental insurance, and could make the failure to do so a breach of the lease.
Addenda & Disclosures

LEAD PAINT: If the leased premises was constructed prior to 1978, the landlord must provide all tenants with the Lead-Based Paint EPA Disclosure and the Lead-Based Paint EPA Pamphlet.
Notice to Enter

There is no requirement for the landlord to give notice. However, it is highly recommended to at least give 24 hours notice to enter the leased premises.
Landlord Requirements

SUBLEASING
Where a lease requires consent to sublease, the landlord cannot unreasonably withhold it. In Chicago, landlords shall accept a reasonable sublease proposed by the tenant without an assessment of additional fees or charges.
Contact your local housing or zoning office to be sure your rental property complies with city and county requirements for inspections, rent control, occupancy limits, property codes and zoning. Many cities and counties require inspections, registrations and have specific maintenance regulations.
Don't want to worry about making sure you comply with all of these laws? We don't blame you!
Make things EZ and use our Lease Agreement that's guaranteed to comply with all Illinois laws.
Required Disclosures
Illinois requires that certain disclosures be included in the Lease Agreement. Here's an overview of the state's required disclosures to help make every Landlord a Pro Landlord.
Pro Tip: When you use our Illinois Lease, all of these disclosures are automatically included. Makes it EZ, eh?

Carbon Monoxide Detectors: Illinois Landlords are required to provide carbon monoxide detectors within 15 feet of where a Tenant is sleeping. Information regarding carbon monoxide detectors must be included in the Lease. (Public Act 094-0741 § 10).
Concession Granted: Any type of Illinois rent concessions that the Landlord offers must be mentioned in the Lease Agreement. Illinois lease laws specifically require that the words "Concession Granted" be written and at least one-half (½) inches in height on the page. If there is a concession and these guidelines aren't followed, it's considered a misdemeanor under Illinois law. (765 Illinois Compiled Statute 730).
Lead-Based Paint Disclosure: For any property built before 1978, Landlords must include a lead-based paint disclosure as an addendum to the Lease Agreement.
Radon Disclosure: Illinois Landlords are not required to test for radon, but if they do test for radon and find that radon exists on the premises, they are required to disclose that information to Tenants. The one exception to this disclosure requirement is rental units on the third (3rd) floor or higher in an apartment building or residential complex. Landlords should also provide Tenants with the IEMA-approved Radon Disclosure Pamphlet. (420 Illinois Compiled Statute 46).
Shared Meter: If a Tenant is required to pay some portion of the master utility, the Landlord is required to share the formula used to calculate the Tenant's portion. (765 Illinois Compiled Statute 740).
Smoke Detectors: Landlords must provide smoke detectors throughout rental properties and provide Tenants with information about testing and maintaining smoke detectors. (425 Illinois Compiled Statute 60)
Pro Tip: When you create an Illinois Rental Agreement, our State Assist automatically includes all Illinois-required disclosures, terms, and language.

Requirements for Chicago Landlords
Chicago Landlords have some additional rules and requirements to comply with.
Note: our Illinois Lease Agreement complies with all Chicago laws!
If Tenants are responsible for heating costs, Landlords must include a Lease Addendum About Heating Costs
Chicago Landlords must provide Tenants with a Chicago Energy Disclosure. You can apply for that disclosure here: Chicago Application for Energy Disclosure.
Summary of the Chicago Residential Landlord-Tenant Ordinance: this document must be attached to the Lease Agreements for some Chicago rentals.
Chicago Landlords must comply with these late fee rules:
The landlord may charge $10 per month as a late fee for rent under $500 and a 5% per month late fee on any portion of the rent that exceeds $500. Chicago Landlords must accept a reasonable sublease proposed by the Tenant without an assessment of additional fees or charges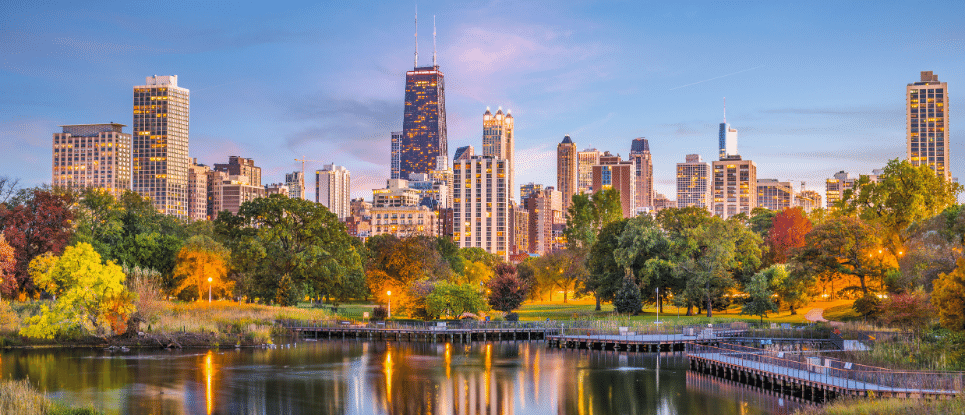 Frequently Asked Questions (FAQs)
Does a Lease Need to Be Notarized in Illinois?
No, Illinois lease laws do not require that an Illinois Rental Agreement be notarized. The Lease just needs to be signed by both the Landlord, the lessor, and the Tenant, the lessee.
How Many Days Notice Are Required to Terminate a Month-to-Month Tenancy in Illinois?
Illinois Rental laws require thirty (30) days written notice before termination of a month-to-month Lease. For Illinois Residential Rental Agreements of one year or longer, sixty (60) days written notice is required to terminate the Lease.
Can a Lease Automatically Renew in Illinois?
Yes. Illinois rental laws require that automatic renewal provisions appear clearly and conspicuously in the Lease.
Pro tip: Have the Tenant sign or initial next to the renewal clause in your Illinois Rental Agreement.
What's the Difference Between an Illinois Commercial Lease Agreement and an Illinois Residential Rental Agreement?
Both the IL Commercial Lease Agreement and the Illinois Residential Rental Agreement provide the terms under which a Tenant rents property from a Landlord. The difference is simply the type of property. A Commercial Lease is for property used by a business, while a Residential Lease is for a property that a Tenant resides, or lives, in.
You'll need a Residential Lease whether you're renting an apartment, condo, duplex, or single-family home. Note: there are different types of Residential Lease Agreements, including fixed-term Leases, month-to-month Leases, and short-term or vacation contracts.
Do I Need a State-Specific Lease in Illinois?
Yes. A basic or standard Lease template form won't give you the protection you need. Even a blank Illinois Lease, like the one offered by the Illinois Association of Realtors, doesn't thoroughly protect you.
Instead, you want a customizable, state-specific Lease that covers all terms of the occupants' Tenancy and ensures you're covered should problems arise with a Tenant.
Other Popular Forms
While the Lease Agreement is the most important, we understand that it's only one of many documents that Landlords need. That's why we have forms for every phase of the Landlord Lifecycle.
Pro Tip: This form provides important documentation should you ever need to collect past-due rent.
Illinois State Specific Documents
Lease Agreements for Neighboring States
What Makes Us the Best Resource for Landlords
EZ to customize your Illinois-specific Lease entirely online
Unlimited access to our electronic signing tool, ezSign
Secure storage of your signed Leases with ezCloudStorage
Forms and tools for the entire Landlord Lifecycle - from Tenant Screening to Move Out
Create Document
Build your Illinois Residential Lease Agreement online now.
Landlords can create and customize their Illinois Lease with our user-friendly Lease Builder Wizard.
Both the Landlord and Tenant can review and sign the Rental Agreement online, using our electronic signing tool, ezSign.
Once your Rental Contract is executed, it's automatically stored with our ezCloudStorage. It's also printable, or the Landlord may download it to keep as a PDF.
EZ as 1, 2, 3…to create, sign, and store a great Lease Package that's guaranteed to comply with Illinois laws!
Back To Top ▲