Indiana Lease Agreement with ezSign
Now with ezSign. Indiana has its own landlord-tenant regulations, which our lease wizard will guide you through as you create your Indiana lease agreement.
Document Last Modified: 2/18/2020
Document Features
Uses Lease Builder
State-Specific
ezSign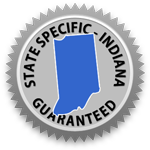 Included in this Indiana lease agreement are the actual rental contract as well as a complete set of documents to aid you in managing your property legally and efficiently. This lease includes attorney-approved language that meets the state's Landlord Tenant laws. As state laws are modified or amended, this lease will be updated to reflect those changes. This document also meets lease requirements for the city of Indianapolis.
All you have to do is complete fields in the 7-step Lease Builder, and follow instructions that appear in green text boxes that are titled Indiana Assist. For instance, one State Assist explains that Indiana requires the landlord/property manager to have tenants acknowledge, in writing, that the rental unit is equipped with a functional smoke detector. Neither the landlord nor the tenant may waive this requirement.
All Indiana state mandates are addressed through the Lease Builder. In addition, this document also meets lease requirements for the city of Indianapolis. There is also a wide variety of optional addenda, disclosures and practical forms for convenience that may be included with this lease. Indiana's laws are complex. Rely on our Lease Builder to simplify the process.
INDIANA LEASE FEATURES
All lease terms that Indiana requires
Options to add your own terms
Clauses that may be individually customized
Guidance on state laws with green, Indiana Assist boxes
ezSign, email or print lease
INDIANA LEASE PACKAGE DOCUMENTS
These are some of the dozens of additional legal forms that may be included in the lease:
Military Tenant Addendum – Legally required for service members
Optional lease packet cover page and custom Table of Contents
RULES & REGULATIONS
Below is just a peek at the selection of rules and regulations we offer with the Indiana lease package:
Tenant agrees to test carbon monoxide detector(s) periodically, maintain operational batteries, and immediately report any malfunction of detector(s).
Tenant must immediately report any malfunction with smoke detector(s) and agrees not to remove, dismantle or take any action to interfere with the operation of any smoke detector(s).
Tenant agrees not to transfer, assign or sub-lease the leased premises without the landlord's written permission.
Tenant must provide Renter's Insurance.
Tenant shall notify landlord of any pest control problems.
Related Articles
Indiana Landlord Tenant Law and Regulations
View Article >
Why ezLandlordForms?
#1 Rated Lease Agreement
9.3 TrustPilot Rating, with 3,384 Reviews
No Recurring Billing
No automatic charges or monthly billing
State Assist
So you know you're complying with state laws
Full Support
Phone, live chat, or email... try us now!
Unlimited Access
Edit & print any of our forms with pro access
Satisfaction Guarantee
Trusted by over 2.3 million landlords & property managers