Indiana Lease Agreement with ezSign
Now with ezSign. Indiana has its own landlord-tenant regulations, which our lease wizard will guide you through as you create your Indiana lease agreement.
Document Last Modified: 6/7/2021
Document Features
Uses Lease Builder
State-Specific
ezSign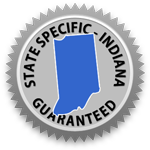 Included in this Indiana lease agreement are the actual rental contract as well as a complete set of documents to aid you in managing your property legally and efficiently. This lease includes attorney-approved language that meets the state's Landlord Tenant laws. As state laws are modified or amended, this lease will be updated to reflect those changes. This document also meets lease requirements for the city of Indianapolis.
All you have to do is complete fields in the 7-step Lease Builder, and follow instructions that appear in green text boxes that are titled Indiana Assist. For instance, one State Assist explains that Indiana requires the landlord/property manager to have tenants acknowledge, in writing, that the rental unit is equipped with a functional smoke detector. Neither the landlord nor the tenant may waive this requirement.
All Indiana state mandates are addressed through the Lease Builder. In addition, this document also meets lease requirements for the city of Indianapolis. There is also a wide variety of optional addenda, disclosures and practical forms for convenience that may be included with this lease. Indiana's laws are complex. Rely on our Lease Builder to simplify the process.
A Great Lease makes a Great Landlord
▶ Watch the Great Lease Video
Video to Share with New Tenants
▶ Watch the Move in Video
Indiana State Laws
Category
State Law
Ending and Renewing
Indiana Law
Year to Year (no end date in the lease): Advance notice of no less than 90 days is required to end the lease.

Month to Month: 30 days advance notice is required to end the lease.

Week to Week: 7 days advance notice is required to end the lease.

Fixed Term: Notice is not required, tenant shall vacate the premises at the end of the lease unless otherwise specified within the lease.
Security Deposit
Indiana Law
There is no limit placed on the security deposit charged to the tenant so long as it is reasonable.
Returned Payment Fee
Indiana Law
In Indiana, an amount not to exceed $20, plus an amount equal to the actual charge by the depository institution for each returned or dishonored instrument may be assessed.
Ind. Code § 26-1-3.1-502.5.
Late Fee
Indiana Law
Late fees should remain reasonable and related to the landlord's actual expenses incurred.
Insurance Requirements
Indiana Law
Landlords may require tenants to obtain rental insurance, and could make the failure to do so a breach of the lease.
Addenda & Disclosures
Indiana Law
If the leased premises was constructed prior to 1978, the landlord must provide all tenants with the Lead-Based Paint EPA Disclosure and the Lead-Based Paint EPA Pamphlet.
Notice to Enter
Indiana Law
Landlords may not access rental units without reasonable notice except for emergencies.
Landlord Requirements
Indiana Law
Indiana leases for a period longer than three (3) years shall be recorded in the recorder's office of the county in which the real estate is located. IC 32-31-2-1.
Contact your local housing or zoning office to be sure your rental property complies with city and county requirements for inspections, rent control, occupancy limits, property codes and zoning. Many cities and counties require inspections, registrations and have specific maintenance regulations.
Indiana Forms & Documents
Indiana 10 Day Notice for Failure to Pay Rent
Indiana 10 Day Notice to Cure or Vacate
INDIANA LEASE FEATURES
There are so many great features included in the Lease Package:
All lease terms that Indiana requires
Options to add your own terms
Clauses that may be individually customized
Guidance on state laws with green, Indiana Assist boxes
ezSign, email or print lease
Create your Indiana Lease Agreement for Residential, Condo, House, Home, Trailer, Apartment, Townhome, Housing, Real Estate, Duplex, Buildings, and many more!
INDIANA LEASE PACKAGE DOCUMENTS
These are some of the dozens of additional legal forms that may be included in the lease:
Military Tenant Addendum – Legally required for service members
Optional lease packet cover page and custom Table of Contents
RULES & REGULATIONS
Below is just a peek at the selection of rules and regulations we offer with the Indiana lease package:
Tenant agrees to test carbon monoxide detector(s) periodically, maintain operational batteries, and immediately report any malfunction of detector(s).
Tenant must immediately report any malfunction with smoke detector(s) and agrees not to remove, dismantle or take any action to interfere with the operation of any smoke detector(s).
Tenant agrees not to transfer, assign or sub-lease the leased premises without the landlord's written permission.
Tenant must provide Renter's Insurance.
Tenant shall notify landlord of any pest control problems.
Related Articles
Indiana Landlord Tenant Law and Regulations
View Article >
Why ezLandlordForms?
#1 Rated Lease Agreement
9.3 TrustPilot Rating, with 3,384 Reviews
Flexible Billing
Choose one-time or subscription billing
State Assist
So you know you're complying with state laws
Full Support
Phone, live chat, or email... try us now!
Unlimited Access
Edit & print any of our forms with pro access
Satisfaction Guarantee
Trusted by over 2.3 million landlords & property managers