Louisiana Lease Agreement with ezSign
Now with ezSign. Create a Louisiana rental lease agreement, and we will guide you through Louisiana landlord-tenant laws as you go.
Document Last Modified: 6/11/2021
Document Features
Uses Lease Builder
State-Specific
ezSign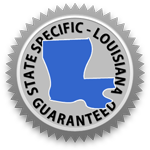 Rentals can provide a steady second income, but in order to succeed with investment property management, landlords must follow the Landlord Tenant laws in their state. These laws can be complex, and they can change from time to time. Our staff researches state statutes, and any amendments, in order to provide legal documents that adhere to the laws.
Our Lease Builder points out the relevant laws and requirements as you create your document, to ensure that your lease complies with regulations. This help comes in the form of green, Louisiana Assist text boxes that appear throughout the Lease Builder. Boxes contain tips, advice and warnings on how to apply each Louisiana regulation. For example, if you choose to include a returned check fee in your lease, a Louisiana Assist text box will explain that the state limits the amount you may charge for a returned check.
This lease package includes the basic rental contract, as well as informational (and sometimes legally-required) disclosures, addenda and informational documents. These extra documents can be used as is, or can be edited to meet your specifications for your rental property.
Louisiana Lease Features
There are so many great features included in the Lease Package:
Louisiana-specific language that complies with state laws
Disclosures and addenda required by law
Customizable special terms that allow you to add your own text and information
Louisiana Assist that guides you at every step
An extensive utility company database with contact information for settling your new tenants easily in their new home
ezSign, email or print lease
Create your Louisiana Lease Agreement for Residential, Condo, House, Home, Trailer, Apartment, Townhome, Housing, Real Estate, Duplex, Buildings, and many more!
A Great Lease makes a Great Landlord
▶ Watch the Great Lease Video
Video to Share with New Tenants
▶ Watch the Move in Video
Louisiana State Laws
Category
State Law
Ending and Renewing
Louisiana Law
Fixed Term Lease: Notice is not required and the tenant shall vacate the premises unless otherwise specified within the lease.
Month to Month Lease: Written notice must be given at least 10 days prior to the expiration of the current month.
Security Deposit
Louisiana Law
There is no limit placed on the security deposit charged to the tenant so long as it is reasonable.
Returned Payment Fee
Louisiana Law
Returned payment fees may not exceed $25 or 5% of face amount, whichever is greater, as long as specified within the lease. La. Rev. Stat. Ann. § 9:2782
Late Fee
Louisiana Law
Late fees should remain reasonable and related to the landlord's actual expenses incurred.
Insurance Requirements
Louisiana Law
Landlords may require tenants to obtain rental insurance, and could make the failure to do so a breach of the lease.
Addenda & Disclosures
Louisiana Law
If the leased premises was constructed prior to 1978, the landlord must provide all tenants with the Lead-Based Paint EPA Disclosure and the Lead-Based Paint EPA Pamphlet.
Notice to Enter
Louisiana Law
Landlords are not required to give notice, however, it is always recommended to give at least 24 hours notice before entering leased premises.
Landlord Requirements
Louisiana Law
SUBLEASING
There are no stated regulations forcing a landlord to accept a sub-lease arrangement.
Contact your local housing or zoning office to be sure your rental property complies with city and county requirements for inspections, rent control, occupancy limits, property codes and zoning. Many cities and counties require inspections, registrations and have specific maintenance regulations.
Louisiana Forms & Documents
Guide to Louisiana Landlord & Tenant Laws
Louisiana 5 Day Notice To Vacate for Nonpayment of Rent
Louisiana 5 Day Notice To Vacate
Louisiana 10 Day Notice to Vacate
Louisiana Petition of Eviction
Louisiana Lease Package Documents
There are many legal forms that you can choose to include in your lease package. Here are just a few:
Rules and Regulations
We have dozens of optional rules and regulations that can be added to explain your expectations to tenants. These are only a portion of rules available for inclusion:
Fire escapes must be accessible at all times.
Late fees are mandatory and tenant is liable for unpaid fees.
The use of proper ventilation must be used at all times when bathing and cooking.
If the tenant has a change of employment, they must notify landlord.
Charcoal and gas grills may not be used on any common areas, balconies, decks, patios, porches, and/or landings or entrance ways.
Waterbeds and liquid furniture are restricted without landlord written permission.
Related Articles
Louisiana Landlord Tenant Law and Regulations
View Article >
Why ezLandlordForms?
#1 Rated Lease Agreement
9.3 TrustPilot Rating, with 3,384 Reviews
Flexible Billing
Choose one-time or subscription billing
State Assist
So you know you're complying with state laws
Full Support
Phone, live chat, or email... try us now!
Unlimited Access
Edit & print any of our forms with pro access
Satisfaction Guarantee
Trusted by over 2.3 million landlords & property managers