Rental & Lease Agreements
Browse Documents and Forms Library
Select Document or Form Category
Rental / Lease Agreements
Quick Tips:
Rental Lease Agreements, Rental Agreements & Lease Agreements
Rule #1 of Property Management: Protect yourself with a comprehensive, state-specific lease agreement that proactively covers all common landlord-tenant disputes.
Shaking hands is polite, but it's no substitute for a legal contract between two parties that often end up in court. It's unimaginable that a landlord would ever attempt to rent property without the benefit of a written lease/rental agreement. In some states and provinces it is legally required that a long-term lease be in writing.
And not just the lease contract itself. Many states require specific disclosures or addenda to be signed and included with the lease agreement. This is often the case even with month-to-month rental agreements.
To make our lease even easier for landlords, you can import all of the data directly from the rental application or credit reports and criminal reports, with one click. The rental application is free and 100% online – no papers, faxing, scanning or any other headaches. Just enter the applicant's name and email address, and select if you want to include credit reports and criminal checks. We can charge the renter directly for the tenant screening reports, and when you find the perfect tenant, just click a single button to import all of the information into the lease wizard for an instant lease package!
Note: Despite some regional differences in how people refer to leases, a "lease agreement" and a "rental agreement" are simply two terms for the same legal document. We offer both variations in language to suit our customers' preferences, but there is no legal difference, we just do it to make everyone happy.
EzLandlordForms offers many types of rental agreements including:
Month-to-month leases often referred to as rental agreements, offer the perfect rental agreement for non-permanent tenancies. While there are some regional differences in the use of terms like 'lease agreement', 'rental agreement' and "tenancy agreement', from a legal perspective all of these terms refer to the same legal contract between a landlord and tenant. Even though we display two separate documents for a rental agreement and a lease agreement, they use the same wizard and either can be set to a term (e.g. one year) or a month-to-month or week-to-week tenancy.
Tenants often have large equipment or other items which can only be accommodated by storage or garage space. They want to know their belongings will be safe and that they will have easy access to them at their leisure. Whether they are storing inventory, old files, or large expensive equipment, landlords should be prepared to accommodate these items in a secure, convenient and professionally managed space.
If a landlord is looking to rent out his storage facility, garage, or warehouse, this ezLandlordForms Garage/Storage Lease Agreement includes all of the necessary information. The ezLandlordForms Garage/Storage Lease Agreement outlines pertinent information such as rent, term, fees and more. It also includes a section where the landlord may choose rules and regulations along with writing their own special terms and conditions.
It is critical to set forth the terms of a rental agreement before renting to a tenant. This way it will protect the landlord and the tenant will know what specific rules to abide by when renting out the garage, parking area, storage space or a warehouse.
Having a successful sublease arrangement requires due diligence from all parties, from the landlord to the sub-landlord (original tenant) and sub-tenant. Our state-of-the-art lease builder wizard makes the subletting process easier than ever before, guiding you through state and province-specific laws as you go and then generating a province or state-specific sublet contract when you have finished. This simple wizard quickly walks you through every step of building a comprehensive residential sublease agreement in just a few minutes. With a few clicks of the mouse, all of the line items, clauses and addendums are combined into one complete and comprehensive Lease package.
Our exclusive State Assist and Province Assist technology helps to ensure that your residential sublease agreement will meet or exceed your state's or province's requirements. Now the protection of a complete and comprehensive residential sublease agreement is at tenants' fingertips, too!
Use this form to extend legally all the terms of the existing contract for an additional lease period. This useful and friendly lease renewal form notifies the tenant that their lease is due to expire soon and that the landlord would like to provide the tenant with the opportunity to renew their current lease agreement. It includes a section for the tenant to fill out and return in order to indicate approval of the continuation and states that the lease will be extended automatically if no reply is received. This is an extra measure of security for the landlord.
Owners of vacation rental properties face an entirely different set of challenges from residential landlords, and our ezLandlord Vacation Rental Agreement reflects these differences.
From prohibiting pets to conditionally allowing them with a deposit, from a single night's stay to full season's rental, we have you covered. Nor do we stop with just the rental contract itself; we offer options to include over a dozen common vacation rental documents, which are editable to customize uniquely, and can be included in the rental package at no additional cost.
This free two-page rental agreement is extremely simple and straightforward. It uses the same wizard (questionnaire) as the premium rental agreement, and takes only a few minutes to generate a customized rental package for your rental property, and when you have finished the wizard will generate both the free version and the premium version of your rental agreement package for you to download and review. Beyond the additional state-specific clauses, the full rental package also includes dozens of extra legal clauses designed to protect the landlord from both lawsuit liability and financial liability from tenant damages.
A lease agreement (or rental agreement) is a contract, traditionally written between the owner of a property (the landlord) and the tenant who wishes to have temporary possession of the property. At a minimum, the lease agreement outlines the parties involved, the property being leased, the rental term and the financial obligations of the tenant. Whatever the term, it should be specified within the lease agreement.


This very convenient ezLandlordForms "Lease Option" or "Rent to Own" Agreement allows the landlord to give the tenant who is renting the premises the option to buy at the end of the lease term, or upon some other agreed upon date. The form sets out all of the terms of the purchase agreement including the price.
This Lease Option Agreement form is an ezLandlordForms editable form that will allow you to include your own custom text. This will give the landlord or owner the option to include terms to the Purchase Option Agreement that were not already included. A landlord would use this form if they would like to give the tenant the option to buy the property at any point during the tenancy.
This Hunting Lease Agreement is made by and between a landlord, who is the owner of the property and the renter who will gain access to the property solely for the purpose of hunting.
Whether granting access for a day, a season or many seasons, it's important to have a written agreement in place when a landowner and a hunter agree to allow hunting on private property. The lease agreement protects the hunter by giving them written proof that they have legal permission to hunt on the grounds, and protects the landlord/landowner by outlining strict rules for safety procedures and other restrictions.
Using eSign for your Lease Agreement: How it works
eSign, also called digital signature, allows parties to review a contract, add their official signature, and then send the contract to the next party – via email – who must sign. Companies that provide this service can track signatures as they are added to a document. This report, known as an audit trail, is a chronological log of who signed and when they signed. The service provider compiles this trail using a computer-generated, "universally unique identifier" number, and the trail serves as proof of contract execution.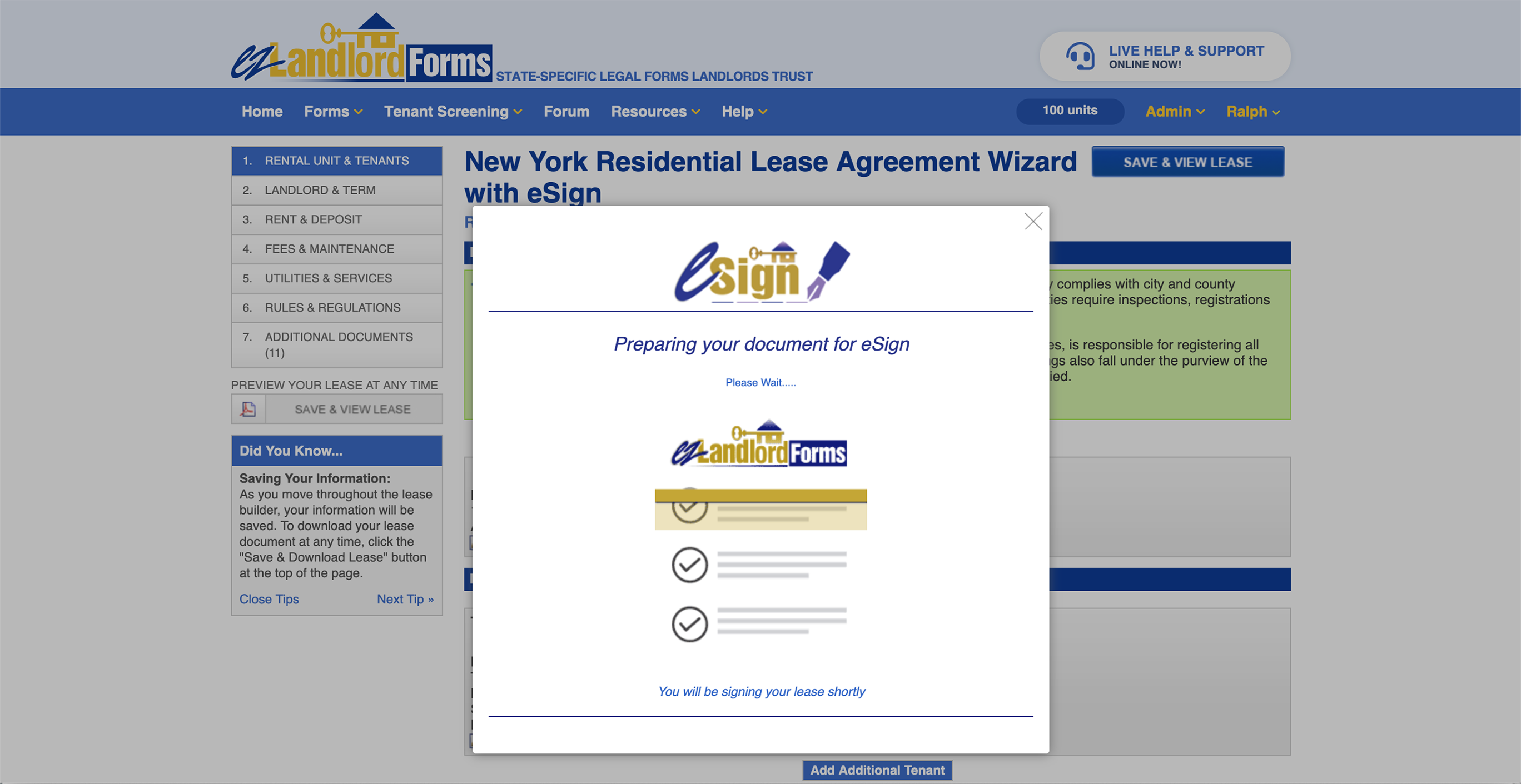 Many landlords delay eSigning until after they have first emailed a copy of the lease to the tenant, so that the tenant can review it. Then, the landlord initiates the eSign process.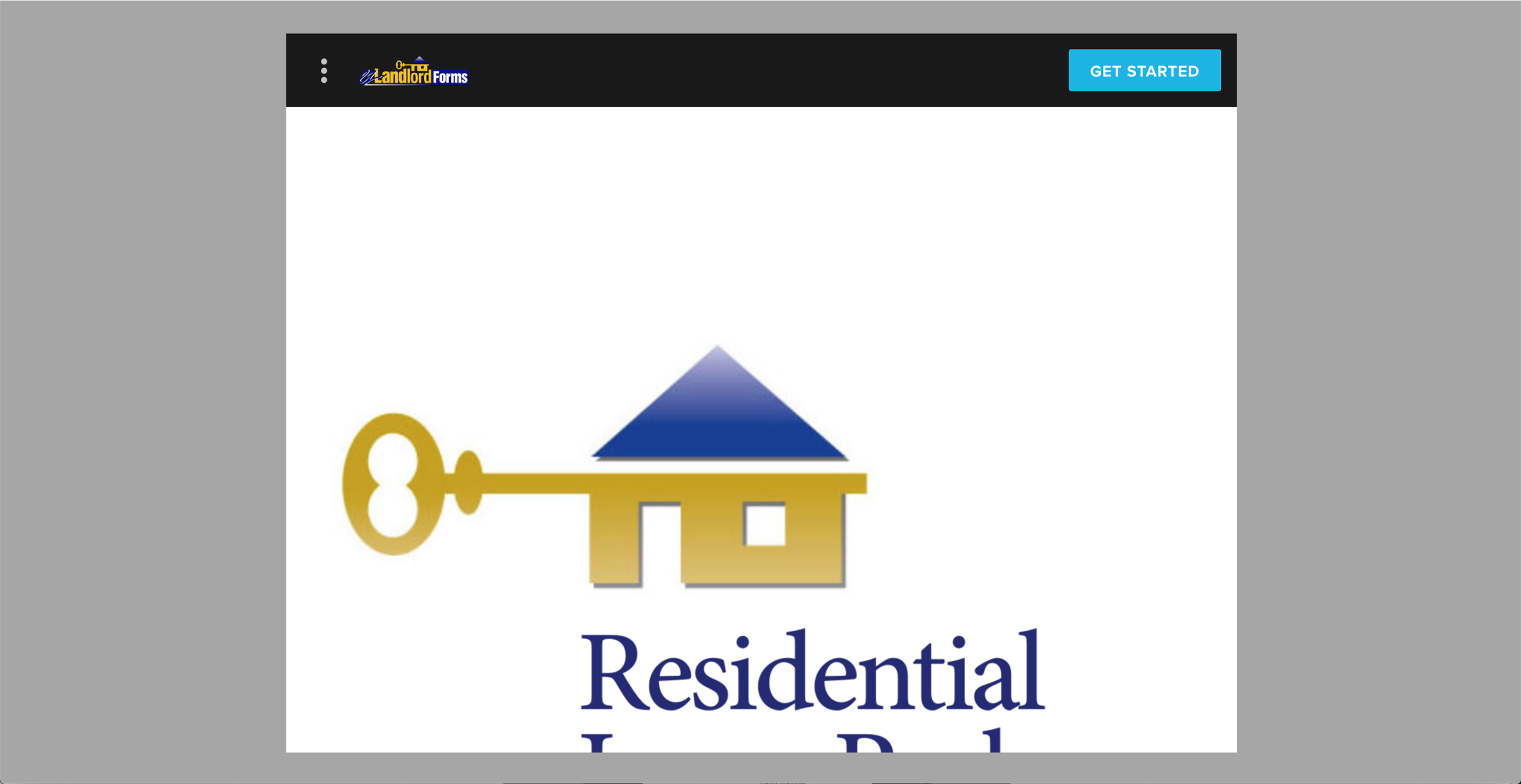 When a landlord or agent is ready to eSign a state specific lease agreement through ezLandlordForms, here is how the process works: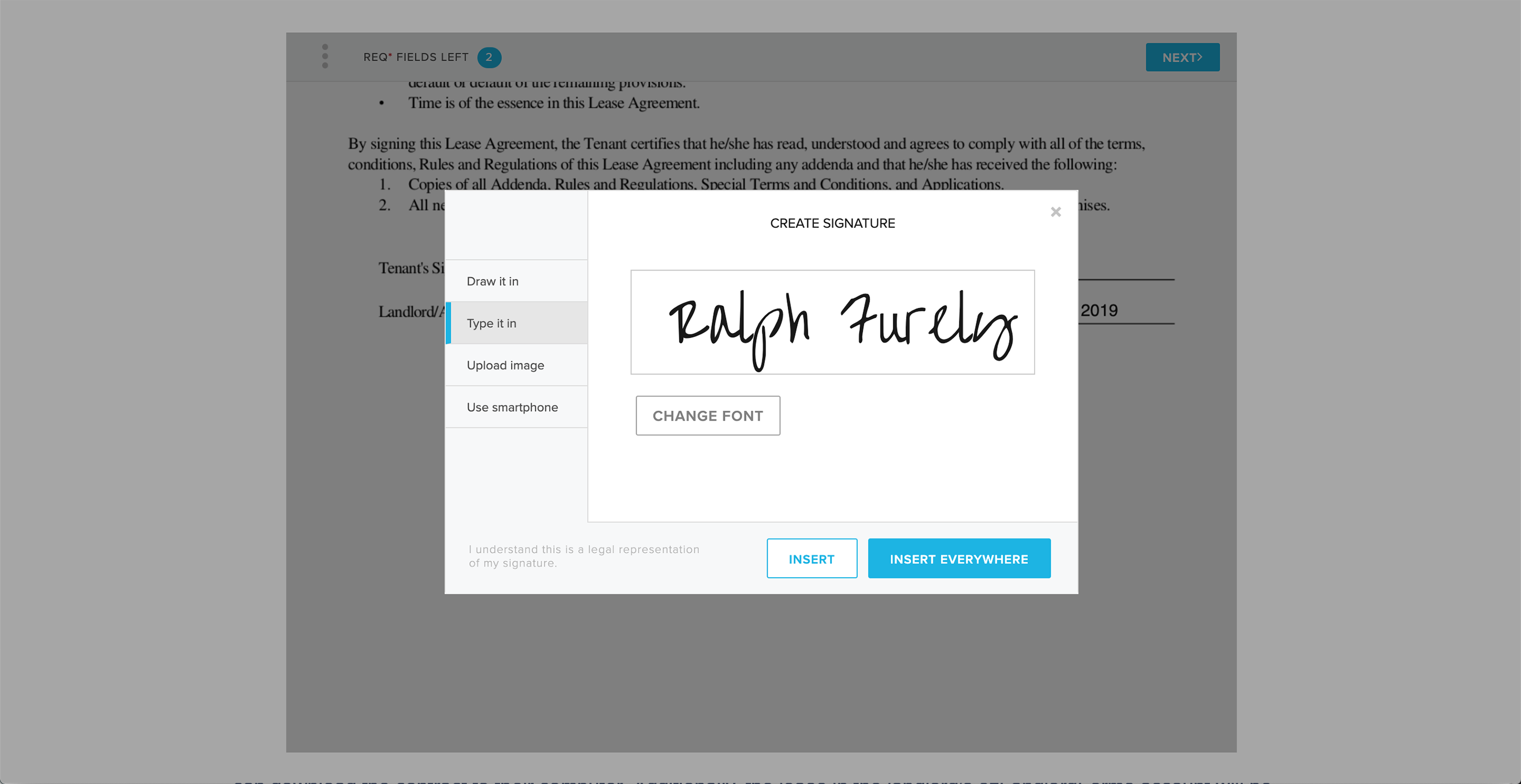 Landlord adds his or her eSignature* by typing in the signature line, or writing in a signature, or uploading an image of the signature that has been saved on the computer.
After eSigning, ezLandlordForms automatically emails the lease to the tenants, so that they may add their eSignatures. Since the audit trail is chronological, tenants will receive the eSign request email one at a time. After the first tenant adds his or her eSignature, the second tenant will receive an email, and so on, until all parties have eSigned.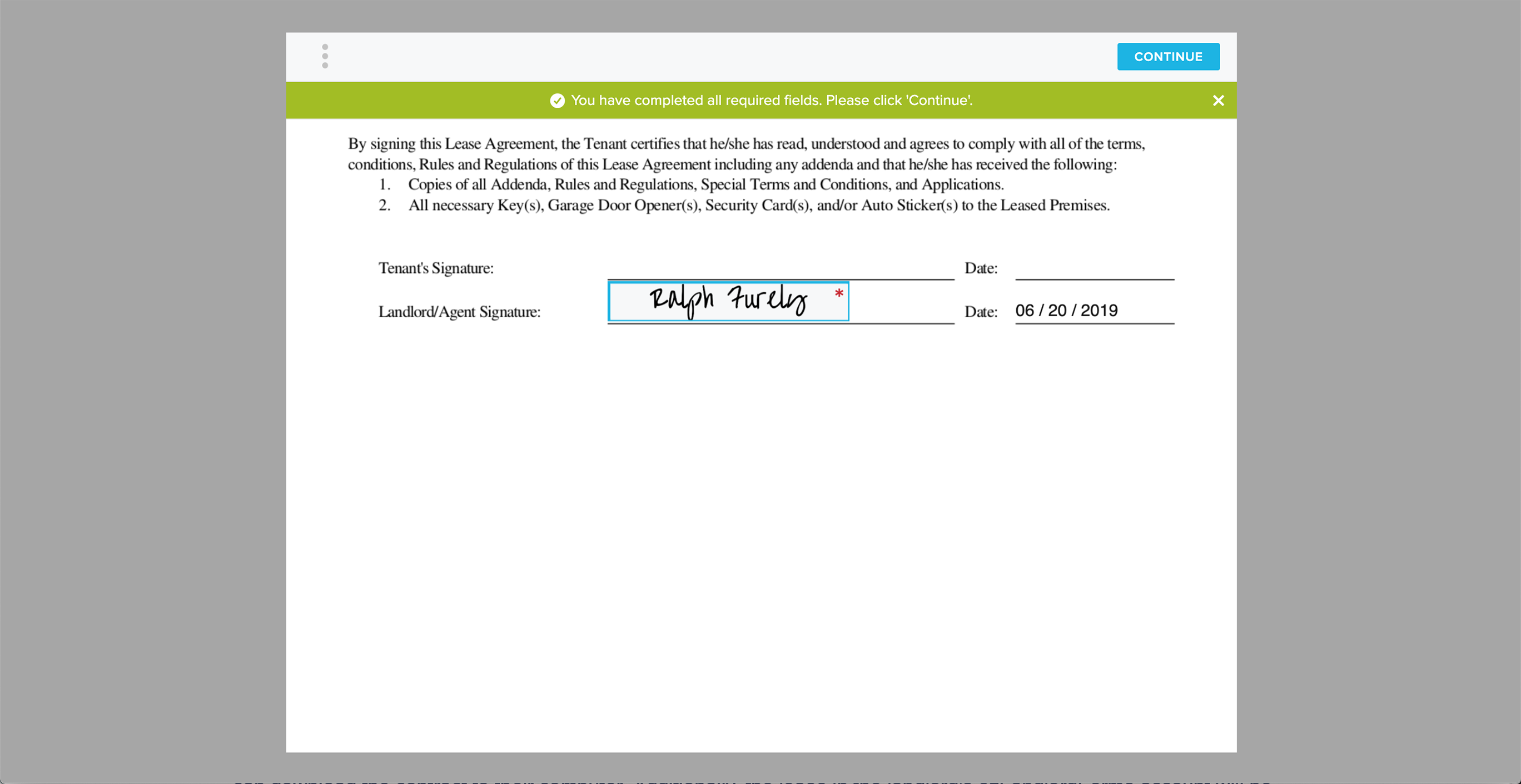 When everyone has eSigned, each party will receive an email that contains a link to the signed document. This way, they can download the contract to their computer. Additionally, the lease in the landlord's ezLandlordForms account will be updated, so that all signatures and the audit trail will be visible. The eSigned lease will be retained in the landlord's account.
*ezLandlordForms requires the landlord to eSign before the tenants. If tenants do not eSign the lease, the signing process ends and the contract is invalid. The tenants cannot access the lease terms to make changes or edit terms; they can only add their eSignatures.