Rental & Lease Agreements
Browse Documents and Forms Library
Select Document or Form Category
Rental / Lease Agreements
Quick Tips:
Rental Lease Agreements, Rental Agreements & Lease Agreements
The Essentials You Need to Know About Lease Agreements
Rental Lease Agreements, Rental Agreements & Lease Agreements - they are all the same thing when talking about renting your property.
Rule #1 of Property Management: Protect yourself with a comprehensive lease agreement that proactively covers all of the common landlord-tenant disputes.
Shaking hands is polite, but it's no substitute for a legally enforceable written lease agreement signed by both parties. This is especially true if they end up in court, but they're also useful as a Road Map for how to resolve any issues that arise during the tenancy. A good rental agreement spells out everyone's rights, privileges and responsibilities, plus timelines, recourses, and more, so they actually help you avoid ending up in court--or to win if you do have to go there.
Even if it's your best friend or sister who's the tenant, no landlord should ever rent out their property without the benefit of a written rental lease agreement. (After all, think about it: did you never fight with your sister while growing up?) Everyone benefits when you keep a rental agreement transaction on clear terms and at arm's length, no matter what your personal relationship.
Lease agreements are governed by state or provincial law, and each can have slightly different requirements. This is why you need a State-Specific rental lease agreement.
States use different terminology oftentimes, and lease language must conform to the correct usage.
In many states and provinces, it is legally required that a long-term rental agreement (12 months or more) be in writing.
In most cases, you need more than the lease contract itself. Many states require specific disclosures or addenda to be signed and included with the lease agreement. This is often the case even with month-to-month rental agreements.
It's in our name: ezLandlordForms makes creating a rental lease agreement super EASY. Start for free, and upgrade if you need to.
Use ezLandlord's Lease Builder to create your state-specific rental lease agreement by clicking on any of the lease agreement types you see displayed further down this page. Some are Premium-only. We do offer a basic, free rental agreement form that's also state-specific, but recommend that you pay attention to what kinds of legal addendums may be required in your state. If there are some, these will be referenced in your free lease form so you can then know whether you need to upgrade. All required addendums are included with our basic Premium package. Premium also gives you the extra convenience of using eSign, for collecting rental lease signatures electronically.
We make it simple for you from the start, with a fillable online rental application form.
Just enter the applicant's name and email address, and select if you want to include credit reports and criminal checks.
Our system will charge the renter directly for the tenant screening reports.
To make our rental lease-building even easier for landlords, when you find the perfect tenant you can import all of their data directly from the rental application form or credit reports and criminal reports, with one click, straight into the lease agreement wizard.
Note: Despite some regional differences in how people refer to leases, a "lease agreement" and a "rental agreement" are simply two terms for the same legal document. We offer both variations in language to suit our customers' preferences, but there is no actual legal difference.
Select the exact type of lease agreement for your circumstances.
EzLandlordForms offers many types of rental agreements. Here are some of the more common ones, and what you need to know about each type:
Our free rental agreement is extremely simple and straightforward. This fully printable two-page form uses the same wizard (questionnaire) as the premium rental agreement to build your free lease template. It takes only a few minutes to generate a customized free rental agreement package. When you have finished, the wizard will generate both the free version and the premium version of your rental agreement package for you to download and review. Beyond some additional state-specific lease clauses, the premium rental agreement package also includes dozens of extra legal clauses designed to protect the landlord from liability for both lawsuits and tenant damages.
Month-to-month leases often referred to as rental agreements, offer the perfect rental agreement for non-permanent tenancies. While there are some regional differences in the use of terms like 'lease agreement', 'rental agreement' and 'tenancy agreement', from a legal perspective all of these terms refer to the same legal contract between a landlord and tenant. Even though we display two separate documents for a rental agreement and a lease agreement, they use the same wizard and either can be set to a term (e.g. one year) or a month-to-month or week-to-week tenancy.
Tenants often have large equipment or other items which can only be accommodated by storage or garage space. They want to know their belongings will be safe and that they will have easy access to them at their leisure. Whether they are storing inventory, old files, or large expensive equipment, landlords may, when possible, accommodate these items in a secure, convenient and professionally managed space, for a separate rental fee and with a separate storage lease agreement.
Whether you are looking to rent out a storage facility, garage, or warehouse connected with a residential tenancy or as a completely separate rental agreement, the ezLandlordForms Garage/Storage Lease Agreement includes all of the necessary information.
The ezLandlordForms Garage/Storage Lease Agreement outlines pertinent information such as rent, term, fees and more. It also includes a section where you can select from common rules and regulations regarding storage leases, and where you can enter your own special terms and conditions.
In general, any landlord has the right to prohibit a sublease agreement by a tenant to another party. Many landlords do this as a rule in their lease agreements with tenants so as to avoid hassles with approving another occupant before the original lease term expires. Standard leases require that tenants be liable for all rent due over the full term of the lease, period.
However, there are also reasons to allow a sublet agreement: landlords can avoid any disputes or collection problems with the original tenant if they must leave before the term is up, and they don't have to find another qualified tenant themselves or absorb any unexpected vacancy costs.
You can also protect yourself by requiring that any sublease agreement conforms to all the terms in your original lease agreement, including background and credit checks of the new tenant, security deposits, and liability for damages to the property.
Forming a successful sublet contract requires due diligence from all parties involved: the landlord, the sub-landlord who was the original tenant, and the sub-tenant. Often, states and provinces have laws pertaining to sublease agreements, and you want to make sure all your bases are covered. You can do this research yourself, but there are also tools that will do the job for you.
The ezLandlordForms lease builder wizard makes the subletting process simple and easy. It guides you through state and province-specific laws as you go, generating a province or state-specific sublet contract at the end. This simple wizard walks you through every step of building a comprehensive residential sublease agreement that's got all the protection of your original lease agreement for the property built in by reference. Or, if the original lease was created on ezLandlordForms, the sublease agreement can automatically pull in all its terms and addendums. Either way, both the landlord and the sub-landlord remain fully protected.
Use this form to create a legal extension of all the terms of the lease agreement for an additional lease period. This useful and friendly lease renewal form notifies the tenant that their lease is due to expire soon, and offers the option of a lease renewal agreement. It includes a section for the tenant to fill out and return in order to indicate approval of the rental lease renewal and provides that the lease will be extended automatically if no reply is received. This gives an extra measure of security for the landlord.
Owners of vacation rental properties face an entirely different set of challenges on their vacation lease agreements than those for regular residential rental agreements. The ezLandlordForms Vacation Rental Agreement reflects these differences. It covers situations ranging from a single night's stay to a vacation rental agreement for a full season, as well as optional provisions for dealing with securing the property or common areas, cleanup responsibilities and housekeeping service, garbage disposal and utilities, use of special included amenities like pools/hot tubs, and more.
EzLandlordForms has vacation rental agreement options to include over a dozen common situations. All are fully editable and customizable, and can be included in the rental package at no additional cost.
All ezLandlordForms are state-specific to the user. Once you begin entering your information on the free rental agreement lease builder questionnaire, the lease wizard automatically generates questions and information on the form specific to the applicable laws of the state or province where the property is located. This way, you don't need to worry about whether any part of a lease agreement you're creating will somehow be invalidated by a state law unknown to you.


A landlord would use this lease option agreement form if they would like to give the tenant the option to buy the property at any point during the tenancy. Also called a Rent to Own Agreement, it allows a landlord to give a tenant the option to buy at the end of the lease term, or on some other agreed upon date. The form sets out all of the terms of the lease purchase agreement, including the sale price. The Lease Option Agreement form is fully editable for you to include your own custom terms and other text. A landlord would use this lease option agreement form if they would like to give the tenant the option to buy the property at any point during the tenancy.
This Hunting Lease Agreement is for an owner of undeveloped property to grant access to a renter solely for the purpose of hunting. It can apply to all types of hunting, on all types of terrain including bodies of water, such as lakes or ponds. Whether granting access for a day, a season or many seasons, it's important to have a written hunting lease agreement in place whenever a landowner intends to allow hunting by others on their private property. The hunting lease agreement protects the hunter by giving them written proof that they have legal permission to hunt on the grounds, and protects the landlord/landowner by outlining strict rules for safety procedures and other restrictions.
NEW! Start building your free lease agreement form right here.
If you're in a hurry and ready to get started right now, you can use our free rental agreement form builder wizard by entering your responses to the simple questions below. At the end, you will have a 2-page, fully printable rental lease agreement, as well as the opportunity to see and upgrade to a more robust version with premium features that include the convenient eSign service.
How To Make A Lease Agreement For Rental Property
Here's a handy list of each step you need to take in the leasing process, including how to write a lease for a rental property.
Before Making a Lease Agreement With a Tenant
1. Show the property & take written rental applications.
In most cases, you'll have to tour the property with prospective tenants. Depending on market conditions and its location, condition and amenities, you may get multiple prospective renters making you a verbal offer. For every party who's interested, you should furnish a printed or electronic rental application form, where they must provide all their personal contact, rental history, employment and income information as well as any references. ezLandlordForms provides a free rental application form that you can print and give to them. Usually, you will also want to collect an application fee to cover the cost of ordering criminal and credit history background checks for at least the primary applicant (if there's more than one).
2. Order background checks & check references.
Use a reliable tenant screening service that offers criminal and credit history background checks. Their reports will show any past criminal convictions, bankruptcies or loan defaults, as well as their current credit scores. Another popular option for users of ezLandlord tenant screening services is to have applicants pay directly for the screening service, so you can skip the application fee.
The application should list personal or previous landlord references with phone numbers - CALL THEM! Never skip this step because it is the very best indicator of a desirable vs. an undesirable tenant. It's also wise to call and verify their employment. If they are self-employed, you may request a copy of their last two years of tax returns as proof of income.
Before you sign the lease agreement and hand over keys, understand that you are delivering possession of the property, and the applicant's status immediately goes from being your guest to being a tenant with extensive legal rights. Therefore, the first step in protecting yourself is conducting a thorough background check.
How to make a lease agreement for a rental property that works for everyone
After you've reviewed an applicant's rental application, credit report, criminal background, income and housing history, and feel comfortable with the results, you'll need to know how to write a lease for a rental property.
3. Select the best lease agreement form template, then personalize it.
You can find lease agreement templates for both standard and special types of rental leases right here on this page. Many users start with the free lease agreement template, then upgrade to Premium when they realize they may need something more than a basic agreement, especially when there are state-specific laws that apply to all residential tenancies. Premium versions cover all these bases.
There are often other documents you'll need to include in the lease package – addendums, disclosures, informational documents, etc. Different states and provinces have different requirements, and some use particular terminology. There are also federal laws in the United States requiring disclosures in many cases (e.g. lead paint disclosures and pamphlets for rental properties built before 1978). All of ezLandlordForms' templates use a lease builder wizard that automatically applies the correct documents and terminology for the state where your property is located.
If the tenant wants to negotiate any special terms, be sure you have those worked out before filling in the template so you can present them with a lease that's ready to go.
4. Doing the walk-through inspection.
Meeting the new tenant at the property for signing the lease agreement allows you the chance to walk through it with the tenant and mark every single knick, scratch, dent or other defects. Have the tenant sign off on it as the move-in condition, so that there will be no disputes at move-out over the security deposit. Take photos (with timestamps activated) to document the conditions, and also write out a list of whatever defects were noted, then make it an attachment to the lease agreement.
5. Have all the documents and keys ready.
Here's what to bring with you for the lease signing:
Two copies of the entire lease agreement package, so you'll each have a signed copy
Copies of the keys (Always keep your own copies of the keys to all rental properties in a well-organized system!)
Several pens for signing
The phone numbers for any utilities that need to be changed to the tenant's name. Make sure utilities are changed that day so you are not charged for the tenant's usage. You can contact them yourself to notify them of the date for changing account holders for the property, then leave it up to the tenant to call and set up their own account.
6. Collect the first and last month's rent plus security deposit, and only then hand over the keys.
Always collect the funds before signing the rental agreement and handing over the keys. You can determine what form of payment is needed: certified check, cash, or an established form of electronic payment such as PayPal, Venmo or the Cash app. If they fail to provide the funds after you've delivered possession, you may need to go through a months-long eviction process and possibly never see any rent money.
7. How to make a lease agreement enforceable after the first transaction.
After leaving the property, deposit the security deposit in an account consistent with your state's landlord-tenant laws. Usually, you cannot commingle these funds with your personal funds because technically they belong to your tenant until you have some provable damage to collect against.
Keep copies of the tenant's rental application, credit report and criminal report, and of course the signed lease agreement, in a file of important documents for that rental property. The information contained in the rental application may be useful later if the tenant is evicted with an outstanding balance, and you want to track down their assets for collection.
Consider obtaining a renter surety bond. The insurance usually costs about $21/month, and covers unpaid rent, legal costs of eviction, and monthly rent during the period while the property is vacant and is being advertised for rent.
In summary, here's the 1-2-3 of how to make a lease agreement into a binding, bilateral legal contract:
Take it seriously

Use the proper legal forms

Keep copies of everything
See our handy Lease Signing Checklist for reminders, and use as a quick reference guide.
Get your lease agreement signed faster with eSign.
How it works
eSign is the digital signature tool preferred by businesses that rely on validated signatures for rental lease agreements and other kinds of legal forms. It allows parties to review a contract, add their official signature, and then send the lease to the next party – via email – walking them through the process of signing their rental agreement.

Companies that provide this service can track signatures as they are added to a document, which is especially convenient when your lease agreement is being made with multiple tenants. This tracking report, known as an audit trail, is a chronological log of who signed and when they signed. eSign compiles this trail using a computer-generated, "universally unique identifier" number, and the trail serves as proof of contract execution.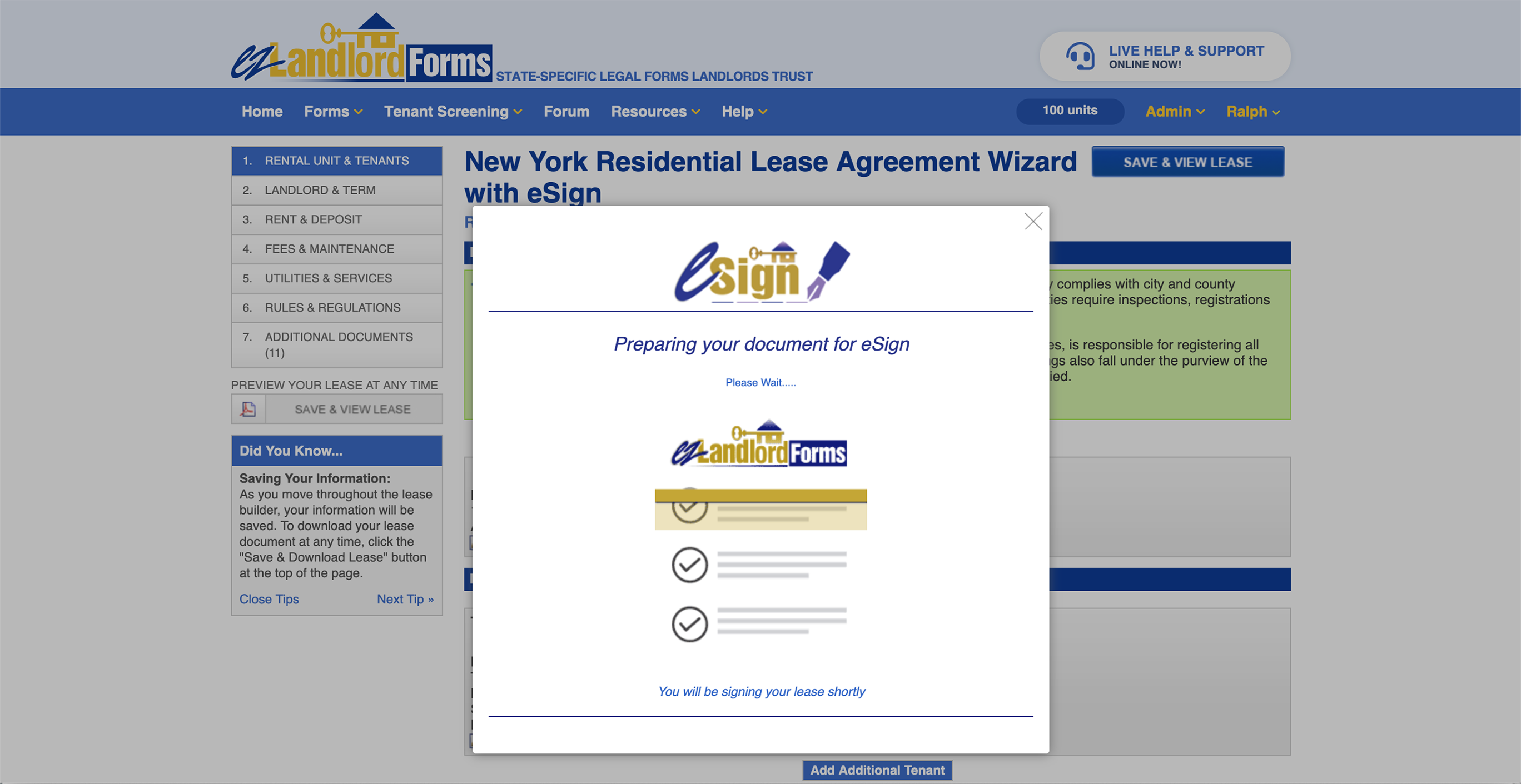 Best Practice Tip #1: Many landlords delay getting e-signatures until after they have first emailed a copy of the lease agreement to the tenant or tenants for review. If more than one tenant will be on the rental lease agreement, this can take a day or more. Once the rental agreement terms are confirmed by everyone, the landlord then initiates the eSign process, since it is time-limited.
Best Practice Tip #2: Use a state-specific rental lease agreement. EZLandlordForms has eSign available for specific rental agreements conforming to the laws in all 50 states.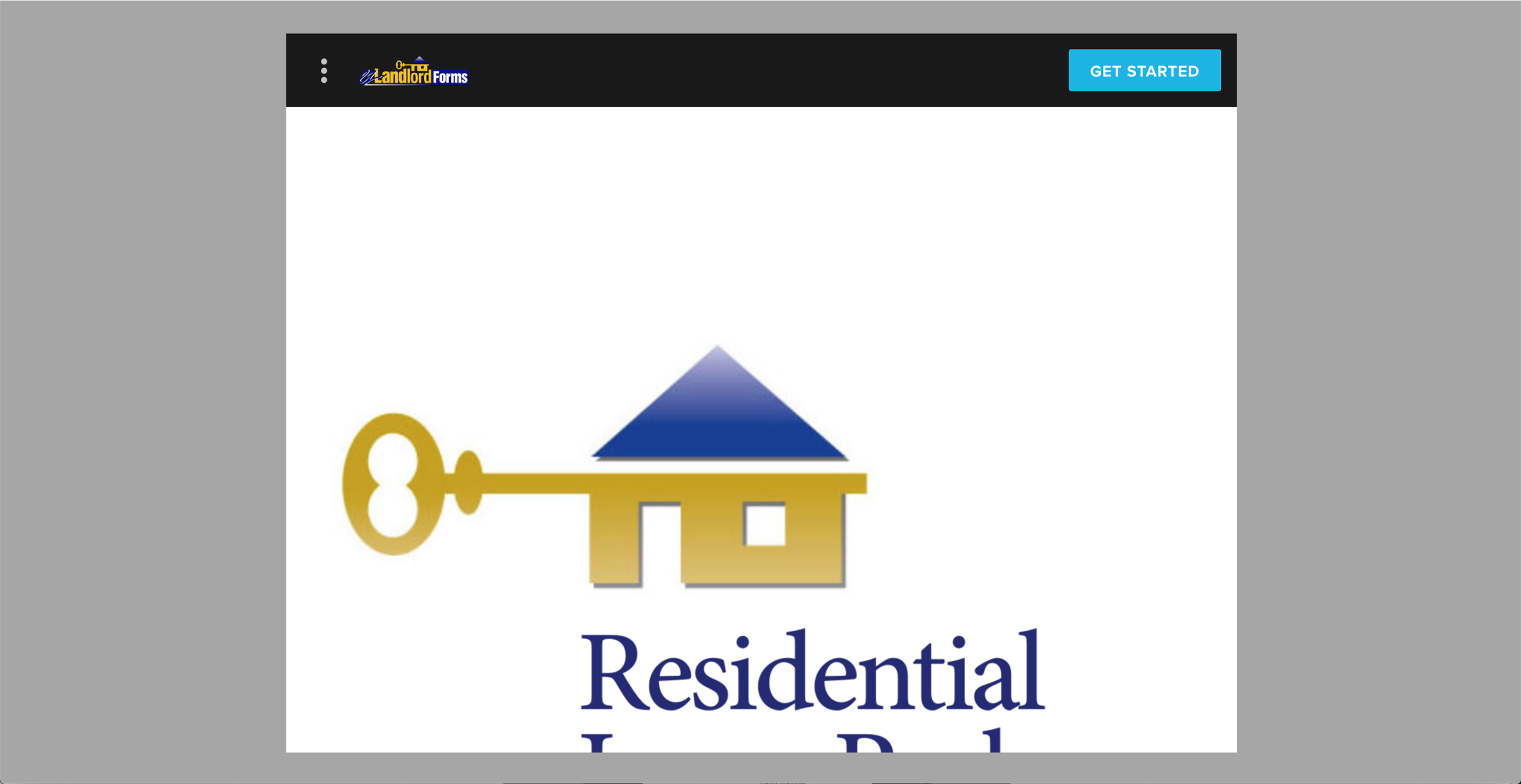 When a landlord or agent is ready to eSign a rental lease agreement through ezLandlordForms, the onscreen instructions walk you through the process.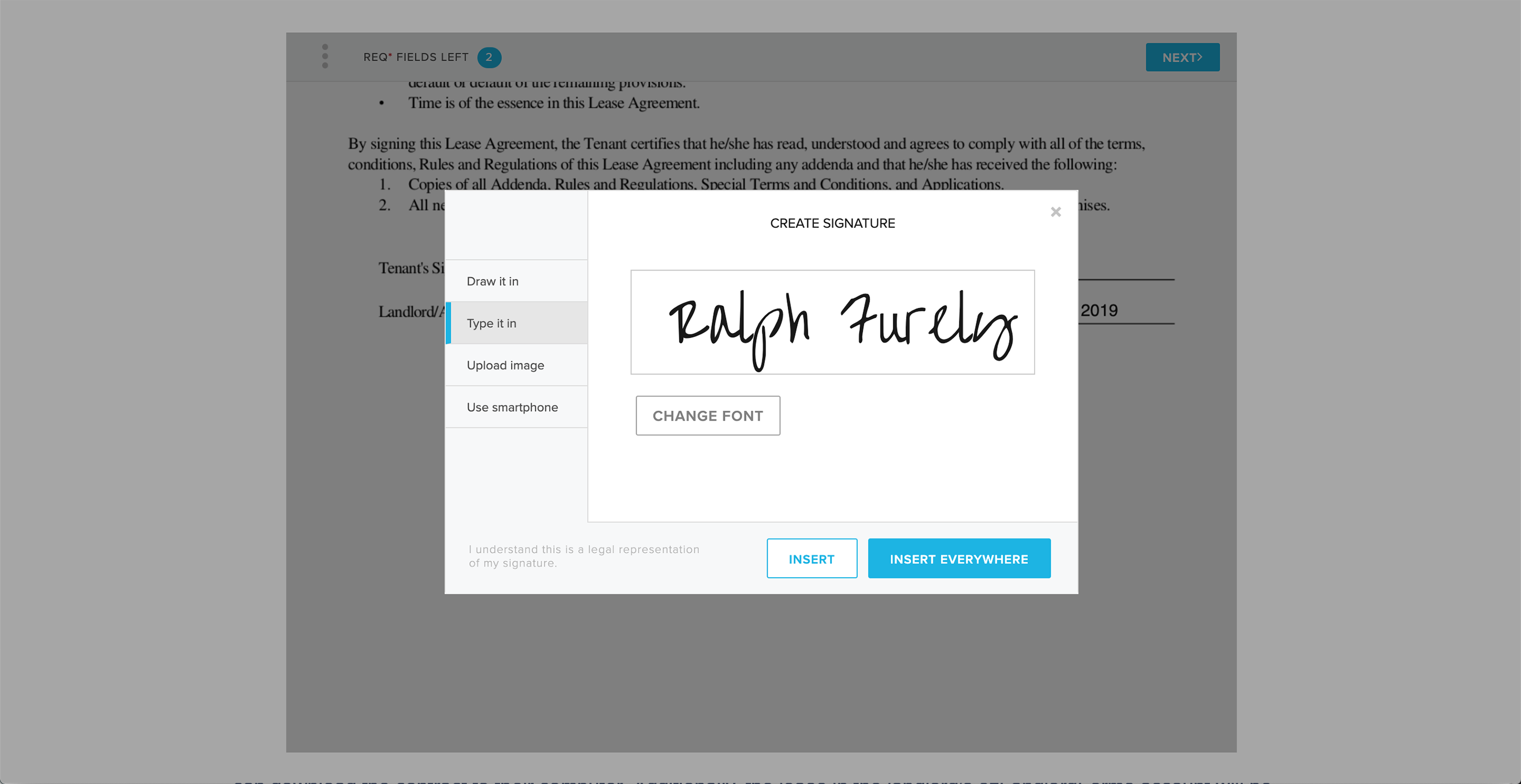 There are three different ways a user can add their eSignature to the lease agreement:
Type it into the signature line.

Hand-write it using your mouse, a stylus, or your finger on your computer's trackpad.

Upload an image of your signature, if you already have one saved on your computer.

EZLandlordForms requires the landlord to eSign the rental agreement before the tenants. Note: The tenants cannot make changes or edit terms in the lease agreement; they can only add their eSignatures.
Once the landlord has signed, ezLandlordForms automatically emails the lease agreement to the tenants for collecting their eSignatures. Since the audit trail is chronological, tenants will receive the eSign request email one at a time. After the first tenant adds his or her eSignature, the second tenant will receive an email, and so on, until all parties have eSigned.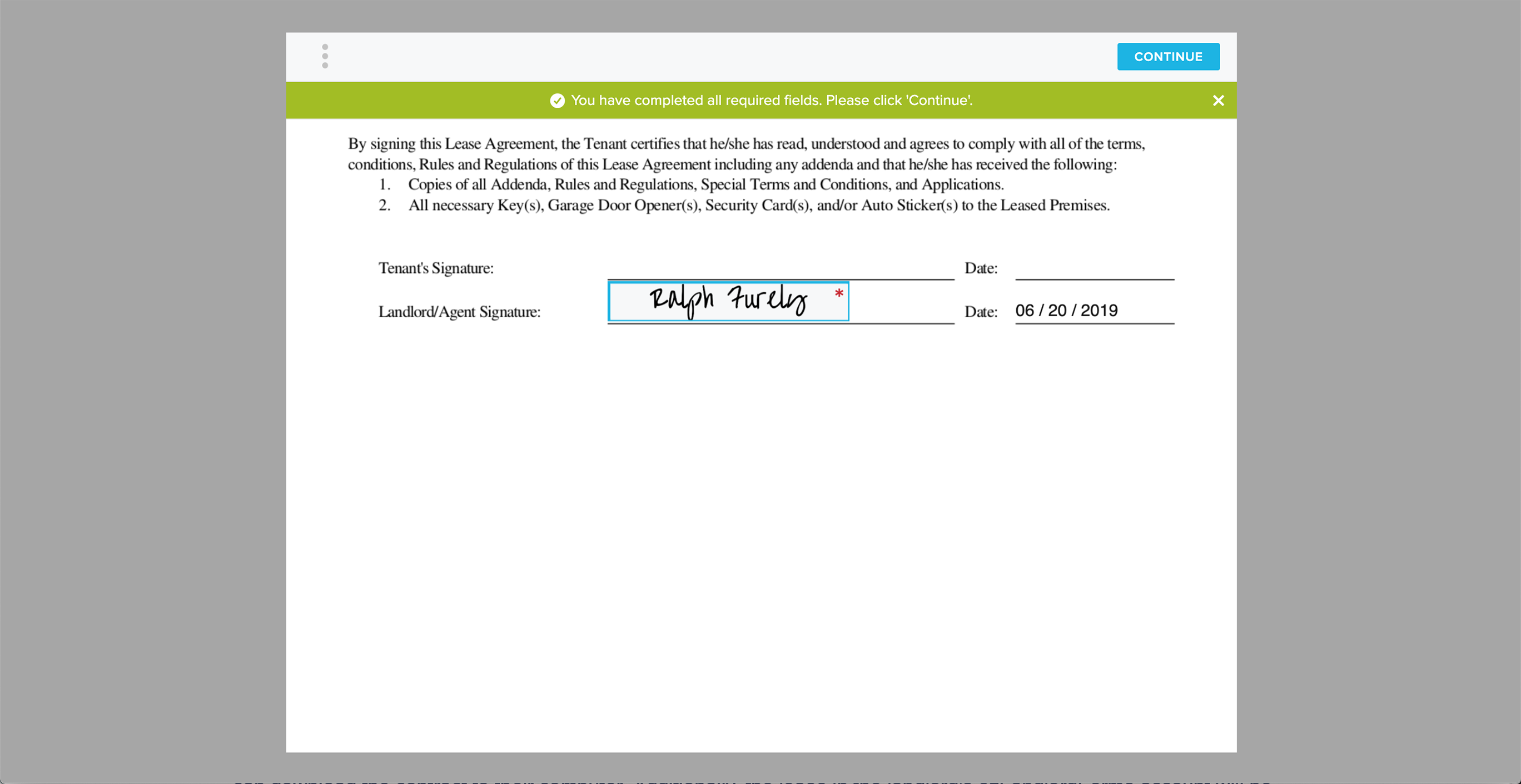 Once all signatures are affixed, each party will receive an email that contains a link to the signed lease agreement. Everyone can then download the document to their own computer. As the landlord, though, you'll receive an even more complete record.
Your signed rental agreements are retained permanently in your ezLandlordForms account.
Your ezLandlordForms account will be updated with the signed rental lease agreement, so that all signatures as well as the audit trail will be visible. All documents remain permanently available to you once you have paid the one-time modest fee for any lease agreement with eSign.