Washington Lease Agreement with ezSign
Now with ezSign. We offer the most affordably complete Washington lease agreement package available, including an abundance of options, disclosures and more.
Document Last Modified: 4/26/2021
Document Features
Uses Lease Builder
State-Specific
ezSign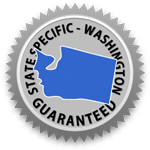 Building a successful real estate business requires asset protection through strong lease documents. However, Washington Landlord Tenant laws are elaborate, and require careful interpretation for successful application in a lease agreement. Our Lease Builder has a built-in Washington Assist that will walk you through the laws and regulations as you create your document in seven easy steps. In addition, this document also meets lease requirements for the city of Seattle.
Washington Assist text boxes summarize the relevant laws for such areas as security deposits and lease period terms. Then, you can customize the lease through abundant, optional clauses and features.
The Washington lease agreement includes default language that was written by attorneys specifically to anticipate common lawsuits, and preempt them to protect the landlord from litigation. Help with navigating the Lease Builder is available through Live Chat, accessed right on the home page.
Video to Share with New Tenants
▶ Watch the Move in Video
WASHINGTON LEASE FEATURES
All Washington-required language
Custom clauses
Help provided with green, Washington Assist boxes
Options to add your own rules
ESign, email or print lease
WASHINGTON LEASE PACKAGE DOCUMENTS
Listed below are some of the multiple forms you may choose to include with your Washington lease package, or refer to for guidance. There is also an option to add a cover page and Table of Contents.
RULES AND REGULATIONS
Along with lengthy addenda, mentioned above, you may check off optional rules, and even write your own and include them in the Special Terms and Conditions fields. Some possibilities are:
Tenant must keep property in "showable"' condition if the unit is for sale.
No hazardous materials may be stored in or around rental unit.
All windows and doors must remain closed during inclement weather.
Basement and attic may not be modified for use as living quarters without written permission from the landlord.
Related Articles
Washington State Landlord Tenant Law and Regulations
View Article >
Why ezLandlordForms?
#1 Rated Lease Agreement
9.3 TrustPilot Rating, with 3,384 Reviews
Flexible Billing
Choose one-time or subscription billing
State Assist
So you know you're complying with state laws
Full Support
Phone, live chat, or email... try us now!
Unlimited Access
Edit & print any of our forms with pro access
Satisfaction Guarantee
Trusted by over 2.3 million landlords & property managers