Washington Lease Agreement with ezSign
Now with ezSign. We offer the most affordably complete Washington lease agreement package available, including an abundance of options, disclosures and more.
Document Last Modified: 6/15/2021
Document Features
Uses Lease Builder
State-Specific
ezSign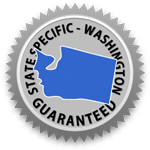 Building a successful real estate business requires asset protection through strong lease documents. However, Washington Landlord Tenant laws are elaborate, and require careful interpretation for successful application in a lease agreement. Our Lease Builder has a built-in Washington Assist that will walk you through the laws and regulations as you create your document in seven easy steps. In addition, this document also meets lease requirements for the city of Seattle.
Washington Assist text boxes summarize the relevant laws for such areas as security deposits and lease period terms. Then, you can customize the lease through abundant, optional clauses and features.
The Washington lease agreement includes default language that was written by attorneys specifically to anticipate common lawsuits, and preempt them to protect the landlord from litigation. Help with navigating the Lease Builder is available through Live Chat, accessed right on the home page.
A Great Lease makes a Great Landlord
▶ Watch the Great Lease Video
Video to Share with New Tenants
▶ Watch the Move in Video
Washington State Laws
Category
State Law
Ending and Renewing
Washington Law
Periodic Lease: May be terminated by either party giving the other a written notice of at least 20 days before the end of the rental period.

Fixed Term Lease: The tenancy generally terminates automatically on the last day of the lease period without any notice required from either party. However, the parties may agree within the lease that the tenant or landlord must give notice of an intent to either continue or end the tenancy.

Leases for a term that is longer than one (1) year need to be notarized by a notary public. Additionally, the lease must include an accurate and full legal description of the rental property in the lease.
Security Deposit
Washington Law
Security Deposit Limitations There are no restrictions on the maximum amount that may be collected as a security deposit, however;

The landlord must provide an inspection checklist signed by both parties stating the condition and cleanliness of the premises along with a written rental agreement. The landlord must place the deposit in a trust account in Washington and give the tenant a receipt indicating its location.

NON-REFUNDABLE FEES If any amount is paid to the landlord as a non-refundable fee, the rental agreement shall be in writing and shall clearly specify that the fee is nonrefundable.
Returned Payment Fee
Washington Law
Payee may collect a reasonable handling fee; when not paid within 15 days, a collection cost not to exceed $40 or amount of check, whichever is less and interest at 12% per year from date of dishonor. Wash. Rev. Code § 62A.3-515
Late Fee
Washington Law
Any late fee charged by the owner shall be provided for in the rental agreement.
Insurance Requirements
Washington Law
No Statute
Addenda & Disclosures
Washington Law
Carbon Monoxide Detectors State law requires Carbon Monoxide alarms be installed in apartments, condominiums, hotels, motels and single-family residences.Washington CO Alarm Fact Sheet provides full information regarding Carbon Monoxide requirements.

Smoke Detectors The landlord or his or her authorized agent must provide a written notice to the tenant that the dwelling unit is equipped with a smoke detection device as required in 43.44.110. The notice shall inform the tenant of the responsibility to maintain the smoke detection device and of penalties for failure to comply with the provisions.
The notice must be signed by the landlord or the landlord's authorized agent and tenant with copies provided to both parties. Further, except with respect to a single-family residence, the written notice must also disclose the following:
(i) Whether the smoke detection device is hard-wired or battery operated;
(ii) Whether the building has a fire sprinkler system;
(iii)Whether the building has a fire alarm system.
Notice to Enter
Washington Law
Landlords must provide 2 days notice to enter leased premises for maintenance and repairs or 1 days notice to show property.
Landlord Requirements
Washington Law
When there is a written rental agreement for the premises, the landlord shall provide an executed copy to each tenant who signs the rental agreement.

DISCLOSURE OF LANDLORD/AGENT INFORMATION REQUIRED The owner must provide the tenant with the name and address of the landlord written on the rental agreement or by a notice conspicuously posted on the premises.
If the person designated in this section does not reside in the state where the rental is located, there shall also be a designated person who resides in the county who is authorized to act as an agent for the purposes of service of notices and process. If no designation is made, then the person to whom rental payments are to be made shall be considered such agent.

RECEIPTS: A landlord shall provide a receipt for any payment made by a tenant in the form of cash. A landlord shall provide, upon the request of a tenant, written receipt for any payments made by the tenant in a form other than cash.

RENT INCREASE: New, July 2019, Landlords must provide a minimum of 60 days prior written notice of any increase in the amount of rent to each affected tenant. This increase cannot become effective prior to the completion of the term of the rental agreement.

SEATTLE: The Rental Agreement Regulation Ordinance, or RARO, requires that Seattle landlords give tenants 60 days written notice of any increase in housing costs of 10% or more in a 12 month period.
Contact your local housing or zoning office to be sure your rental property complies with city and county requirements for inspections, rent control, occupancy limits, property codes and zoning. Many cities and counties require inspections, registrations and have specific maintenance regulations.

SEATTLE: As of 2014, all rental property owners in Seattle must register their properties with the City. Inspectors will make sure all registered properties comply with minimum housing and safety standards at least once every 10 years. To register online, visit: www.seattle.gov/dpd/toolsresources/registermyproperty
Washington Forms & Documents
Washington State Landlord Tenant Act
Washington Rental Application Disclosure
Washington Landlord/Tenant Rights Summary
Washington State Department of Health Mold Pamphlet
Summary of Washington State and City of Seattle Landlord/Tenant Regulations
Washington Smoke-Free Lease Addendum
Washington State Fire & Life Safety Disclosure Form
Washington DC Tenant Bill of Rights
Washington 10 Day Notice to Comply or Vacate
Washington 20 Day Notice to Vacate
Washington 14 Day Notice to Pay Rent or Vacate
Washington Lease Features
There are so many great features included in the Lease Package:
All Washington-required language
Custom clauses
Help provided with green, Washington Assist boxes
Options to add your own rules
ESign, email or print lease
Create your Washington lease agreement for Residential, Condo, House, Home, Trailer, Apartment, Townhome, Housing, Real Estate, Duplex, Buildings, and many more!
Washington Lease package Documents
Listed below are some of the multiple forms you may choose to include with your Washington lease package, or refer to for guidance. There is also an option to add a cover page and Table of Contents.
Rules and Regulations
Along with lengthy addenda, mentioned above, you may check off optional rules, and even write your own and include them in the Special Terms and Conditions fields. Some possibilities are:
Tenant must keep property in "showable"' condition if the unit is for sale.
No hazardous materials may be stored in or around rental unit.
All windows and doors must remain closed during inclement weather.
Basement and attic may not be modified for use as living quarters without written permission from the landlord.
Related Articles
Washington State Landlord Tenant Law and Regulations
View Article >
Why ezLandlordForms?
#1 Rated Lease Agreement
9.3 TrustPilot Rating, with 3,384 Reviews
Flexible Billing
Choose one-time or subscription billing
State Assist
So you know you're complying with state laws
Full Support
Phone, live chat, or email... try us now!
Unlimited Access
Edit & print any of our forms with pro access
Satisfaction Guarantee
Trusted by over 2.3 million landlords & property managers