Georgia Lease Agreement with ezSign
Now with ezSign. This comprehensive Georgia Lease Agreement is designed to offer Landlords both flexibility and legal protection, offering law tips as needed.
Document Last Modified: 7/2/2021
Document Features
Uses Lease Builder
State-Specific
ezSign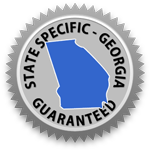 Create a complete Georgia Lease package with all disclosures, addenda and custom clauses available for instant inclusion. Georgia's Landlord-Tenant laws are intricate and must be correctly applied to Leases. As you create the agreement through our 7-step Lease Builder, look for the Georgia Assist guide boxes to provide important details on the state's rules and regulations.
Optional clauses are drafted specifically to anticipate common lawsuit targets and minimize Landlord exposure. Moreover, you have the option to selectively add and customize documents that are favored by many longtime Landlords.
A Great Lease makes a Great Landlord
▶ Watch the Great Lease Video
Video to Share with New Tenants
▶ Watch the Move in Video
Georgia State Laws
Category
State Law
Ending and Renewing
Georgia Law
Fixed term Lease (most common): There is no minimum or maximum time restriction for notice to end or renew a Lease, except that terms of notice shall be clearly defined in the Lease.

Month to month Leases and Leases with no set end date: Landlords must provide 60 days' notice to end Lease. Tenants may end Lease with 30 days' notice. O.C.G.A. § 44-7-7
Security Deposit
Georgia Law
There is no limit placed on the security deposit charged to the Tenant, so long as it is reasonable.
Returned Payment Fee
Georgia Law
Returned payment fees may not exceed $30 or 5% of the bounced payment, whichever is greater, plus the amount of any fees charged to the holder of the instrument by a financial institution. Ga. Code Ann. § 13-6-15
Late Fee
Georgia Law
There are no limits placed on the collection of a late charge, however the fee must be reasonable.
Insurance Requirements
Georgia Law
Landlords may require tenants to obtain renter's insurance.
Addenda & Disclosures
Georgia Law
If the Leased premises was constructed prior to 1978, the Landlord must provide all Tenants with the Lead-Based Paint EPA Disclosure and the Lead-Based Paint EPA Pamphlet.

If flooding has damaged any portion of the living space covered by the Lease at least three times during the five year period immediately preceding the date of the Lease, the Landlord shall notify prospective Tenants in writing of the property's propensity of flooding.
Notice to Enter
Georgia Law
There is no requirement for the Landlord to give notice. However, it is highly recommended to at least give 24 hours notice to enter the Leased premises.
Landlord Requirements
Georgia Law
No additional requirements
Contact your local housing or zoning office to be sure your rental property complies with city and county requirements for inspections, rent control, occupancy limits, property codes and zoning. Many cities and counties require inspections, registrations and have specific maintenance regulations.
Georgia Forms & Documents
Georgia Landlord-Tenant Laws Guide
Georgia Flood Disclosure
Georgia Eviction Procedures Guide
Georgia Sample Dispossessory Warrant & Affidavit
Georgia 3 Day Notice to Quit
Georgia 3 Day Demand for Possession
Georgia Lease Package Features
There are so many great features included in the Lease Agreement:
Customized terms that fulfill your rental property needs
Automatic inclusion of Georgia-specific requirements
Ability to email, print or electronically sign and send to Tenants
Georgia Assist step-by-step help
Unique terms easily added in every Lease section
Create your Georgia Lease Agreement for Residential, Condo, House, Home, Trailer, Apartment, Townhome, Housing, Real Estate, Duplex, Buildings, and many more!
Georgia Lease Package Documents
Add a cover page, your own logo, and a Table of Contents page for better Lease organization. Then, choose to include these or dozens of more attachments that may apply to your rental unit:
Rules and Regulations
A simple one-sentence or two-sentence term can clarify your rules for your investment property. Among the many options, you may want to include:
Tenant agrees not to use the Leased premises for any unlawful purpose.
Tenant may operate a home-based business.
Tenant may not misuse, dismantle, block or remove the fire extinguisher.
The burning of candles is not permitted in the Leased Premises.
Why ezLandlordForms?
#1 Rated Lease Agreement
9.3 TrustPilot Rating, with 3,384 Reviews
Flexible Billing
Choose one-time or subscription billing
State Assist
So you know you're complying with state laws
Full Support
Phone, live chat, or email... try us now!
Unlimited Access
Edit & print any of our forms with pro access
Satisfaction Guarantee
Trusted by over 2.3 million landlords & property managers