Vermont Lease Agreement with ezSign
Now with ezSign. Vermont's landlords must comply with VT leasing laws; let our VT lease wizard guide you through them as you create a Vermont rental agreement.
Document Last Modified: 2/18/2020
Document Features
Uses Lease Builder
State-Specific
ezSign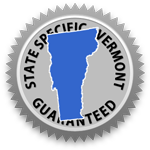 This lease agreement includes every rule and term that is required by the Landlord Tenant laws of Vermont. The landlord or property manager creating this document is guided in the proper application of Vermont rules by the green-shaded, Vermont Assist instruction boxes. For example, as the section on rental repairs is completed, a Vermont Assist explains that landlords are responsible for all repairs, unless tenants or their guests caused the damage.
Each section of the seven-step lease Builder Wizard is completed through a combination of selecting from options, and entering your own text in fields. There is abundant default text that has been written by our attorneys, and is designed to minimize the landlord's risk in the event of litigation. There also are multiple opportunities to customize lease sections with your own language and terms.
There is no limit on the number of optional addenda that may be included with the basic lease contract. Addenda speak to many common leasing issues, such as special arrangements for rent payments, fees that may be imposed if a tenant moves out before the lease expires, and many more. This legal contract may be executed online, or printed and signed manually.
VERMONT LEASE FEATURES
Lease agreement text that is attorney-approved and compliant with state laws
State Assist instructions on entering terms in the form fields
Dozens of optional clauses to attach as-is or after customizing
Options to add your own clauses
ezSign, email or print lease
VERMONT LEASE PACKAGE DOCUMENTS
These supplemental documents, along with many more, can easily be added and edited:
RULES & REGULATIONS
Along with dozens of rules already included in the lease you will find these optional rules:
Tenant may not sublet premises.
Carbon monoxide detectors must be maintained with batteries replaced regularly.
Tenant will be fined for late payment and held responsible for any accrued fees.
The use of kerosene heaters is prohibited.
Stove, oven and range not used as heating
Tenant responsible for removing snow, ice from stairs and walkways.
Landlord does not permit loud gatherings.
Tenant may not store/park RV, commercial vehicle, or watercraft on rental property.
Related Articles
Vermont Landlord Tenant Law and Regulations
View Article >
Why ezLandlordForms?
#1 Rated Lease Agreement
9.3 TrustPilot Rating, with 3,384 Reviews
No Recurring Billing
No automatic charges or monthly billing
State Assist
So you know you're complying with state laws
Full Support
Phone, live chat, or email... try us now!
Unlimited Access
Edit & print any of our forms with pro access
Satisfaction Guarantee
Trusted by over 2.3 million landlords & property managers