Rhode Island Lease Agreement with ezSign
Now with ezSign. Rhode Island has its own unique landlord-tenant laws; our RI lease wizard guides you through them as you create a Rhode Island lease agreement.
Document Last Modified: 6/14/2021
Document Features
Uses Lease Builder
State-Specific
ezSign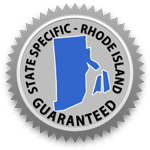 This Rhode Island rental agreement abides by the state's Landlord Tenant laws, and automatically includes terms and addenda that those statutes require. Our attorneys have also included specific text that, while easy to understand, is carefully written to protect the rental property and the landlord. The Rhode Island Assist instruction boxes, shaded in green, will guide you in making choices that comply with Rhode Island code.
Our seven-step Lease Builder Wizard allows the landlord or property manager to quickly fill in fields for a professional-looking, legal document that may be printed and signed. If you prefer, this lease may be executed entirely online.
There are many opportunities to add extra statements to address special situations at your rental property. For instance, rules on pets, limits on the number of permitted guests, and more scenarios may be handled by selecting any of the optional addenda, disclosures and information documents.
As Rhode Island updates its Landlord Tenant laws, this lease will include those changes to fully comply.
A Great Lease makes a Great Landlord
▶ Watch the Great Lease Video
Video to Share with New Tenants
▶ Watch the Move in Video
Rhode Island State Laws
Category
State Law
Ending and Renewing
Rhode Island Law
For the number of days to renew or not renew;
Notice Must be Delivered to the Tenant for a:
Month-to-Month Lease: 30 days prior to ending the agreement
Fixed Term or Year-to-Year Lease: 90 days prior to lease expiration.
Security Deposit
Rhode Island Law
The security deposit may not exceed 1 month's rent.
Returned Payment Fee
Rhode Island Law
A fee not to exceed the amount of $25.00 can be charged to the tenant for a returned check.
Late Fee
Rhode Island Law
Rhode Island does not specifically state whether a late fee is permitted. However, when a tenant fails to pay rent and court action is necessary, this action may only be for unpaid rent, NOT any other charges.
Insurance Requirements
Rhode Island Law
Landlords may require tenants to obtain rental insurance, and could make the failure to do so a breach of the lease.
Addenda & Disclosures
Rhode Island Law
If the leased premises was constructed prior to 1978, the landlord must provide all tenants with the Lead-Based Paint EPA Disclosure and the Lead-Based Paint EPA Pamphlet.
Notice to Enter
Rhode Island Law
Landlords must provide at least 2 days notice before entering the leased premises.
Landlord Requirements
Rhode Island Law
The landlord must disclose the name, address, and phone number of the person responsible for managing the property before the commencement of the tenancy. Out of state landlords must register with the township or city as well as with the Secretary of State.

Non-Refundable Fees
There are no stated regulations limiting the collection of non-refundable fees.
Contact your local housing or zoning office to be sure your rental property complies with city and county requirements for inspections, rent control, occupancy limits, property codes and zoning. Many cities and counties require inspections, registrations and have specific maintenance regulations.
Rhode Island Forms & Documents
Rhode Island Landlord Tenant Handbook
Rhode Island 5 Day Demand For Rent
Rhode Island Notice of Non-Compliance
Rhode Island Lease Features
Rhode Island-compliant
Help in meeting state laws with the
Rhode Island Assist
boxes
Customizable clauses
Includes optional rules and addenda
ezSign, email or print lease
Create your Rhode Island lease agreement for Residential, Condo, House, Home, Trailer, Apartment, Townhome, Housing, Real Estate, Duplex, Buildings, and many more!
Rhode Island Lease Package Documents
As part of your Rhode Island Package you will have access to these and many other disclosures, documents and pamphlets:
Rules and Regulations
Below are some of the Rules and Regulations that can easily be set with a click of the mouse:
Absolutely no smoking.
Burning candles is not permitted in the rented premises.
Windows, decks, or balconies may not be used for drying laundry.
Kerosene or heaters may not be stored/used at any time in or around the rental unit.
Basement and/or attic cannot be used as living space without landlord's written permission.
Why ezLandlordForms?
#1 Rated Lease Agreement
9.3 TrustPilot Rating, with 3,384 Reviews
Flexible Billing
Choose one-time or subscription billing
State Assist
So you know you're complying with state laws
Full Support
Phone, live chat, or email... try us now!
Unlimited Access
Edit & print any of our forms with pro access
Satisfaction Guarantee
Trusted by over 2.3 million landlords & property managers