Alabama Lease Agreement with ezSign
Now with ezSign. Our Alabama lease wizard will walk you through all of Alabama's leasing laws, as you quickly create your AL rental agreement.
Document Last Modified: 2/18/2020
Document Features
Uses Lease Builder
State-Specific
ezSign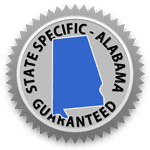 Our Lease Builder Wizard is the efficient and economical tool you need to ensure that your agreements are comprehensive and in compliance with Alabama Landlord Tenant laws.
Alabama might be more landlord and investor-friendly than many other states when it comes to rental regulations; nevertheless, there are restrictions that landlords and property managers must know. For instance, landlords may not charge tenants a security deposit and the last month's rent in advance. Also, the returned check fee may not exceed $30.
Applying those rules, and other state laws, is easy using this Alabama-specific lease agreement. Simply enter the property address, and our system will automatically add the legally required terms. At each step in the form, look for green, Alabama Assist text boxes that explain what must be done and why.
Also provided in this agreement package are federally mandated addenda and disclosure forms that address such issues as lead paint and Section 8 tenancy.
ALABAMA LEASE FEATURES
Legal terms required by Alabama
Options to add extra clauses
Guidance on state rules with our Alabama Assist
Ability to customize addenda
Option to ezSign, email or print the lease package
ALABAMA LEASE PACKAGE DOCUMENTS
These additional legal forms and many others can be included in your lease package:
RULES & REGULATIONS
Below are just a few of the many available rules and regulations you may choose to include in your Alabama lease package:
Garbage/Trash must be taken to the curb on the scheduled days of removal and not before.
Late fees are strictly enforced and any unpaid fees will not be waived.
The tenant will be responsible for any fine and/or violation that is imposed on the landlord due to the tenant's negligence.
Under no circumstance should a stove, oven or range be used as a source for heat.
The Tenant must report any malfunction with smoke detector(s) immediately to Landlord. The Tenant agrees not to remove, dismantle or take any action to interfere with the operation of any smoke detector(s) installed on the Leased Premises.
Related Articles
Alabama Landlord Tenant Law and Regulations
View Article >
Why ezLandlordForms?
#1 Rated Lease Agreement
9.3 TrustPilot Rating, with 3,384 Reviews
No Recurring Billing
No automatic charges or monthly billing
State Assist
So you know you're complying with state laws
Full Support
Phone, live chat, or email... try us now!
Unlimited Access
Edit & print any of our forms with pro access
Satisfaction Guarantee
Trusted by over 2.3 million landlords & property managers