Oregon Lease Agreement with ezSign
Now with ezSign. This Oregon lease agreement includes state law tips as you fill it out, and a variety of optional addenda and disclosures (some of which are required by law).
Document Last Modified: 6/13/2021
Document Features
Uses Lease Builder
State-Specific
ezSign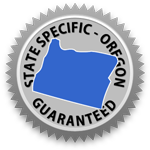 The lease agreement is undoubtedly the most significant document that landlords and property managers must execute. This state-specific lease agreement complies with Oregon Landlord Tenant laws and allows you to package all lease terms and addenda into one document.
The Lease Builder Wizard will guide you through seven intuitive steps that prompt you for names, dates, and fees, among many other terms. Oregon State Assist boxes appear along the way to explain how to correctly apply state laws in the lease form. For instance, one box will explain that Oregon landlords may charge the tenant a fee for lease violations only after following specific procedures. Another State Assist note explains that, in Oregon, certain low-income tenants cannot be required to purchase renter insurance.
Along with required terms, this Oregon-specific lease agreement allows room for your own rules and guidelines. There are multiple opportunities throughout the Lease Builder Wizard to customize this document to meet your standards for a rental agreement. In addition, this document also meets lease requirements for the city of Portland.
A Great Lease makes a Great Landlord
▶ Watch the Great Lease Video
Video to Share with New Tenants
▶ Watch the Move in Video
Oregon State Laws
Category
State Law
Ending and Renewing
Oregon Law
PERIODIC TENANCIES:
NEW for 2019: Landlords may decide to not renew or extend a one-year or shorter lease by giving a 30-day termination notice before the lease's expiration date. If the landlord does not terminate and the tenant stays, the tenant has become a month-to-month tenant, but one who has the protections of just cause eviction rules on account of the tenant's occupancy for more than one year. A 30 day no cause eviction* period applies for tenancies where any tenant has lived in the rental unit for less than one year.

PORTLAND: Landlords must pay between $2,900 to $4,500 to tenants who they evict without cause or who have to move as a result of a rent increase of 10 percent or more in one year. Studios receive $2,900, one-bedroom receive $3,300 and units with three or more bedrooms receive $4,500. Landlords who rent only one dwelling in Portland are exempt. Additionally, Landlords renting to tenants weekly, renting rooms in their living space or renting to tenants with the understanding that the landlord will return after three years away are also exempt from paying relocation costs.
Security Deposit
Oregon Law
There are no stated limits to the maximum amount a landlord may collect for the security deposit. The landlord must supply a receipt for any security deposit paid by the tenant.

DISCLOSURE OF FEES AND DEPOSITS:
BEFORE the landlord enters into a new rental agreement with an applicant or accepts any payment, the landlord shall provide the applicant with a written list of all deposits fees and rent (Oregon Rental Application Addendum and Fees Disclosure), that are required by the landlord. The landlord and applicant may agree to amend the written list before entering into the rental agreement.
Returned Payment Fee
Oregon Law
If a check is dishonored due to lack of funds, the payee may charge a fee of up to $35 plus the amount that the bank has actually charged the landlord for the processing of the returned payment. For example, if the returned payment fee is $20, the landlord may charge $55.
Late Fee
Oregon Law
A late fee must be reasonable and be documented in the lease.
Insurance Requirements
Oregon Law
If renters' insurance is required, the landlord must notify the tenant before the lease is signed, along with the amount of coverage required (up to $100,000 in most cases).

Low-income tenants who earn less than 50 percent of the median family income, or tenants living in subsidized housing are exempt from any requirement to buy renters' insurance.
Addenda & Disclosures
Oregon Law
Lead Paint: If the leased premises was constructed prior to 1978, the landlord must provide all tenants with the Lead-Based Paint EPA Disclosure and the Lead-Based Paint EPA Pamphlet.

Fire Hazards: Landlord must include a working smoke detector, with working batteries if solely battery-operated, at the beginning of any new tenancy when the tenant first takes possession of the premises, as provided in ORS 479.270

Carbon Monoxide Regulation: ORS 90.316 - 317 (1) Carbon monoxide detectors are required in rental units where a room, door, ductwork or ventilation shaft is located next to an area where carbon monoxide is produced (such as a garage or a furnace room).

Landlords are required to provide the tenant with written instructions on testing carbon monoxide alarms no later than the tenant first takes possession of the premises. Oregon Law requires tenant to test carbon monoxide detectors with the same regularity as smoke detectors.

100 Year Flood Plain Disclosure: If a rental unit is located within a 100 year flood plain, the landlord must disclose that fact in the rental agreement. 100 year flood plain status is determined by the National Flood Insurance Program of FEMA, the Federal Emergency Management Agency.

IMPORTANT: There are required Oregon State Specific Disclosures (listed in the list below)
Notice to Enter
Oregon Law
Landlords must provide at least 24 hours notice before entering the leased premises.
Landlord Requirements
Oregon Law
NEW FOR 2019, STATEWIDE RENT CONTROL: Rent increases are now capped to inflation plus 7% for all units that are 15 years or older. Inflation is defined as the Western States CPI, a number that changes year to year and is currently around 3%. Landlords in violation of the new law face a penalty equal to 3 months' rent.

PORTLAND: Tenants must receive 90 days' notice if rent is increasing by 5% or more. Furthermore, landlords must pay between $2,900 to $4,500 to tenants who they evict without cause or who have to move as a result of a rent increase of 10 percent or more in one year. Studios receive $2,900, one-bedroom receives $3,300, and units with three or more bedrooms receive $4,500.

SMOKING POLICY: Landlords must disclose in writing a smoking policy for the rental unit.

SUBLEASING: A sublease arrangement must be agreed upon by both parties and put in writing.
Contact your local housing or zoning office to be sure your rental property complies with city and county requirements for inspections, rent control, occupancy limits, property codes and zoning. Many cities and counties require inspections, registrations and have specific maintenance regulations.
Oregon Forms & Documents
Oregon Landlord's Guide to No Smoking Policies
Oregon Rental Application Addendum and Fees Disclosure
Oregon Non-Compliance Fees Disclosure
Oregon Smoke & Carbon Monoxide Alarm Disclosure
Oregon Termination Notice for Repeat Violation
Oregon 30 Day Termination Notice - Cause
Oregon 72 Hour Demand for Rent
Portland 90 Day Notice of Rent Increase
Oregon Lease Features
Language that the State of Oregon requires
Clauses which may be edited and customized
State Assist
instruction boxes
Near-endless opportunities to customize the form
ezSign, email or print lease
Create your Oregon lease agreement for Residential, Condo, House, Home, Trailer, Apartment, Townhome, Housing, Real Estate, Duplex, Buildings, and many more!
Oregon Lease Package Documents
Here are some of the additional forms available with the Oregon lease package:
Rules and Regulations
For added lease strength, the following rules and regulations may be checked from a prepared list:
The tenant may not interfere with the peaceful enjoyment of the neighbors.
The Tenant agrees to test smoke detectors periodically as well as maintain operational batteries at all times.
Charcoal and gas grills may not be used or stored on any common areas, balconies, decks, patios, porches, and/or landings or entranceways.
Absolutely no hazardous materials are permitted in or around the leased premises at any time.
The Tenant shall abide by all federal, state and local laws.
Related Articles
Oregon Landlord Tenant Law and Regulations
View Article >
Why ezLandlordForms?
#1 Rated Lease Agreement
9.3 TrustPilot Rating, with 3,384 Reviews
Flexible Billing
Choose one-time or subscription billing
State Assist
So you know you're complying with state laws
Full Support
Phone, live chat, or email... try us now!
Unlimited Access
Edit & print any of our forms with pro access
Satisfaction Guarantee
Trusted by over 2.3 million landlords & property managers