Oregon Lease Agreement with ezSign
Now with ezSign. This Oregon lease agreement includes state law tips as you fill it out, and a variety of optional addenda and disclosures (some of which are required by law).
Document Last Modified: 2/18/2020
Document Features
Uses Lease Builder
State-Specific
ezSign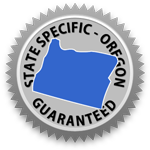 The lease agreement is undoubtedly the most significant document that landlords and property managers must execute. This state-specific lease agreement complies with Oregon Landlord Tenant laws and allows you to package all lease terms and addenda into one document.
The Lease Builder Wizard will guide you through seven intuitive steps that prompt you for names, dates, and fees, among many other terms. Oregon State Assist boxes appear along the way to explain how to correctly apply state laws in the lease form. For instance, one box will explain that Oregon landlords may charge the tenant a fee for lease violations only after following specific procedures. Another State Assist note explains that, in Oregon, certain low-income tenants cannot be required to purchase renter insurance.
Along with required terms, this Oregon-specific lease agreement allows room for your own rules and guidelines. There are multiple opportunities throughout the Lease Builder Wizard to customize this document to meet your standards for a rental agreement. In addition, this document also meets lease requirements for the city of Portland.
OREGON LEASE FEATURES
Language that the State of Oregon requires
Clauses which may be edited and customized
State Assist instruction boxes
Near-endless opportunities to customize the form
ezSign, email or print lease
OREGON LEASE PACKAGE DOCUMENTS
Here are some of the additional forms available with the Oregon lease package:
RULES & REGULATIONS
For added lease strength, the following rules and regulations may be checked from a prepared list:
The tenant may not interfere with the peaceful enjoyment of the neighbors.
The Tenant agrees to test smoke detectors periodically as well as maintain operational batteries at all times.
Charcoal and gas grills may not be used or stored on any common areas, balconies, decks, patios, porches, and/or landings or entrance ways.
Absolutely no hazardous materials are permitted in or around the leased premises at any time.
The Tenant shall abide by all federal, state and local laws.
Related Articles
Oregon Landlord Tenant Law and Regulations
View Article >
Why ezLandlordForms?
#1 Rated Lease Agreement
9.3 TrustPilot Rating, with 3,384 Reviews
No Recurring Billing
No automatic charges or monthly billing
State Assist
So you know you're complying with state laws
Full Support
Phone, live chat, or email... try us now!
Unlimited Access
Edit & print any of our forms with pro access
Satisfaction Guarantee
Trusted by over 2.3 million landlords & property managers