Tenant Screening Services
for Landlords
Send a Screening Request
Rental Application and/or Tenant Screening
Only $29.95 for your essential Credit & Criminal Screening
It takes less than 5 minutes to run a Tenant credit and background check.
Best of all, you can choose who pays.
View the Demo
ResidentScore


Similar to a Credit Score,
But a Better Credit Check for Renting.

Some Landlords rely on a credit score when evaluating Tenants. The ResidentScore is similar to a credit score, but it's specifically designed to help Landlords screen Applicants.

It's a customized report on an Applicant's reliability with the singular goal of helping Landlords identify Applicants that present a risk of eviction or a poor rental outcome.

Sure, seeing an Applicant's credit score is good, but seeing an ResidentScore is great. This is just one more way we make it EZ for Landlords to select qualified Tenants.

Did you know that you can opt to have Applicants pay for the screening? That means a complete renter screening that's free for you!

Start Tenant Screening
Two Tools, One Purpose:
Finding A Great Tenant
Essential Tenant Credit & Background Check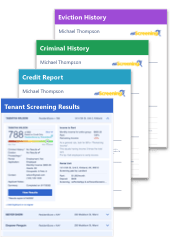 With ezScreening, you get a complete Tenant Screening report to help you be a successful Landlord.
ezTenantScore based on credit report
Nationwide criminal history report
A comprehensive credit/financial report
Info about current rental & eviction proceedings (optional)
Applicant can pay the screening fee
Want a free Tenant Screening? Just check the box to have Applicants pay and you'll pay nothing for the best Tenant Screening services available!
with
optional
Required Basic Information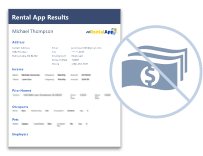 ezRentalApp is our online Rental Application that starts the Screening Process.


Our ezRentalApp is 100% free, Landlords simply need an Applicant's name and email address
Collect key personal, employment, rental, and financial information from Applicants.
What's Included in Our Tenant Screening Services
Making Trust Possible
We're proud to partner with TransUnion, a leader in the industry.
Tenant Screening Results (Summary)
Our Tenant Screening Service gives Landlords a comprehensive Tenant background check, including a financial, criminal, and rental history check.
Our Screening Packages offer a credit report, nationwide criminal history report, eviction history, ezRentalApp, and ResidentScore.
These reports give Landlords critical information about Applicants. Getting all of this information in one place makes it easy to:
Identify red flags
Eliminate unqualified Applicants
Objectively evaluate and compare Applicants
Reduce the risk of a bad rental outcome
Make Tenant Screening as EZ as possible!
View the Demo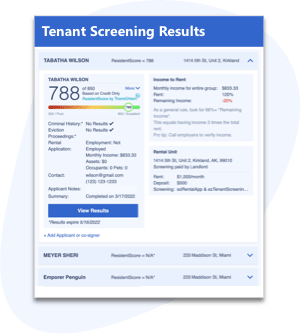 Credit Report
We've partnered with TransUnion Credit Bureau to offer Landlords the best Tenant Screening Services. The Tenant credit check that they provide gives Landlords a complete picture of an Applicant's financial history. Plus, it's a SOFT INQUIRY, which means that it won't affect your Applicant's credit score. It includes:
ResidentScore
Credit Accounts
Payment History
Judgments
Bankruptcies
Other red flags
View the Demo
Nationwide Criminal History Report
While the credit report provides a clear picture of an Applicant's financial history, it's also important to conduct a criminal background check for renters and and to do a complete Tenant background search. Our background check for renters goes back a minimum of 10 years and includes:
Nationwide data
Sex offender data
Fraud alerts and
identity verification
Search of nationwide databases
including DEA, FBI, and ODAC
Search of most wanted lists
View the Demo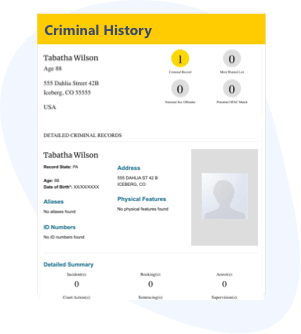 Eviction Proceeding History (Gold Package)
The Eviction report provides the Landlord with any prior evictions that the Applicant has been involved in, including location, date, and court records from the eviction. This report is key because if an Applicant has been evicted in the past, you want to know about it.
Our Eviction Proceedings report includes:
Past Tenant failures to pay rent
Tenant convictions for unpaid rent
Any warrants for possession
A state-specific eviction proceeding history report
View the Demo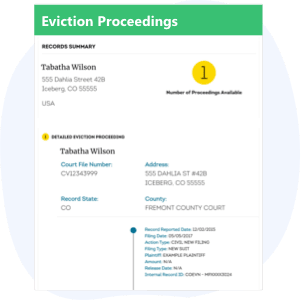 (100% free)
The Rental Application is an important part of Tenant Screening Services for Landlords and provides all of the required basic information about an Applicant. Yet, so few companies offer a Rental Application with credit check and a renter background check.
Our ezRentalApp is 100% free and can be completed entirely online. All the Landlord needs is an Applicant's name and email address to send them an Application request. It includes:
Personal information
Rental history
Income
Employment history
Key screening questions
Authorizations to contact
references and run reports
View the Demo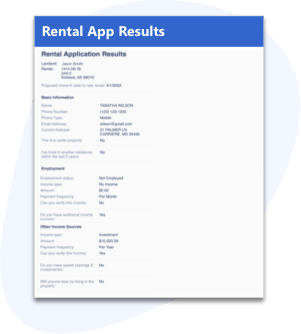 How it Works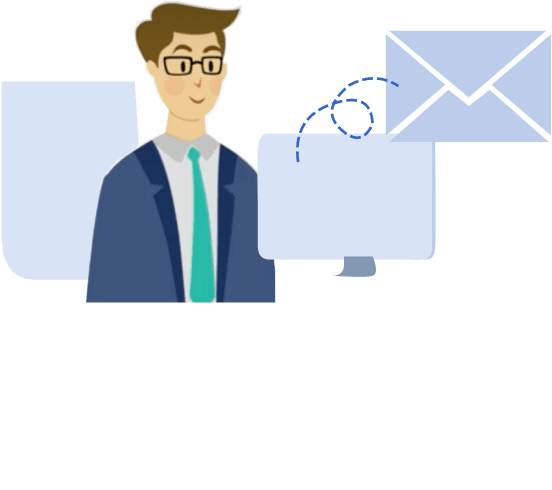 Step 1
Landlord Emails a Screening Request
All the Landlord needs is the Applicant's name and email address to get started with the Rental Application.
Before starting the screening process, the Landlord chooses who pays for the screening.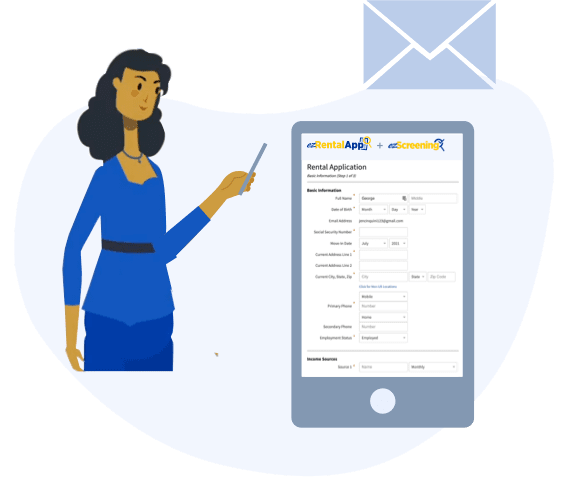 Step 2
Applicant Completes Request
Once you've started the process, the Applicant will receive the request and provide the necessary information. You just sit back and relax!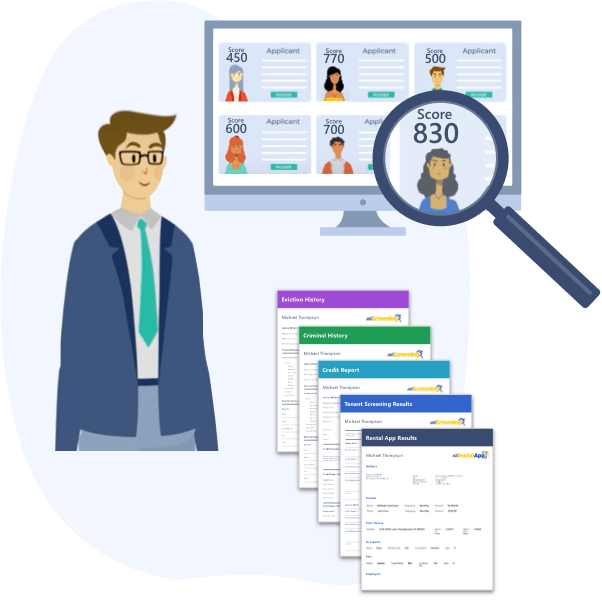 Step 3
Landlord Receives the Screening Results
You get a comprehensive Screening Report that's EZ to review and analyze. It includes a ResidentScore and highlights any concerning parts of an Applicant's credit, criminal, or rental history.
Always

Screen Your Tenants.
The Wrong Tenant Could Cost You $5,000+

It is definitely worth spending time and money to properly screen Tenants. The data is clear: properly screening Tenants can increase your rental success by 40%.

Tenant Screening is all about gathering the right information. Our tools give you everything you need in one place.
Easily Create a Lease Using the Application Info
Once your Applicants fill out their info, that's it!
You won't have to fill in their info every time you create a Lease.
EZ as that!
Pro Tip: Have the Applicant Pay for the Screening ;-)
In most states, Landlords can have Applicants pay for all Tenant Screening through an application fee. Application fees usually range from $30 to $75, with the national average being $45.

Most states don't have regulations on these fees, which means Landlords can charge a non-refundable fee that covers their screening costs with no limits. However, some states have strict laws. To make sure you're in compliance with your state's laws, it's important to check them before charging an application fee.

Below is a list of maximum application fees by state. Some states don't have regulations, but where there is applicable guidance, we've linked directly to that source.


State Assist
Rental Application Fee Limits
There are no rental application fee limits for the following states: AL, AZ, AR, CT, FL, GA, HI, ID, IL, IN, IA, KS, KY, LA, ME, MI, MS, MO, MT, NE, NV, NH, NJ, NM, NC, ND, OH, OK, PA, RI, SC, SD, TN, TX, UT, WV, WY.
States with Application Fee Limits:
Use a Thorough Tenant Screening Process
Tenant Screening is one of the most important things that Landlords do. It ensures that they're only handing over legal possession of their Rental Unit to qualified Tenants, and it's the best way that Landlords can avoid evictions and bad rental outcomes.
To ensure that your process is thorough and effective, it's helpful to have a process that you follow every time you need to fill a vacancy. Our Tenant Screening Checklist can help with that, and here's an overview of everything that should be included in your Tenant Screening Process.
Step 1: Pre-Screening Questions
Having an informal pre-screening can help to ensure that you're only screening serious Applicants. Some key questions to ask in this screening are:
How many proposed occupants are there?
Do you have any pets? (Even if you don't allow pets)
When would you like to move in?
Is the security deposit and first month's rent available now?
Step 2: Rental Application
The Rental Application gives you all of the essential information you need to make an informed decision.
The Rental Application not only gathers the information necessary for screening, but it also should include authorizations for the Landlord to run credit and background reports. With the Rental Application filled out, you can move on to conducting full Tenant Screening of your potential Tenants.
The free Rental Application will provide you with all of the basic information about your Applicants, including:
Name
Date of Birth
Current Address
Financial Situation
Employment Status
Past Employment History
Prior Homes and Rentals
Pro Tip: A good Rental Application is used to start the complete screening process. Our Rental App lets Landlords get the authorizations they need to run a Tenant credit and background check. This means less work for Landlords.
Step 3: Tenant Screening
Tenant screening is all about getting the right information to make an informed decision. There are a few primary reports needed in this data collection process: a credit report, a background check, and an eviction history. In addition to these key reports, Landlords need to see a ResidentScore for each Applicant to help minimize risks when selecting a Tenant.
A Thorough Credit Report
It's vital for Landlords to run a credit check on Tenants to get a complete financial history, including a ResidentScore, credit accounts, payment history, any judgments, bankruptcies, or financial red flags.
Our ResidentScore is specifically designed to help Landlords select qualified Tenants. It's similar to a credit score, but it's more narrowly focused to evaluate a Tenant's rental payment performance.
A Nationwide Criminal Background Report
In addition to the credit report, a background check is important to verify an Applicant's identity and to get access to any concerning criminal history for at least the last 10 years. A comprehensive background check includes nationwide reports, sex offender data, fraud alerts, identity verification, and a review of nationwide databases.
An Eviction Proceeding History
*Available with the Gold Package
If an Applicant has previously been evicted, you want to know about it. While you should ask the Applicant about prior evictions in the screening process, the best way to ensure that you have all of the information is with an eviction history report that shows prior evictions, their location, and the date of evictions.
View the Demo
Step 4: Verify Employment and Income
It's important to verify an Applicant's employment and income to ensure they'll be reliable Tenants. To do this, you'll want to complete an Employment Verification Letter and see pay stubs from the previous two weeks. For self-employed Applicants, you should be able to get the necessary information by requesting tax returns from the previous two years.
Step 5: Check References
It's also important to talk with an Applicant's Landlords and employer. When talking with Landlords, it's key to reach out to both the current and previous Landlords to make sure you're getting an accurate report. Asking specific questions is also key to ensuring you're not overlooking any red flags. For example:
Has the Applicant ever been late with rent? If so, how many times?
Did the Applicant ever receive a Notice to Vacate?
Was Applicant evicted? If so, why?
Did you receive any complaints about Tenants? Any concerns from other neighbors?
Did the Applicant leave the Rental Unit in good condition and leave in good standing?
Would you rent to this Tenant again?
It's also a good idea to contact the Applicant's employer. This gives you a sense for how the Applicant performs in the workplace, any red flags the employer sees, or any issues an Applicant has with coworkers.
Step 6: Choose a Great Tenant
Once you've gone through Steps 1 through 5, you'll have all the information you need to make an informed decision. Simply analyze the information and select the most qualified Applicant.
FAQ
How Quickly Will I Get Reports?
Wait, Tenant Screening is Free for Landlords?
What's the Difference between the Rental Application and Tenant Screening?
Is the ezTenantScore the Same as a FICO Score?
Will Tenant Screening Impact an Applicant's Credit Score?
Things to Consider Before You Hand Over
Legal Possession of Your Rental Unit
Have you received the

entire

security deposit and first month's rent?
Evictions Cost Around $5,000
Math isn't always easy, but it is when it comes to evictions and Tenant Screening. Good screening is the best way to avoid bad Tenants and evictions. It only takes 5 minutes!
Start Tenant Screening