Nebraska Lease Agreement with ezSign
Now with ezSign. Our Nebraska lease wizard will guide you through NE's landlord-tenant regulations, as you create a custom Nebraska rental agreement.
Document Last Modified: 6/11/2021
Document Features
Uses Lease Builder
State-Specific
ezSign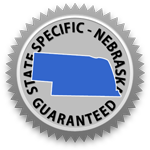 The rental lease is the single most important document in setting the stage for successful management of rental properties. A thorough, professional contract is key in legally protecting both you and your property. This legal agreement meets Nebraska Landlord-tenant laws, and provides all necessary disclosures and addenda. In addition, this document meets lease requirements for the cities of Lincoln and Omaha.
Each section includes precise instructions for properly applying state law. These instructions are provided in green-shaded text boxes labeled Nebraska Assist. In the case of security deposit amounts, for instance, the Assist states that the deposit amount may not be greater than one month's rent, unless a pet deposit is also being collected.
Tenants will be well-informed with this lease agreement, because the terms are clear, and the expectations are fully explained. Furthermore, each section may be customized to add rules that address any special circumstances at the rental. The seven-step Lease Builder Wizard program allows you to select terms from numerous provided options; it also provides blank fields for typing in your own terms.
A Great Lease makes a Great Landlord
▶ Watch the Great Lease Video
Video to Share with New Tenants
▶ Watch the Move in Video
Nebraska State Laws
Category
State Law
Ending and Renewing
Nebraska Law
The landlord or tenant may terminate a lease by giving advance written notice as follows:
Week to Week: Requires a 7-day notice
Month to Month: Requires a 30 day notice
Fixed Term: Requires notice as specified within the lease or the lease simply terminates at the end of the rental agreement
Security Deposit
Nebraska Law
The security deposit may not exceed an amount greater than 1 month's rent.
Please Note: If a pet deposit is required, an additional amount not to exceed one-quarter of one month's rent may be collected.
Returned Payment Fee
Nebraska Law
Within 10 days after receiving notice of a dishonored check, the tenant must pay restitution for the value of the check plus $10 and any reasonable service charges. (Section 28-611.)
Late Fee
Nebraska Law
There are no maximum limits or restrictions placed on the amount charged for a late fee. However, assessed fees should be reasonably related to the expenses incurred by the landlord as a result of late payment.

Late fees must be specified within a written lease agreement.
Insurance Requirements
Nebraska Law
Landlords may require tenants to obtain rental insurance.
Addenda & Disclosures
Nebraska Law
If the leased premises was constructed prior to 1978, the landlord must provide all tenants with the Lead-Based Paint EPA Disclosure and the Lead-Based Paint EPA Pamphlet.
Notice to Enter
Nebraska Law
Landlords must give at least 24 hours notice before entering leased premises.
Landlord Requirements
Nebraska Law
No additional Requirements.
Contact your local housing or zoning office to be sure your rental property complies with city and county requirements for inspections, rent control, occupancy limits, property codes and zoning. Many cities and counties require inspections, registrations and have specific maintenance regulations.
Nebraska Forms & Documents
Nebraska Landlord-Tenant Information Brochure
Nebraska 3-Day Demand for Rent
Nebraska 14 Day Notice of Termination
Nebraska 30 Day Notice of Termination
Nebraska Lease Features
There are so many great features included in the Lease Package:
Complies with Nebraska Landlord-Tenant laws
Guides to correct application of state rules with Nebraska Assist boxes
Allows clauses to be customized
Offer options to add rules and terms
ezSign, email or print lease
Create your Nebraska Lease Agreement for Residential, Condo, House, Home, Trailer, Apartment, Townhome, Housing, Real Estate, Duplex, Buildings, and many more!
Nebraska Lease Package Documents
Here are some of the addenda that may be added to the lease package with an easy click:
Rules and Regulations
Choose from among dozens of optional rules, including these:
Tenant must obtain written landlord permission to install satellite or antenna.
Tenant must respect the peaceful enjoyment of the neighbors.
Tenant must obey federal, state, and local laws.
No hazardous materials may be stored on the leased premises at any time.
Parking is limited to those spaces that are described in the lease.
Burning candles is prohibited.
Tenant may not block fire escape.
Related Articles
Nebraska Landlord Tenant Law and Regulations
View Article >
Why ezLandlordForms?
#1 Rated Lease Agreement
9.3 TrustPilot Rating, with 3,384 Reviews
Flexible Billing
Choose one-time or subscription billing
State Assist
So you know you're complying with state laws
Full Support
Phone, live chat, or email... try us now!
Unlimited Access
Edit & print any of our forms with pro access
Satisfaction Guarantee
Trusted by over 2.3 million landlords & property managers