Florida Lease Agreement with ezSign
Now with ezSign. Florida Lease Agreement Package, quick and easy to build to your specifications. Our FL Assist will guide you through Florida's Leasing Laws.
Document Last Modified: 7/2/2021
Document Features
Uses Lease Builder
State-Specific
ezSign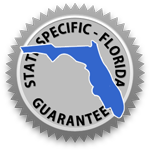 The State of Florida enforces rigorous Landlord-Tenant regulations on those leasing real estate. For instance, Florida requires that all Leases over one year in length (by even one day) must be witnessed. Further, this requirement declares that a Landlord shall have two witnesses for each signature on the Lease agreement, including both the Landlord and the Tenant signatures.
To ensure that your Lease agreement remains compliant with Florida statutes, our exclusive Lease Builder automatically attaches state-required addenda and disclosures as you fill in the Lease. This document also meets Lease requirements for the city of Jacksonville and Tampa.
Our Florida Assist text boxes explain how to apply state requirements. Intuitive steps and auto-filled sections minimize labor as you create a comprehensive lease package. Also, the Lease Builder allows you to save changes, sign out of your account, and return later to complete the document.
A Great Lease makes a Great Landlord
▶ Watch the Great Lease Video
Video to Share with New Tenants
▶ Watch the Move in Video
Florida State Laws
Category
State Law
Ending and Renewing
Florida Law
Fixed Term Leases: The days of written notice required (prior to termination) will be as specified within the Lease. No notice given, the Lease terminates at the end of the term.

Tenancy with specific duration: May contain a provision requiring the Tenant to notify the Landlord before vacating the premises at the end of the rental agreement; No more than 60 days notice required.
Security Deposit
Florida Law
There is no limit on the security deposit charged to the Tenant, so long as it is reasonable.
Returned Payment Fee
Florida Law
Maximum: $25 (for payments that do not exceed $50) $30 (for payments that do not exceed $300), or for returned payments over $300: either $40 or up to 5% of the face value of the returned payment.
Late Fee
Florida Law
Maximum: $25 or 5%
Insurance Requirements
Florida Law
Landlords may require Tenants to obtain rental insurance. This does not absolve Landlords of liability in all instances such as negligence on the Landlord's part.
Addenda & Disclosures
Florida Law
Built before 1978: Lead-Based Paint EPA Disclosure

Radon risk in Florida dwellings and buildings, and professionals providing radon services, is regulated by Florida Statute. (This is included in the body of ezLandlordforms Florida Lease Package.
Notice to Enter
Florida Law
Landlords must give at least 12 hours notice before accessing the rental property. Between the hours of 7:30a-8:00p.
Landlord Requirements
Florida Law
Landlords must disclose within the Lease their contact info or the Landlord's agents name and address.
Contact your local housing or zoning office to be sure your rental property complies with city and county requirements for inspections, rent control, occupancy limits, property codes and zoning. Many cities and counties require inspections, registrations and have specific maintenance regulations.
Florida Forms & Documents
Florida Landlord-Tenant Brochure (Chapter 83 Part II)
Florida Notice to Impose a Claim on the Security Deposit
Florida Notice of Right to Reclaim Abandoned Property (less than $500)
FL Notice to Reclaim Abandoned Property ($500 or more)
Florida 3 Day Notice to Pay Rent
Florida 7 Day Notice of Non-Compliance
Florida 7 Day Notice to Vacate
Florida Complaint for Eviction & Damages
Florida Lease Features
There are so many great features included in the Lease Package:
Florida-required terms automatically included
Extra clauses that you customize to your standards
Assistance through Florida Assist boxes in each Lease stage
Options to list additional regulations
ezSign or print the Lease
Create your Florida Lease Agreement for Residential, Condo, House, Home, Trailer, Apartment, Townhome, Housing, Real Estate, Duplex, Buildings, and many more!
Florida Lease Package Documents
These represent a selection of the dozens of disclosures, addenda and informational documents that may be attached to your Florida Lease package:
Rules and Regulations
There are unlimited options for listing rental rules. Here are a suggested few:
Require Tenants to obtain rental insurance.
Tenant may not sublet premises.
Trash must be taken to the curb on the required days.
Stove, oven and range may not be used as a source for heating the rental property.
Related Articles
Florida Residential Landlord-Tenant Law Changes Effective July 1, 2013
View Article >
Why ezLandlordForms?
#1 Rated Lease Agreement
9.3 TrustPilot Rating, with 3,384 Reviews
Flexible Billing
Choose one-time or subscription billing
State Assist
So you know you're complying with state laws
Full Support
Phone, live chat, or email... try us now!
Unlimited Access
Edit & print any of our forms with pro access
Satisfaction Guarantee
Trusted by over 2.3 million landlords & property managers