Colorado Lease Agreement with ezSign
Now with ezSign. Colorado's landlord-tenant laws include strict restrictions on lease agreements, but our CO lease wizard will guide you through the laws.
Document Last Modified: 2/18/2020
Document Features
Uses Lease Builder
State-Specific
ezSign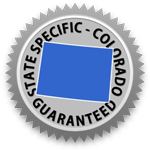 A Colorado lease is easily assembled with required disclosures and addenda using our state-specific Lease Builder. The Lease Builder automatically attaches required clauses to the document, after the rental property address is entered in the very first step of creating the form.
Colorado Landlord Tenant rules are summarized throughout the form template in light-green, Colorado Assist boxes, so that you can refer to them and be sure that your document is compliant.This document also meets lease requirements for the cities of Aurora and Denver.
In addition, since no two rental situations are the same, you may select from dozens of additional clauses and regulations to customize the lease document. Attach or remove an addendum or rule with a simple click. Or, add wording of your own choosing in numerous optional fields throughout the process.
Finally, we apply relevant case law in the phrasing of both default and optional clauses, so that they specifically minimize landlord exposure to lawsuits.
COLORADO LEASE FEATURES
Help at every step with Colorado Assist boxes
Colorado-required terminology
Customize rules and clauses
Add your specific terms
Send lease via email, or print it, or handle everything online with our ezSign service
COLORADO LEASE PACKAGE DOCUMENTS
Below are some additional forms you may include with your Colorado lease package:
RULES & REGULATIONS
There are many options for adding rules to your Colorado lease package, including:
The Tenant will be responsible for any fine and/or violation that is imposed on the Landlord due to the Tenant's negligence.
The Tenant agrees to test carbon monoxide detector(s) periodically as well as maintain operational batteries at all times; and must immediately report to the Landlord any malfunction with carbon monoxide detector(s).
The Tenant agrees not to use the Leased Premises for any unlawful purpose including but not limited to the sale, use or possession of illegal drugs on or around the Leased Premises.
Absolutely no hazardous materials are permitted to be in or around the Leased Premises at any time.
Related Articles
Colorado Landlord Tenant Law and Regulations
View Article >
Why ezLandlordForms?
#1 Rated Lease Agreement
9.3 TrustPilot Rating, with 3,384 Reviews
No Recurring Billing
No automatic charges or monthly billing
State Assist
So you know you're complying with state laws
Full Support
Phone, live chat, or email... try us now!
Unlimited Access
Edit & print any of our forms with pro access
Satisfaction Guarantee
Trusted by over 2.3 million landlords & property managers