New Jersey Lease Agreement with ezSign
Create and Download the New Jersey Residential Lease & Rental Agreement printable PDF for Landlords. This state-specific Lease is customizable and includes NJ laws.
Document Last Modified: 11/6/2023
Document Features
Uses Lease Builder
State-Specific
ezSign
Pro Tip: Before signing a Lease, make sure your Tenant has completed a Rental Application and Tenant Screening. It only takes about 5 minutes for Landlords and is the best way to avoid bad rental outcomes!
EZ to Create. EZ to Read. EZ to Sign.
You won't find a better Lease online. Or one that's easier to create, customize, and use.
Over 3 million Leases created since 2006
Rated "excellent" 4.8 from 5,000+ reviews
Recommended by Shark Tank's Barbara Corcoran

Rated "excellent" 4.8 from 5,000+ reviews on
Trustpilot
Lease Approved by Cohen Marraccini LLC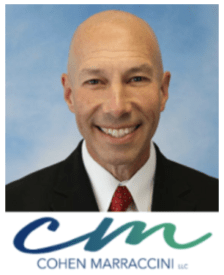 It only takes about 15 minutes to create your state-specific Lease.
Ready to Be a Pro Landlord?
Landlords need a great Lease AND lots of great forms to help them manage their rental from move-in to move-out.
We've got over 450 forms and tools for the entire Landlord Lifecycle.
Pro Members get access to forms, state-specific Leases, ezSign, chat support, Lease renewal reminders and more!
Table of Contents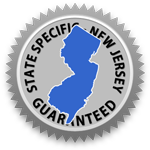 New Jersey Residential Lease Agreement
If you rent real estate in New Jersey, you need a Lease Agreement that complies with all NJ Landlord-Tenant laws. This is what it means for a Lease to be state specific.
Our NJ Lease Agreement is guaranteed to comply with all New Jersey laws and it's EZ to create and use!
Follow simple, user-friendly prompts to customize your Lease.
Get State Assist tips that point out key state laws.
All NJ required terms, clauses and disclosures are automatically included.
Add any additional addendums or disclosures you need by simply checking a box - for example, a Pet Addendum, a Smoking Policy, or a Guest Addendum.
Review and sign your Lease Agreement online with our electronic signing tool, ezSign.
It's EZ and takes less than 15 minutes to create a great NJ Lease!
Landlord-Tenant Laws
We make sure that your Lease complies with all New Jersey Landlord-Tenant Laws - all required terms, clauses, and disclosures are automatically included!
But, we know Landlords need to be familiar with state laws when managing their property. So here's an overview of some key laws that Pro Landlords know.
But we know landorlds need to be familiar with state laws
Category
State Law
Ending and Renewing
Month-to-Month Lease: one month's notice is required to end the Lease.

Fixed Term Lease or Yearly Lease: thirty days or one month's notice is required unless otherwise stated in the Lease Contract.

Except for Landlord-occupied properties, a Landlord cannot evict a Tenant simply because the Lease ends. The Landlord may end a Lease after the Tenant has rejected a new Lease with different terms, such as a higher rent or new rules and regulations.
Security Deposit
The security deposit may not exceed more than one and one-half times the monthly rent and must be deposited in a separate bank account that pays interest.

The Landlord must disclose, in writing, the name and address of the bank where the deposit is being kept, the amount of the deposit, the type of account, and the current interest rate for that account within 30 days of receiving the deposit.
Returned Payment Fee
Returned payment fees should remain reasonable and related to the Landlord's actual expenses incurred.
Late Fee
Assessed late fees should be reasonably related to the expenses the Landlord incurs as a result of a late payment.

Insurance Requirements

All residential Landlords in New Jersey have an obligation to advise their Tenants within 30 days of occupancy of the right to purchase renter's insurance. Obtaining such insurance may also be a Lease requirement.
Notice to Enter
Landlords must provide at least 24 hours' notice to enter leased premises.
Landlord Requirements
Every Landlord of a dwelling, except owner-occupied properties with no more than 2 rental units, must file a certificate of registration with the clerk of the municipality in which the residential property is situated, or with the Bureau of Housing Inspection in the Department of Community Affairs. -N.J.S.A. 46:8-28.

Collecting the last rental payment in advance is not permitted.
Contact your local housing or zoning office to be sure your rental property complies with city and county requirements for inspections, rent control, occupancy limits, property codes and zoning. Many cities and counties require inspections or registrations and have specific maintenance regulations.
Pro Tip: All state-required terms, language, and addenda are automatically included in our NJ Lease Agreement. It's EZ!
Required Disclosures
New Jersey requires that certain disclosures be included in the Lease Package or shared with Tenants at the time that the Lease is signed.
Thankfully, we automatically include all required disclosures in our New Jersey Lease Agreement. One less thing for Landlords to worry about!
Flood Zone: If the rental property is located in a flood zone, this must be disclosed to the Tenant. This disclosure only applies to Landlords with residential properties that have two or more units.
Pro Tip: FEMA provides a Flood Zone Lookup Tool to make it EZ to determine whether your property is in a flood zone.
Lead-Based Paint Disclosure: Pursuant to federal law, if a rental unit was built before 1978, the Landlord must provide Tenants with a lead-based paint disclosure.
Truth in Renting Act: For buildings with two or more units, the Landlord must provide Tenants with a copy of the Truth in Renting Act.
Window Guard Disclosure: This disclosure must be provided to all Tenants and included in every Rental Contract.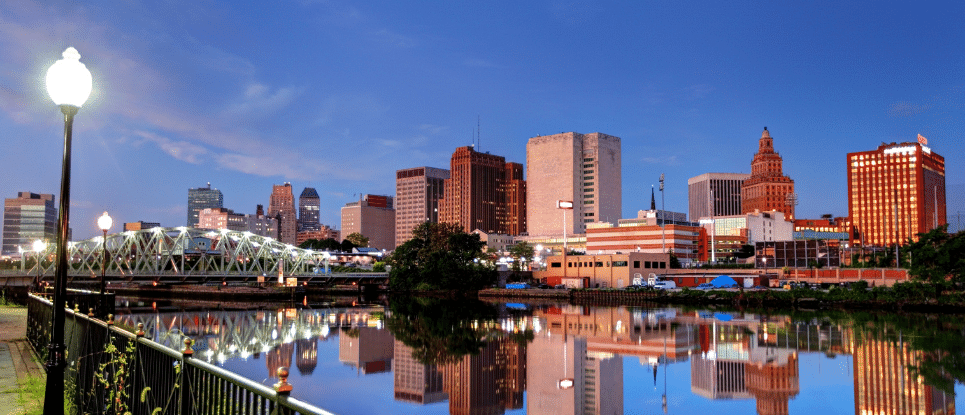 Frequently Asked Questions (FAQs)
Does a Lease need to be notarized in NJ?
No, your New Jersey Lease Agreement does not have to be notarized. As long as the Lease is signed by both the Landlord, or lessor, and the Tenant, or lessee, it is considered fully executed and legally binding.
Does a Lease have to be in writing in New Jersey?
If a New Jersey Lease is for a term of more than three years, it must be in writing. However, it's a good idea to put all Lease Agreements in writing to make sure that all terms are clear and that Landlords are protected should any problems arise with the property or the Tenant.
Can Tenants rent without a Lease in New Jersey?
Technically yes, Tenants can rent without a Lease, but it's never a good idea. When you give Tenants the keys to your rental property, they have legal possession. This means you need to make sure all Lease terms, rules, and policies are clear. A thorough, state-specific Lease is the best way to do this.
While a blank or fillable simple Lease Agreement, like the one offered by the New Jersey Association of Realtors, will offer some protection, it doesn't offer the complete protection that comes with a customizable, state-specific Lease. A basic or generic Lease form or Word document isn't enough to provide you and your rental property with the complete protection you need.
Landlords have a lot of time and money invested in their rental property, so it's vital to make sure it's thoroughly protected with a great Lease. This is true whether you're renting a single-family home, an apartment, a condo, or a duplex.
What are Landlord and Tenant rights in New Jersey?
State law provides the rules for key issues like security deposits, Landlord's access, late fees, and Lease renewal. You can review an overview of NJ Lease Laws in the chart above or review NJ Landlord-Tenant laws here.
What is the standard Lease term in New Jersey?
A standard residential Lease term in NJ is one year. That said, shorter or longer-term Lease agreements are recognized and accepted, including short-term Lease Agreements, month-to-month Lease Agreements, and Vacation Lease Agreements.
Pro Tip: Once you give a Tenant keys to your rental unit, they have legal possession of it. To make sure you're protected, always have a fully executed Lease in place before handing over possession!
Other Popular Forms
Rental Application: Before signing a Lease, you should always screen Tenants. This starts with a Rental Application and includes a credit report, ResidentScore, criminal history background report, and eviction history report. See sample reports here or start your free Rental Application here.
Move-In/Move-Out Checklist: This customizable form helps Landlords document the condition of the rental property at move-in and move-out. It's vital should you need to withhold any portion of the security deposit.
Tenant Welcome Letter: The best way to welcome new Tenants and to provide them with important information about their new home! Customize this letter to share any information you want and to ensure good Landlord-Tenant communication from day 1.
New Jersey Rental Forms and Templates
New Jersey Security Deposit Receipt Disclosure: This disclosure is required any time a NJ Landlord collects a security deposit from Tenants. It documents where the deposit is held and the interest it's accruing.
Rent Ledger: This form makes it EZ for Landlords to keep track of all rental payments. Should a Tenant ever be late with a rent payment, this form provides key documentation for Landlords.
Other State Leases NJ Landlords Need
Landlords need a state-specific Lease for every rental property that complies with the state laws where the property is located. Thankfully, we've got state Leases for all 50 states. Here are a few that NJ Landlords use the most.
Create Your New Jersey Lease Agreement
Ready to create your New Jersey Lease?
Get unlimited access to our electronic signing tool
Create and customize your Rental Contract entirely online
Store your Lease with ezCloudStorage - and it's EZ to print or download as a PDF
Back To Top ▲