New Jersey Lease Agreement with ezSign
Now with ezSign. New Jersey's landlord-tenant laws are more complex than most, so our NJ lease agreement wizard explains state laws as you fill in the blanks.
Document Last Modified: 6/11/2021
Document Features
Uses Lease Builder
State-Specific
ezSign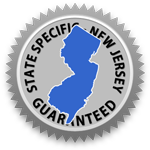 New Jersey law requires that lease agreements include specific text and notices. This state-specific lease package will automatically include all of the information that is required under New Jersey Landlord Tenant laws.
For instance, leases must include a lengthy Truth in Renting Guide, and may need to include a Window Guard Disclosure. Also, New Jersey landlords must provide a receipt when collecting a security deposit from the tenant.
If you have any questions about what to include or how high to set a specific fee, the green, New Jersey State Assist boxes that appear throughout the Lease Builder will guide you. The lease package also offers dozens of optional forms that can be useful to protect you and your investment property. As you work on your form, you can preview it at every step to make sure that it meets your individual standards.
A Great Lease makes a Great Landlord
▶ Watch the Great Lease Video
Video to Share with New Tenants
▶ Watch the Move in Video
New Jersey State Laws
Category
State Law
Ending and Renewing
New Jersey Law
Tenant may end a;
Month to Month Lease: by giving the landlord one month's notice before the end of the lease.
Fixed Term Lease or Yearly Lease: if the tenant gives the landlord written notice of at least one full month (30 days) unless otherwise agreed upon within the lease.
Except for small landlord-occupied properties, a landlord cannot evict a tenant simply because the lease ends. The landlord may end a lease after the tenant has rejected a new lease with different terms, such as a higher rent or new rules and regulations.
Security Deposit
New Jersey Law
The security deposit may not exceed more than one and one-half times the monthly rent and must be deposited in a separate bank account that pays interest.
The landlord must disclose, in writing, the name and address of the bank where the deposit is being kept, the amount of the deposit, the type of account, and the current interest rate for that account within 30 days of receiving the deposit.
Returned Payment Fee
New Jersey Law
Returned payment fees should remain reasonable and related to the landlord's actual expenses incurred.
Late Fee
New Jersey Law
Assessed late fees should be reasonably related to the expenses the landlord incurs as a result of a late payment.
Insurance Requirements
New Jersey Law
All residential landlords in New Jersey have an obligation to advise their tenants within 30 days of occupancy of the right to purchase renter's insurance. Obtaining such insurance may also be a lease requirement.
Addenda & Disclosures
New Jersey Law
If the leased premises was constructed prior to 1978, the landlord must provide all tenants with the Lead-Based Paint EPA Disclosure and the Lead-Based Paint EPA Pamphlet.

Every residential landlord in New Jersey is required to provide the tenant with a copy of a booklet published by the Department of Community Affairs titled "Truth in Renting" at the commencement of the lease.

Every landlord shall notify each of the landlord's tenants upon the event that the rental property which is the subject of a lease has been determined to be located in a flood zone or area. 46:8-50
Notice to Enter
New Jersey Law
Landlords must provide at least 24 hours notice to enter leased premises.
Landlord Requirements
New Jersey Law
Every landlord of a dwelling, except owner-occupied properties with no more than 2 rental units, must file a certificate of registration with the clerk of the municipality in which the residential property is situated, or with the Bureau of Housing Inspection in the Department of Community Affairs. -N.J.S.A. 46:8-28.

Collecting the last rental payment in advance is not permitted.
Contact your local housing or zoning office to be sure your rental property complies with city and county requirements for inspections, rent control, occupancy limits, property codes and zoning. Many cities and counties require inspections, registrations and have specific maintenance regulations.
New Jersey Forms & Documents
New Jersey Truth In Renting Guide
New Jersey Security Deposit Receipt Disclosure
New Jersey 3-Day Notice to Quit
New Jersey 30-Day Notice to Quit
New Jersey Judiciary Information for Landlords
New Jersey Notice to Cease
New Jersey Abandoned Property Notice
New Jersey Eviction Law
New Jersey Security Deposit Law
New Jersey Lease Features
Language that is required by the state of New Jersey
Green, State Assist instruction boxes
Ability to customize clauses to suit your purposes
Optional rules that may be added by clicking a box
ezSign, email or print lease
Create your New Jersey Lease for a Residential property, Condo, House, Home, Trailer, Apartment, Townhome, Housing, Real Estate, Duplex, Buildings, and many more!
New Jersey Lease Package Documents
Take full advantage of all of the lease document options. The following are forms that must be included in the lease agreement, as well as some forms which may be included if desired:
New Jersey Truth in Renting Guide - Legally required
New Jersey Security Deposit Receipt - Legally required
New Jersey Window Guard Disclosure - May be required
Move-In & Move-Out Condition Checklist
Pest Control - Bed Bug Policy
Zero Tolerance for Criminal Activity
Rules and Regulations
Protecting your investment is of the utmost importance; here are some examples of rules that you can set with a simple click:
Outdoor grills may not be used or stored on common areas, balconies, decks, patios, porches, and/or landings or entrance ways.
Federal, State, and Local laws must be observed and illegal activity that is witnessed must be reported to proper authorities and the landlord.
Penalty for late rent must be paid, or legal action may be taken.
The Tenant must obtain written permission to install a satellite system or antenna.
Why ezLandlordForms?
#1 Rated Lease Agreement
9.3 TrustPilot Rating, with 3,384 Reviews
Flexible Billing
Choose one-time or subscription billing
State Assist
So you know you're complying with state laws
Full Support
Phone, live chat, or email... try us now!
Unlimited Access
Edit & print any of our forms with pro access
Satisfaction Guarantee
Trusted by over 2.3 million landlords & property managers