Alaska Lease Agreement with ezSign
Now with ezSign. Alaska has stringent Landlord-Tenant Laws, which our AK Lease Wizard outlines for you as you need them to create an Alaska Lease Agreement.
Document Last Modified: 7/1/2021
Document Features
Uses Lease Builder
State-Specific
ezSign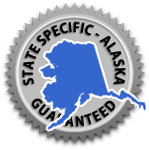 A legally compliant Lease agreement is fundamental to the success of any property rental business. This Alaska-specific agreement is guaranteed to be in compliance with the state's Landlord-Tenant Act. It includes terms that the Act requires, and it is routinely updated as state laws change. This Lease is also professionally written, so that terms are clear and are phrased to safeguard your investment.
Create this agreement on our site, using the ezLandlordForms Lease Builder software. The Lease Builder makes writing a Lease easy for professional and non-professional Landlords alike. You will be prompted to select from common, prepared, Lease terms. You may also enter your own unique terms, or choose a combination of prepared terms and unique terms.
Green, Alaska Assist text boxes provide helpful tips when faced with applying Alaska's rules on collecting and returning security deposits, setting fees, and on other common rental agreement issues. Look for the Alaska Assist throughout the Lease Builder.
Disclosures, addenda and information documents are available to include in the Lease agreement at no extra charge. Also included is an optional Lease cover page, table of contents, and the opportunity to add your own logo to the document.
A Great Lease makes a Great Landlord
▶ Watch the Great Lease Video
Video to Share with New Tenants
▶ Watch the Move in Video
Alaska State Laws
Category
State Law
Ending and Renewing
Alaska Law
Fixed Term: Specified in the Lease or if no notice is given Lease ends and Tenant(s) must vacate.
Month to Month: Written Notice of 30 days before the rental due date, specified as the termination date in the notice.
Week to Week: Written notice is required at least 14 days before the termination date specified in the notice.
Security Deposit
Alaska Law
Maximum: Two (2) Months Rent unless rent amount exceeds $2000
Pets: Additional One (1) Months Rent (Not applicable for Service Pets)
Returned Payment Fee
Alaska Law
Maximum: $30
Late Fee
Alaska Law
Maximum: No Max- Must be stated in the Lease.
Late fee is recommended.
Insurance Requirements
Alaska Law
Landlords may require renters Insurance.
Addenda & Disclosures
Alabama Law
Built before 1978: Lead-Based Paint EPA Disclosure
If an inspection report is required by the Landlord: Statement of Condition and Inspection Checklists.
Notice to Enter
Alabama Law
Landlord must give 24 hours Notice to Enter.
Landlord Requirements
Alabama Law
Property must meet Building Maintenance Code before property is rented. Contact Code Enforcement Office: 703- 228-3232
Contact your local housing or zoning office to be sure your rental property complies with city and county requirements for inspections, rent control, occupancy limits, property codes and zoning. Many cities and counties require inspections, registrations and have specific maintenance regulations.
Alaska Forms & Documents
Alaska Landlord-Tenant Act & Pamphlet
Alaska 7 Day Notice to Quit
Alaska Forcible Entry and Detainer Complaint
Alaska 10 Day Notice to Cure or Vacate
Alaska Lease Features
There are so many great features included in the Lease Package:
All Alaska-required language
Custom clauses
Help provided with green, Alaska Assist boxes
Options to add your own clauses
ezSign, email or print Lease
Create your Alaska Lease Agreement for Residential, Condo, House, Home, Trailer, Apartment, Townhome, Housing, Real Estate, Duplex, Buildings, and many more!
Alaska Lease Package Documents
Below are some of the additional legal forms you can opt to include in your Lease Package:
Rules and Regulations
Your Alaska Lease Package may include any of the rules and regulations listed here, plus many more:
The Tenant agrees to test carbon monoxide detector(s) periodically as well as maintain operational batteries at all times.
Late fees are strictly enforced and any unpaid fees will not be waived.
Tenant agrees not to transfer, assign or Sub-Lease the Leased premises without the Landlord's written permission.
Use of stove, oven, or range for heating premises is prohibited.
Tenant must notify Landlord of any change in employment.
Why ezLandlordForms?
#1 Rated Lease Agreement
9.3 TrustPilot Rating, with 3,384 Reviews
Flexible Billing
Choose one-time or subscription billing
State Assist
So you know you're complying with state laws
Full Support
Phone, live chat, or email... try us now!
Unlimited Access
Edit & print any of our forms with pro access
Satisfaction Guarantee
Trusted by over 2.3 million landlords & property managers