Wisconsin Lease Agreement with ezSign
Now with ezSign. Being a Wisconsin landlord it is important to have all of the proper forms like the ezLandlord Forms's Wisconsin Lease Agreement.
Document Last Modified: 6/15/2021
Document Features
Uses Lease Builder
State-Specific
ezSign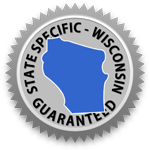 Wisconsin Landlord Tenant laws include unique requirements which landlords are obliged to follow. Keeping abreast of these regulations is important to ensure that your lease agreements are compliant. Therefore, we routinely update our forms when a law is amended, or a new law is passed so that this lease meets state laws. Our attorneys have also chosen language that is specifically designed to minimize the landlord's exposure in case of a lawsuit.
In addition, this document also meets lease requirements for the city of Milwaukee. The step-by-step Lease Builder Wizard makes completing the form easy, and ezSign is available so the Wisconsin-specific lease may be quickly executed. As you complete each lease section, you may select rules and terms from among many popular and common options. Along the way, our State Assist instruction boxes will appear in green, highlighted areas to guide you in properly applying fees, deadlines, and policies. For example, a State Assist in Step 3 explains that Wisconsin landlords must meet a 21-day deadline to return security deposits.
A Great Lease makes a Great Landlord
▶ Watch the Great Lease Video
Video to Share with New Tenants
▶ Watch the Move in Video
Wisconsin State Laws
Category
State Law
Ending and Renewing
Wisconsin Law
FIXED TERM – No written notice is required to terminate a lease for a fixed term because the lease automatically ends on the last day of the term unless otherwise specified in the lease.

Month to Month – Written notice must be received by the other party at least 28 days prior to the ending of a month-to-month tenancy. A month-to-month tenancy may only be terminated at the end of a rental period. A rental period runs from the first day of a calendar month through the last day of a calendar month.

Tenancies with automatic renewals: Landlords MUST remind the tenants of the renewal at least 15-30 days before the deadline of automatic renewal.
Security Deposit
Wisconsin Law
Wisconsin law does not impose a limit on security deposits, nor does it require payment of interest on the security deposit. Furthermore, in Wisconsin municipalities may NOT create their own additional security deposit requirements. 66.0104(b)
VERY IMPORTANT: Before a landlord may accept a security deposit, a checklist and disclosure must be completed.
This Security Deposit Move-In Check List and Disclosure is attached to the Wisconsin Lease Agreement.
Returned Payment Fee
Wisconsin Law
A tenant who issues a check that is not honored upon presentment because either the tenant does not have an account with the financial institution, or because the tenant does not have sufficient funds or credit with the financial institution, is liable for all reasonable costs and expenses in connection with the collection of the amount for which the check was written.
Late Fee
Wisconsin Law
A late rent fee or late rent penalty may be charged only as specifically stated within the rental agreement. Before charging such a fee, the landlord shall apply all prepayments received from that tenant to offset the amount of rent owed.
Insurance Requirements
Wisconsin Law
There are no statutory regulations regarding the requirement of a tenant by a landlord to obtain rental insurance.
Addenda & Disclosures
Wisconsin Law
If the leased premises was constructed prior to 1978, the landlord must provide all tenants with the Lead-Based Paint EPA Disclosure and the Lead-Based Paint EPA Pamphlet.
Notice to Enter
Wisconsin Law
Landlords may enter premises at reasonable times with reasonable notice. Notice is not defined.
Landlord Requirements
Wisconsin Law
If a tenant pays rent in cash, the landlord upon receiving the payment shall provide the tenant with a written receipt stating the nature and amount of the payment. A landlord is not required to provide a receipt for rental payments made by check.

Collecting the last rental payment in advance is not permitted.

Repairs; untenability. An agreement to waive the requirements of this section in a residential tenancy, including an agreement in a rental agreement, is void. Nothing in this section is intended to affect rights and duties arising under other provisions of the statutes.
(2) Duty of landlord.
(a) Except for repairs made
necessary by the negligence of, or improper use of the premises by, the tenant, the landlord has a duty to do all of the following:
1. Keep in a reasonable state of repair portions of the premises over which the landlord maintains control. 704.07(2)(a)2.
2. Keep in a reasonable state of repair all equipment under the landlord's control necessary to supply services that the landlord has expressly or impliedly agreed to furnish to the tenant, such as heat, water, elevator, or air conditioning.
3. Make all necessary structural repairs.
4. Except for residential premises subject to a local housing code, and except as provided in sub. (3) (b), repair or replace any plumbing, electrical wiring, machinery, or equipment furnished with the premises and no longer in reasonable working condition.
5. For a residential tenancy, comply with any local housing code applicable to the premises.
(b) If the premises are part of a building, other parts of which are occupied by one or more other tenants, negligence or improper use by one tenant does not relieve the landlord from the landlord's duty as to the other tenants to make repairs as provided in par.
(a). (bm) A landlord shall disclose to a prospective tenant, before entering into a rental agreement with or accepting any earnest money or security deposit from the prospective tenant, any building code or housing code violation to which all of the following apply:
1. The landlord has actual knowledge of the violation.
2. The violation affects the dwelling unit that is the subject of the prospective rental agreement or a common area of the premises.
3. The violation presents a significant threat to the prospective tenant's health or safety.
4. The violation has not been corrected.

Hot Water Heater
Residential rental properties served by a water heater shall have the thermostat set to a temperature no higher than 125 degrees Fahrenheit before any new tenant occupies the premises.
Contact your local housing or zoning office to be sure your rental property complies with city and county requirements for inspections, rent control, occupancy limits, property codes and zoning. Many cities and counties require inspections, registrations and have specific maintenance regulations.
Wisconsin Forms & Documents
Wisconsin Rent Certificate
Wisconsin Landlord Tenant Law Summary
Wisconsin Non-Standard Lease Provisions Addendum
Wisconsin 5 Day Notice to Vacate (Drug Offense)
Wisconsin 5 Day Notice to Pay or Vacate
Wisconsin 5 Day Notice to Cure or Vacate
Wisconsin 5 Day Notice To Quit
Wisconsin Lease Renewal OR Notice to Vacate
Wisconsin 30 Day Notice to Cure or Vacate
Wisconsin 28 Day Notice to Terminate Tenancy
Wisconsin 14 Day Notice to Vacate
Wisconsin Lease Features
Lease agreement text that is attorney-approved and compliant with state laws
State Assist instructions on entering terms in the form fields
Dozens of optional clauses to attach as-is or after customizing
Options to add your own clauses
ezSign, email, or print lease
Create your Wisconsin lease agreement for Residential, Condo, House, Home, Trailer, Apartment, Townhome, Housing, Real Estate, Duplex, Buildings, and many more!
Wisconsin Lease Features
The following forms may be attached to the lease to meet state laws and to address your own preferences:
Rules and Regulations
Sometimes a full addendum isn't needed, so these optional rules may be selected to include in the lease:
Trampolines are not permitted on the leased premises.
The Tenant agrees to test smoke detectors periodically.
Tenant must obtain written permission to install a satellite system or antennae.
Tenant may not use windows, decks or balconies to dry laundry.
Tenant may not block fire escape.

Why ezLandlordForms?
#1 Rated Lease Agreement
9.3 TrustPilot Rating, with 3,384 Reviews
Flexible Billing
Choose one-time or subscription billing
State Assist
So you know you're complying with state laws
Full Support
Phone, live chat, or email... try us now!
Unlimited Access
Edit & print any of our forms with pro access
Satisfaction Guarantee
Trusted by over 2.3 million landlords & property managers