Wisconsin Lease Agreement with ezSign
Now with ezSign. Being a Wisconsin landlord it is important to have all of the proper forms like the ezLandlord Forms's Wisconsin Lease Agreement.
Document Last Modified: 2/18/2020
Document Features
Uses Lease Builder
State-Specific
ezSign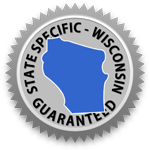 Wisconsin Landlord Tenant laws include unique requirements which landlords are obliged to follow. Keeping abreast of these regulations is important to ensure that your lease agreements are compliant. Therefore, we routinely update our forms when a law is amended, or a new law is passed, so that this lease meets state laws. Our attorneys have also chosen language that is specifically designed to minimize the landlord's exposure in case of a lawsuit.
In addition, this document also meets lease requirements for the city of Milwaukee. The step-by-step Lease Builder Wizard makes completing the form easy, and ezSign is available so the Wisconsin-specific lease may be quickly executed. As you complete each lease section, you may select rules and terms from among many popular and common options. Along the way, our State Assist instruction boxes will appear in green, highlighted areas to guide you in properly applying fees, deadlines, and policies. For example, a State Assist in Step 3 explains that Wisconsin landlords must meet a 21-day deadline to return security deposits.
WISCONSIN LEASE FEATURES
Lease agreement text that is attorney-approved and compliant with state laws
State Assist instructions on entering terms in the form fields
Dozens of optional clauses to attach as-is or after customizing
Options to add your own clauses
ezSign, email or print lease
WISCONSIN LEASE PACKAGE DOCUMENTS
The following forms may be attached to the lease to meet state laws and to address your own preferences:
RULES & REGULATIONS
Sometimes a full addendum isn't needed, so these optional rules may be selected to include in the lease:
Trampolines are not permitted on the leased premises.
The Tenant agrees to test smoke detectors periodically.
Tenant must obtain written permission to install a satellite system or antennae.
Tenant may not use windows, decks or balconies to dry laundry.
Tenant may not block fire escape.

Why ezLandlordForms?
#1 Rated Lease Agreement
9.3 TrustPilot Rating, with 3,384 Reviews
No Recurring Billing
No automatic charges or monthly billing
State Assist
So you know you're complying with state laws
Full Support
Phone, live chat, or email... try us now!
Unlimited Access
Edit & print any of our forms with pro access
Satisfaction Guarantee
Trusted by over 2.3 million landlords & property managers