Utah Rental/Lease Agreement with ezSign
Now with ezSign. Easily comply with all of Utah's landlord-tenant laws using our easy Utah lease builder, that guides you through rental laws as you go.
Document Last Modified: 6/14/2021
Document Features
Uses Lease Builder
State-Specific
ezSign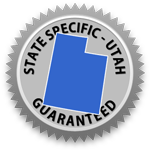 The process of creating a Utah lease agreement has never been as easy or fast as it is now. With our Utah Lease Builder Wizard, we take the complexity out of the process of writing a rental contract, and add the protective details in.
Make your selections in the seven-step, user-friendly form, and then save your professional document in your account to email, download, or execute online using ezSign service. Our Utah Assist ensures that your lease complies with the state's Landlord Tenant laws and regulations. Also, our forms are updated as state laws change.
This thorough lease package makes property management simple and straightforward. All selected addenda, legal disclosures, and informative pamphlets are included. First time landlords will especially appreciate how easy it is to navigate through the lease sections, and will quickly understand how to complete the blank lease fields. The complete agreement will include all rules and terms that the landlord selects by clicking on checkboxes.
A Great Lease makes a Great Landlord
▶ Watch the Great Lease Video
Video to Share with New Tenants
▶ Watch the Move in Video
Utah State Laws
Category
State Law
Ending and Renewing
Utah Law
Periodic Lease: A notice of at least 15 days prior to the beginning of the next rental period is needed to end or renew the lease as per Title 78B -Chapter 6-Section 802(b)(i).
Fixed Term Lease: There are no stated laws or regulations. The lease would typically expire at the end of the lease unless the lease stipulates otherwise.
Security Deposit
Utah Law
There is no limit placed on the security deposit charged to the tenant so long as it is reasonable.
Returned Payment Fee
Utah Law
No more than a $20 service charge may be charged for a returned payment. Title 7 Financial Institutions Act-Chapter 15 Section 2.
Late Fee
Utah Law
There are no stated laws regarding the limitation of a late charge in Utah.
Insurance Requirements
Utah Law
Landlords may require tenants to obtain rental insurance.
Addenda & Disclosures
Utah Law
If the leased premises was constructed prior to 1978, the landlord must provide all tenants with the Lead-Based Paint EPA Disclosure and the Lead-Based Paint EPA Pamphlet.
Notice to Enter
Utah Law
Landlords must provide at least 24 hours notice before entering leased premises.
Landlord Requirements
Utah Law
NON-REFUNDABLE FEES AND DEPOSITS Title 57 Chapter 17 Section 2
Non-refundable deposit -- Written notice required. If there is a written agreement and if any part of the deposit is to be made non-refundable, it must be so stated in writing to the renter at the time the deposit is taken by the owner or designated agent.
Contact your local housing or zoning office to be sure your rental property complies with city and county requirements for inspections, rent control, occupancy limits, property codes and zoning. Many cities and counties require inspections, registrations and have specific maintenance regulations.

Rental Unit Inspection by tenant Utah 57-22-4(3)(a)(b)(c). Owner's duties
(3) Before an owner and a prospective renter enter into a rental agreement, the owner shall:
(a) provide the prospective renter a written inventory of the condition of the residential rental unit, excluding ordinary wear and tear;
(b) furnish the renter a form to document the condition of the residential rental unit and then allow the resident a reasonable time after the renter's occupancy of the residential rental unit to complete and return the form; or
(c) provide the prospective renter an opportunity to conduct a walkthrough inspection of the residential rental unit.
Utah Forms & Documents
Utah 3 Day Notice to Pay or Vacate
Utah 3 Day Notice to Comply or Vacate
Utah 3 Day Notice to Vacate for Nuisance
Utah Lease Features
All Utah-required language
Custom clauses
Help provided with green,
Utah Assist
boxes
Options to add your own clauses
ezSign, email or print lease
Create your Utah lease agreement for Residential, Condo, House, Home, Trailer, Apartment, Townhome, Housing, Real Estate, Duplex, Buildings, and many more!
Utah Lease Package Documents
There are many forms and clauses that you can include in the Utah lease package. Here are just a few:
Rules and Regulations
It's easy to customize rules and regulations, and add them to the lease by checking a box. For instance:
Installation of antenna/satellite services must be authorized in writing by the landlord.
Any fine and/or violation imposed on the landlord due to tenant negligence is the tenant's responsibility.
Late payments will result in a late payment fee that must be paid in a timely manner.
Tenant must notify police and landlord if illegal activity has taken place in or neighboring the rental home.
You may not burn candles or have an open flame in the house.
Tenant must tell the landlord immediately if smoke detectors do not work or are malfunctioning and is responsible for changing batteries in the detectors.
Why ezLandlordForms?
#1 Rated Lease Agreement
9.3 TrustPilot Rating, with 3,384 Reviews
Flexible Billing
Choose one-time or subscription billing
State Assist
So you know you're complying with state laws
Full Support
Phone, live chat, or email... try us now!
Unlimited Access
Edit & print any of our forms with pro access
Satisfaction Guarantee
Trusted by over 2.3 million landlords & property managers